Important Miami pipe, $23,500, Cowan's Auc.
Gavels 'n' Paddles
Recent Auction Results From Near & Far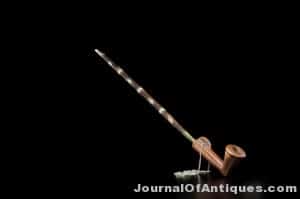 An important Miami pipe with ties to the 1795 Treaty of Greenville sold for $23,500 at an American Indian and Western Art Sale held Oct. 5 by Cowan's Auctions, Inc., in Cincinnati, Ohio. Also, a Sioux beaded and quilled hide war shirt realized $18,000; a Kwakawaka'wakw totem pole, over 13 feet tall, hammered for $14,100; a set of Edward Curtis photogravures went for $5,318; an Apache bow signed by Geronimo brought $4,700; and a Margaret Tafoya Santa Clara blackware jar garnered $7,050. Prices include a 17.5 percent buyer's premium.