Wurlitzer PianOrchestra, $120,000, Showtime Auc.
Gavels 'n' Paddles
Recent Auction Results From Near & Far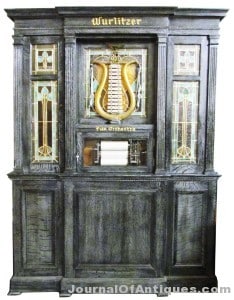 A 1905 Wurlitzer Style 17 PianOrchestra in excellent working condition, with about 40 Style #17 rolls, sold for $120,000 at an auction held Oct. 5-7 by Showtime Auction Services in Ann Arbor, Mich. Also, an early 1800s Ephraim Thayer hand-drawn, hand-operated fire pump with ties to Paul Revere coasted to $110,000; a circa-1880s Samuel Robb cigar store Indian figure, 78 inches tall, made   $77,000; and a tobacco and cigar store back bar and counter with marble base, 120 inches long, brought $55,000. Prices include a 13 percent buyer's premium.