Comic Character Collectibles
By J.C. Vaughn
From June 2, 1940 to October 5, 1952, Will Eisner's The Spirit appeared in a comic-book-size insert in local newspapers around the country.  Noted for its inventiveness, wry send-ups of the superhero milieu, and its succinct, seven-page lead stories, The Spirit featured a never-give-up title character, strong females ranging from childhood friends to femme fatales, and creatively designed title pages that worked the title into the art.
Escaping from the perceived second-class world of comic book art and into the lucrative world of comic strips – there were 12 comic-strip millionaires in the darkest days of the Great Depression – Eisner built The Spirit sections into a calling card and never looked back.
He went on to introduce comics to the U.S. Army as an instructional tool for vehicle maintenance (in P.S. Magazine), became an early advocate of the graphic novel with A Contract With God (and many others) and taught at New York's School of Visual Arts. He remained vibrant and fully engaged with the creative community until his death at 87. On one night, he won separate Harvey Awards for work created five decades apart.
Geppi's Entertainment Museum, located in Baltimore's historic Camden Yards sports complex, will present 75 Spirited Years: Will Eisner & The Spirit featuring more than 50 pieces of Eisner's rare original art. Many of the works are from The Spirit; others document his pioneering work in the graphic-novel format. This exciting exhibit opens September 26, 2015 during the Baltimore Comic-Con and Baltimore Book Fair.
This career-spanning show will be the largest Will Eisner art exhibit held during The Spirit's 75th anniversary year. It will include rare artifacts, some of which have never before been publicly shown, and will be curated by Denis Kitchen, Eisner's longtime publisher, agent and friend, with the full cooperation of the Eisner family.
Steve Epting Exhibit Extended
In advance of the launch of 75 Spirited Years: Will Eisner & The Spirit. GEM has extended Steve Epting Originals: Captain America and The Winter Soldier through September 6, 2015.
The well-attended exhibit features original comic art by Steve Epting from his 2005-2011 Captain America comic book series from Marvel Comics that inspired the feature film Captain America: The Winter Solider.
From the collections of Nick Katradis and Jason Versaggi, the exhibit is comprised of 46 pieces of Epting's art, including 16 key covers from the series, 30 pages of interior art, and a number of accompanying three-dimensional items.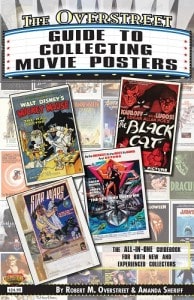 Overstreet Goes to the Movies
"A good movie poster captures the essence of a film. It reminds you of what is good about that movie and fills you with the urge to watch it again and again. Having a poster from your favorite movie hanging on the wall always keeps that movie in your presence and fills you with excitement, love, melancholy, fear, or whatever emotion that poster invokes," said Amanda Sheriff, one of the authors of the upcoming new book, The Overstreet Guide To Collecting Movie Posters, which is due out October 21, 2015 from Gemstone Publishing.
"I'll give you my favorite example. When I was a kid I had a teenage cousin who had the Jaws poster tacked on his bedroom door. If you aren't familiar with the poster it's a giant image of the shark, mouth open, filled with very sharp teeth heading to the surface and an unsuspecting swimmer. The shark is so big that he could swallow this person in one bite. I was so afraid of this poster that if I had to go past his bedroom I would literally run because I thought Jaws might get me. To this day I still think that poster is frightening and it's an exhilarating feeling because the movie is that good and the poster captures it," she said.
"I love movies and having those posters hanging on the wall reminds me of my favorite scenes. The triumphs of the characters, the hilarious mishaps, the epic moments, the sweet romance, the scary chases, I remember them when I look at the movie posters," she said.
Best known for their longest running title, The Overstreet Comic Book Price Guide, the Overstreet "How To" line isn't comprised of price guides but rather comprehensive introductions for beginnings or refreshers for more experienced collectors.
"Our 'How To' line is meant to be accessible for new collectors and those who have been in the hobby for a while, so I want this book to entertain and inform both types of people. Experienced collectors will already know the definitions for poster sizes, but new collectors might not, and that's important information to have. So is how to safely store them or exploring the value of linen-backing. Our features on specific genres can introduce collectors to new areas that they may not have considered yet or offer more appreciation for the ones they already collect in. Plus we'll have interviews that can shed light on how some people approach their collections and we'll have industry pros explaining how posters are graded and how to keep collections protected," Sheriff said.
J.C. Vaughn is Vice-President of Gemstone Publishing.
GEM Gets The Spirit with Will Eisner Exhibit