Hake's Continues to Score Comic Art, Ant-Man Sells Big
Comic Character Collectibles
By J.C. Vaughn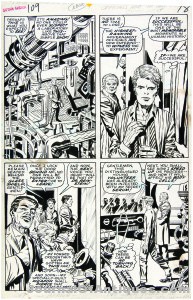 Even with the holiday season and the subsequent deep freeze much of the country experiences, comic character collectibles continue to attract attention.
Hake's Americana & Collectibles auction #211 is set for March 2014 – specific dates to be announced soon – but the company is already looking forward to following up their best results in the company's 47-year history this past November by continuing the trend that saw them offer compelling original comic book art selections.
"We're very pleased – just as any auction house or dealer would be – that the results we've achieved over this past year have really firmly established us with collectors as a great place to consign their original comic art. We've experienced great success with rarities both at the high and in more traditionally affordable ranges. These latest consignments signify that we will continue to be a prominent destination for both sellers and buyers," said Alex Winter, General Manager of Hake's Americana & Collectibles.
Leading the slate of offerings this time are two pages back pencil artist Jack Kirby and inker Syd Shores from Captain America #109, cover dated January 1969, depicting the transformation of Steve Rogers from scrawny draft board reject to super soldier, the origin of Captain America.
"When we offered the cover for Fantastic Four #95 two auctions back, we saw first hand how fans of Jack Kirby react to his best work. These pages from Captain America #109 not only feature the re-telling of the origin of a character he co-created with Joe Simon in 1941, they're among the best examples of his art from the late 1960s," he said.
With Captain America: The Winter Soldier due out from Marvel Studios on April 4 in the U.S., it seems likely that awareness of the character will continue to increase, and demand for these pieces might well do likewise.
The pages, though, aren't the only Jack Kirby artwork in the upcoming auction. Kirby's page 8 from Fantastic Four #44 will also be up for bid at Hake's in March. Inked by Joe Sinnott for the publication cover dated November 1965, the page features all four members of the team, as well as Medusa of the Inhumans (the issue also featured the first appearance of the Inhumans character Gorgon).
Also for the March auction, acclaimed comics historian and designer Chip Kidd has consigned some of artist Brian Bolland's preliminary pages from Batman: The Killing Joke, a graphic novel that has been a perennial best seller since it debuted from DC Comics in 1988.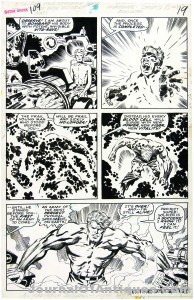 "While almost always interesting, particularly to experienced collectors, preliminaries don't always command significant attention. We think that Brian Bolland's preliminaries for Batman: The Killing Joke, one of the most popular Batman stories in the last three decades, will definitely capture their imagination," Winter said.
Tales to Astonish #27 Hits $65,000
A CGC-certified 9.2 copy of Tales to Astonish #27, the first appearance of Henry Pym, Ant-Man, has been sold for $65,000 by Pedigree Comics.
"Featuring the first appearance of the Ant-Man, Tales to Astonish #27 is one of the earliest, most popular and valuable early Silver Age keys, ranked as #12 according to latest listing in The Overstreet Comic Book Price Guide #43. It is also universally considered the most difficult Silver Age Marvel first appearance issue to locate in high grade, more so than even Incredible Hulk #1," said Doug Schmell, President and CEO of Pedigree Comics.
"It has a cover date of January 1962 (same as Fantastic Four #2) the last month that Marvel comic books had a 10¢ cover price. The Jack Kirby cover is iconic and quite memorable, introducing us to "The Man in the Ant Hill!" The Stan Lee story (seven pages) is fabulous and features pencils by Kirby and inks by Dick Ayers. The story was intended to be released in an earlier issue of Tales to Astonish (issue #23, cover dated September 1961), but hit the newsstands in October in the now-famous issue #27," he said.
"The $65,000 paid for the subject 9.2 is a record price. This same copy sold for a then record price of $45,000, also by Pedigree Comics in May, 2010, besting its previous sale (similarly by Pedigree Comics) of $32,500 in October 2009," he said.
An Ant-Man feature film starring Paul Rudd is presently scheduled to be released by Marvel Studios on July 31, 2105.
J.C. Vaughn is Vice-President of Publishing for Gemstone Publishing
Images courtesy of Hake's Americana & Collectibles