Comic Character Collectibles
By J.C. Vaughn
The world of pop culture collectibles is very far from being a hyperbole-free zone. As a group, we are at least as guilty, if not more so, than many other niches of society. It's been said that certain parties in the field would describe the actual one-and-only Holy Grail as "The Holy Grail of Holy Grail Collectors." Not naming any names here.
But when something actually lives up to the hype, it can make for a very compelling story.
That turned out to be the case of The Jon Berk Original Art and Comic Book Auction at ComicConnect. The event delivered on its much ballyhooed promise of rarities, key issues, and ephemera, along with what the company described as very strong results.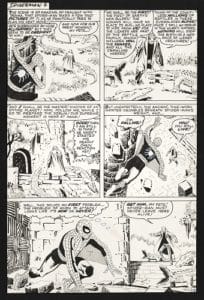 ComicConnect, which has made headlines over the years with the first $1 million sale of a single comic book and then proceeded to repeatedly top that, reported that this auction was their strongest to date and that it attracted investment collectors from around the globe, both new devotees of the vintage comic market and old school fans who haven't been active in decades.
Record sales of comic books included a rare CGC 9.4 copy of Fantastic Comics #3 for $243,000, a CGC 5.5 Action Comics #1 (the first appearance of Superman) for $393,000, and a CGC 5.5 Action Comics #7 for $188,000. Also demanding top attention were a CGC 6.5 Restored Detective Comics #27 (the first appearance of Batman) for $313,000, a Wonder/Wonderworld run, which broke $450,000, and a high grade run of Mystery Men Comics, which garnered over $400,000.
The original comic art component of the event also set high marks as the cover for Planet Comics #1 by Lou Fine sold for $146,444, a Steve Ditko-illustrated page featuring Spider-Man's foe The Lizard from Amazing Spider-Man #6 closed at $105,000, and Alex Schomburg's cover for All New Comics #8 brought in $66,000.
Among the other notables, seminal Archie artist Bob Montana's cover for Pep Comics #30 realized $61,777, the Rudy Palais cover for Catman Comics #25 went for $52,891, and a Jack Kirby page from Fantastic Four #3 sold for $44,500.
"It's been a really moving experience seeing how many collectors love Jon's books, and his attention to the history and breadth of the comic book medium," said Vincent Zurzolo, the company's Chief Operating Officer.
"It really has been an honor to bring his remarkable collection to the world and to ensure that he gets his due as a scholar while, obviously, reaping the reward of a lifetime of savvy collecting," he said.
As mentioned last issue, ComicConnect's Jon Berk event garnered significant press from both collecting circles and the mainstream establishment media. The results seem to indicate this was with good reason.
Berk himself has been respected throughout the comic book community as a collector and historian for many years, and his collection was spoken of in proverbial hushed tones by those who knew of it.
He serves as an advisor to The Overstreet Comic Book Price Guide and has contributed articles to industry publications, including tracking down and interviewing Lamont Larson, whose childhood comic book collection became one of the early pedigreed collections, highly sought-after by other top collections. Berk's stewardship saw him assemble a diverse collection of rare, vintage, high grade comic books and original comic book art including many one-of-a-kind items.
After the admiration and sense of wonder at the results drop off, though, it remains to be seen whether the prices realized drive other collections to auction. If that in fact does happen, it could be the start of a very interesting period for those of us who document this field, not to mention our fellow collectors.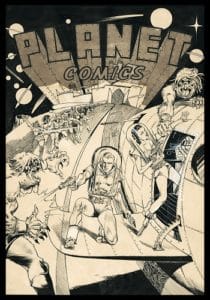 Nathaniel Dusk, Private Investigator
One of the great developments during the creative boom that comics enjoyed in the early 1980s was that the medium embraced the notion that comic books didn't have to be synonymous with superheroes. Among other things, companies like Eclipse Comics and First Comics had signaled a return – not a huge one, but distinct nonetheless – of crime comics, and in late 1983 DC Comics responded with Nathaniel Dusk, Private Investigator.
Dusk, a Depression-era gumshoe whose story starts for the reader in 1934, was the creation of writer Don McGregor. The art, which played a huge role in creating the mood of the series, was by Gene Colan. Although the practice is much more common today, it was for many fans the first time they'd seen art shot directly from the pencils rather than inked. The result was a captivating, almost impressionist ambience that supports McGregor's story brilliantly.
Dusk is a World War I veteran who tried his hand at law enforcement with the NYPD but blanched at the corruption that he saw. Clawing out a living as a private investigator, he has a good nature coupled with some punishing life experiences, and he keeps the prerequisite bottle of Scotch in his desk. If that sounds like a P.I. cliché, well, it probably is, but McGregor powers through it with a charming humanity and occasional doses of self-righteousness that keep Dusk interesting and original.
"Lovers Die at Dusk" was a four-issue mini-series set against the backdrop of the Great Depression, the New York cabbies' strike of 1934, and other well-researched events and it made for a highly compelling read. It concluded in May 1984.
A sequel mini-series, Nathaniel Dusk, Private Investigator II ("Apple Peddlers Die at Noon") was released in 1985. Since then, though, there's been no new Nathaniel Dusk stories, nor have the original two mini-series been collected into a single volume.
J.C. Vaughn is Vice-President of Publishing for Gemstone Publishing. Gemstone's Amanda Sheriff and Carrie Wood contributed to this column.
Jon Berk Collection Sets Records for ComicConnect