Comic Character Collectibles
by J.C. Vaughn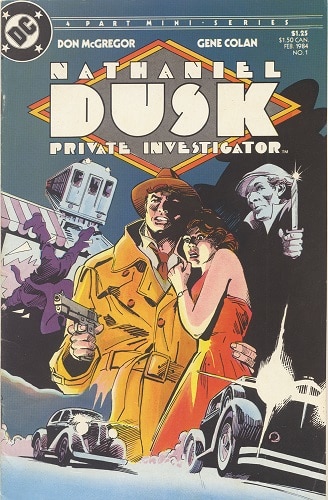 Nathaniel Dusk, Private Investigator
While it's a distinctly different take than the original, the appearance of Nathaniel Dusk, Private Investigator, in the current DC superhero series Doomsday Clock has prompted many to try to find out more about the character.
One of the great developments during the creative boom that comic books enjoyed in the early 1980s was that the medium re-embraced the notion that comic books didn't have to be synonymous with superheroes. The development of companies like Pacific Comics, Eclipse Comics and First Comics signaled a reemergence of other genres, including crime comics. In late 1983 DC Comics responded with Nathaniel Dusk, Private Investigator.
Dusk, a Depression-era gumshoe whose story starts for the reader in 1934, was the creation of writer Don McGregor. A pioneering graphic novelist and champion of creator writers, McGregor is getting a fair amount of press these days for his contributions to the story of Marvel's Black Panther in the pages of a series called Jungle Action. Many elements of his work ended up in the blockbuster Black Panther movie.
The art, which played a huge role in creating the mood of Nathaniel Dusk, Private Investigator, was by Gene Colan, another leading industry figure known for illustrating Marvel's Daredevil and Tomb of Dracula. Although the practice is much more common today, it was for many fans the first time they'd seen art shot directly from the pencils rather than inked. The result was a captivating, almost impressionist ambience that supports McGregor's efforts brilliantly.
In the story, Dusk is a World War I veteran who tried his hand at law enforcement with the NYPD but blanched at the corruption that he saw. Clawing out a living as a private investigator, he has a good nature coupled with some punishing life experiences, and he keeps the prerequisite bottle of Scotch in his desk. If that sounds like a P.I. cliché, well, it probably is – but McGregor powers through it with a charming humanity and occasional doses of self-righteousness that keep Dusk interesting and original.
"Lovers Die at Dusk" was a four issue mini-series set against the backdrop of the Great Depression, the New York cabbies' strike of 1934, and other well-researched events and it made for a highly compelling read. It concluded in May 1984.
A sequel mini-series, Nathaniel Dusk, Private Investigator II ("Apple Peddlers Die at Noon") was released in 1985.
Since then, though, there have been no new Nathaniel Dusk stories other than the distinctly different version used in Doomsday Clock. However, DC has announced that the two original mini-series will be collected into one volume in the near future.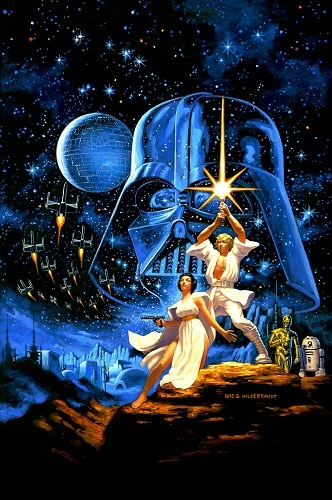 Greg Hildebrandt Recreates Iconic Star Wars Piece
At 79 years old, world-renowned artist Greg Hildebrandt has recreated the original Star Wars: A New Hope movie poster painting in exactly 36 hours – the same amount of time he created the original with his twin brother, Tim, in 1977.
According to the artist, he was inspired to see if he could "do it alone" after all these years, even if it means a missing finger or two.
It had been 41 years since Greg and Tim painted the style B poster for Star Wars: A New Hope. The style A poster designed by artist Tom Jung had a dark, dramatic look. Producers later recruited the Brothers Hildebrandt to create a more comic book-like style, so the brothers turned around a new version of the original composition in just 36 hours. This piece was initially used for American merchandising, but the main purpose was for the UK release of the Star Wars film later that year.
According to Hildebrandt, what amazes him is that their Star Wars poster was only on display in the U.K. for two months before it was replaced with the style C poster by Tom Chantrell, yet it is one of the most iconic Star Wars images to this day.
Just as Star Wars influenced its many fans, as he approaches 80, Hildebrandt has been revisiting classics that influenced him for his "What If" series. Now he is revisiting yet another classic – Star Wars. Hildebrandt recently decided to present himself with a new challenge regarding this iconic imagery – could he recreate this image by himself in the same 36-hour timespan? After all, he's had four decades of painting experience since he and Tim took the Star Wars job.
What could be possible? Because he never paints exactly the same thing twice, Hildebrandt made a few changes to his approach. First, the painting is being done on a "black board," a black piece of illustration board that allows him to use the back of the board as his darkest value. This means that when an area of the painting is very dark or would be black, he does not mix any paint, he just relies on the board to show through. Second, the black board is slightly smaller than the original he and Tim painted. This is mostly because of the size that he buys the boards at: 20″ x 30." The one thing Hildebrandt didn't change: one of the figures is missing a finger! But he hasn't revealed which one.
Though many fans will want to own this painting, they will only have one chance to view it live. The recreation will first be displayed October 4-7, 2018 at the at the Spiderweb Art Gallery booth at the New York Comic Con before being featured in the "Gotta' Have Rock and Roll" auction in November.
This painting is a big deal for Hildebrandt, who has done numerous projects since Star Wars. "If I'm going to revisit the Star Wars image after all these years, I have to know if I can do without my brother," he said.
Although he has been asked to recreate this painting numerous times, this is the only time Hildebrandt has painted this Star Wars image since he first created it with his brother, Tim in 1977.
J.C. Vaughn is the Vice-President of Publishing for Gemstone Publishing. Gemstone's Amanda Sheriff contributed to this piece.
Reviving Nathaniel Dusk, Recreating Star Wars