Comic Character Collectibles
By J.C. Vaughn
Star Wars Toys
The record-setting prices for Star Wars toys have really established a tone at Hake's Auctions ever since they landed the Russell Branton collection. Their March 2019 auction continued that trend. For example, a Luke Skywalker 12-back double telescoping AFA 80 closed at $25,311, the 1980 Empire Strikes Back Bespin Alliance three-pack Series 1 AFA 75 realized $24,402, the Star Wars Android Set three-pack Series 1 AFA 85 ended at $15,705, and the Empire Strikes Back Imperial Set three-pack Series 2 AFA 80 hammered at $10,384.
Capitalizing on the Branton sales and their position as America's oldest pop culture auction house, the company made its first journey to set up at the massive Star Wars Celebration in Chicago April 11-15, 2019 (two days in the future as this column is submitted, in the past as you read it).
"After many auctions featuring the Russell Branton Star Wars Collection, we are more than excited for Star Wars Celebration 2019," Consignment Manager Kelly McClain said. "We have set countless record prices and we are ready to discuss consignments and the latest pedigree Star Wars collection coming to Hake's for the 2019 and 2020 auctions."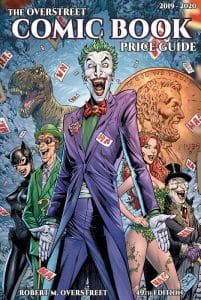 Snapshot of a Decade: Action Comics #1
As he does every year at this time, Robert M. Overstreet has been reflecting a lot on comic book prices. He launched The Overstreet Comic Book Price Guide (CBPG) in 1970 and is now at work on the 49th edition, which is due in comic shops on July 17 and in bookstores 13 days later.
"As we've been neck-deep in pricing data as we prepare CBPG #49, I came upon an interview I did before CBPG #40 was released. Even though we're talking just nine years ago, it seems like it could have been forever when you consider the seismic changes the market has gone through," he said.
"Action Comics #1 remains the hottest – even more popular than it's ever been. Thanks to the certification system, there's an inventory of the title and we're getting an actual count of how many copies exists," he said in the interview 10 years back, when CBPG #39 was current. "So many people want that title, even in unrestored condition. A Fine (6.0) copy just sold for $317,000, which is double the Guide price."
"There's been no slowing in demand for Action Comics #1. The first appearance of Superman continues to grab attention regardless of the grade in which it's offered. Think about this: the 6.0 price in CBPG #40 was $240,00, and last year in CBPG #48 the same issue in the same grade was listed at $700,000! A CGC-certified 8.0 copy was the first comic to hit the million dollar level, and a handful of other copies have topped that mark. Of course, a 9.0 sold for $3.2 million, making it the priciest comic book ever," he said.
The main cover for The Overstreet Comic Book Price Guide #49, however, doesn't feature the Man of Steel. Instead, it concentrates on the Dark Knight Detective, or rather his villains, in celebration of Batman's 80th anniversary this year. Joker, Riddler, Catwoman, Poison Ivy and Penguin laugh maniacally inside the Batcave in artist Tony Daniel's celebratory take on Batman's Rogues Gallery. Comic shops, bookstores, and online booksellers are now reserving copies of the book. You can also place advance orders at www.gemstonepub.com.
TMNT's Kevin Eastman
Drawing Blood is the stylized, semi-autobiographical creation of writer-artist Kevin Eastman and writer David Avallone. That Kevin Eastman is the co-creator of the multi-billion-dollar machine known as The Teenage Mutant Ninja Turtles plays intensely on its heavily fictionalized story.
Together Eastman and Avallone have developed a story that features some of Eastman's own experiences with the Turtles and the company he formed, Tundra Publishing. Whileit's fiction, it is rooted his real experiences and provides a raw look at the creator's life with its drama, suspense, and humor.
"The quick synopsis is that it's about a once extraordinarily successful wunderkind comic book creator who experienced the fall from the heights that a lot of people who have early success do and is trying to claw his way out of the youthful mistakes he made on the way up and on the way back down," Avallone said.
In addition to Drawing Blood, Eastman is very much involved with IDW Publishing's current run of Teenage Mutant Ninja Turtles.
In Memoriam: James Hudnall
Longtime comic writer James Hudnall passed away on April 9, 2019. He was 61 years old. Born on April 10, 1957, his comics career began in 1985 in the marketing department at Eclipse Comics. A year later, he wrote his first creator-owned series, ESPers, with V for Vendetta co-creator and artist David Lloyd, an espionage tale about a group of people with psychic powers.
From there he transitioned to working with Marvel and DC. For Marvel, he wrote Strikeforce: Morituri, finishing the series with Mark Bagley, and then he got a regular writing gig for Alpha Flight. At DC he wrote the highly praised graphic novel
The Unauthorized Biography of Lex Luthor with artist Eduardo Barreto.
He did several projects for Marvel's Epic imprint, bringing ESPers back for a short run. The title was also resurrected a number of times at other publishers, such as Image.
Hudnall was one of the original founding creators of Malibu Comics' shared superhero universe known as the Ultraverse. There, he wrote and co-created series like Hardcase and The Solution.
In 1994, Hudnall created the virtual reality miniseries Harsh Realm for Harris Comics with artist Andrew Paquette. The comic was adapted into a short-lived TV series on Fox in 1998. The show, which was adapted by X-Files creator Chris Carter, failed to give Hudnall and Paquette credit, so the pair sued the show. They reached a settlement and the comic creators were credited on the last few episodes of the show.
Other creators credited Hudnall with being very giving of his time and advice.
Pop Culture Potpourri: Star Wars, Action Comics Number 1, and more