Comic Character Collectibles
By J.C. Vaughn
The approach of Spider-Man: Homecoming and the character's presence in feature films since 2002's hit Spider-Man hasn't done anything to hurt the prices realized for rare, vintage, high grade comics featuring the wallcrawling superhero.
A CGC-certified 8.0 copy of Amazing Fantasy #15, the first appearance of Spider-Man, has sold at auction on ComicLink for $261,010, a record price for the issue in that condition. The anonymous consigner offered the comic book in the company's Spring Featured Auction.
While of course the grade of a copy has a tremendous impact on the selling price, the days of low grade copies of this issue being readily available at bargain prices are long gone. Even copies graded "Poor" will sell for significantly more than several years ago.
After 1962's Amazing Fantasy #15, Spider-Man was launched in his own series, Amazing Spider-Man, a very short while later. There are many issues from that series that also command significant attention and firmly established robust prices, but most of them aren't in a league with a high grade copy of Amazing Fantasy #15 or the way its price has increased over the last decade.
According to ComicLink President Josh Nathanson, the consignor and his wife purchased the comic book in New York City in 1987, 30 years ago.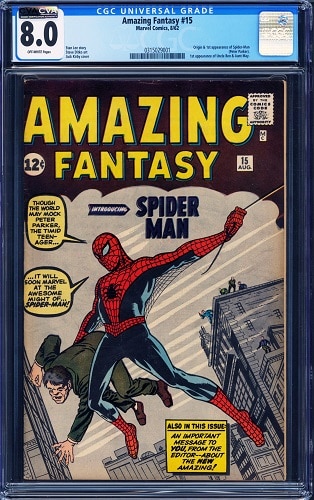 "We had a mutual friend who also collected comics at the time, who knew of a copy of Amazing Fantasy #15 that was up for purchase. We immediately said go buy it for us (sight unseen) for the price of $1,300, which was $50 over [The Overstreet Comic Book Price Guide] at the time. I kept it in Mylar and a fireproof safe since the day I came in possession of it," the consignor said in a statement through the company. "The reason for selling at this time is after watching auctions for the last few years I saw the value increase tremendously. I talked it over with my wife and we decided the time was right to get it graded and sell it at auction. I knew when I bought it that it had the possibility of a good return in the future. We will be investing the money from the sale for our retirement. ComicLink was great to work with, handling the entire process from submission for CGC grading, to CVA review, to promotion of the auction."
Nathanson encouraged those interested in selling to consider the market conditions at present and to give serious thought to reaching out to him if they are contemplating offering their Amazing Fantasy #15 or Amazing Spider-Man collections.
"There is a palatable buzz around Spider-Man right now that is causing great excitement around his early appearances and driving the prices up," he said.
Jon Berk Collection: Lasting Impact?
From both collecting circles and the mainstream establishment media, ComicConnect's Jon Berk Original Art and Comic Book Collection Auction garnered significant press, and with good reason. Respected throughout the comic book community as a collector and historian for many years, Berk's stewardship saw him assemble a diverse collection of rare, vintage, high grade comic books and original comic book art including many one-of-a-kind items.
The comic books offered include Action Comics #1 (the first appearance of Superman), Detective Comics #27 (first appearance of Batman), Captain America Comics #1 (first appearance of Captain America), and many others, while the original comic art ranges from the cover to Planet Comics #1 by Lou Fine to Bob Montana's cover for Pep Comics #30 to and Alex Schomburg's cover All New Comics #8. The selections in both categories are impressive even to the most experienced veteran collectors.
So often in pretty much every collecting sphere the reason for parting with one's prizes comes down to one of the three Ds – death, divorce, or debt. In Berk's case, though, he's said he simply thinks it's time for others to share in the fun of the treasures he's put together over a lifetime of collecting.
The auction kicks off just a few days after this column goes to press and will be concluded before it reaches readers – and of course we'll have follow-up on the results next issue – but it's the potential lasting impact that has industry watchers looking on in anticipation.
ComicConnect successfully pulled out many of the stops for this one, including an art show at their Manhattan gallery and at Comic Art Con in April, a strong and sustained stream of information to the comics press, and mainstream coverage ranging from Connecticut's Hartford Courant to Chicago Scene on Chicago's WGN. The company has rather firmly associated itself with the high profile sales and purchases of Action Comics #1, and their track record on how they've handled this one is impressive.
Will all of that equate to more collections of this caliber coming into the market? Jon Berk has long been an influential figure in collecting circles. His decision to sell now may influence other such collectors to consider parting with all or parts of their collections in the months ahead, presuming of course that it brings the anticipated level of prices. Right now, before it begins closing, it's hard to imagine it not doing so.
CGC 8.0 Amazing Fantasy # 15 Tops $260,000