Making The Grade: The Importance of Third Party Grading in Comics
By J.C. Vaughn
"Accurate grading of comic books has never been more important because the stakes have never been higher. While most of us don't dwell in the rarified atmosphere of selling or buying CGC-certified 9.0 copies of Action Comics #1 for $3.2 million, everyone out there seeking the best possible copy of his or her favorite comic knows that condition is king," price guide guru Robert M. Overstreet wrote in The Overstreet Guide To Grading Comics, which sees its official release on November 26, 2014.
One of the key factors in the comic book marketplace is liquidity.
"Liquidity is the ability to sell an item in a fast and easy process without causing a significant negative movement in price," said Vincent Zurzolo, Chief Operating Officer of Metropolis Collectibles and ComicConnect.com, who with partner Stephen Fishler purchased the $3.2 million copy of Action Comics #1, the first appearance of Superman.
Under normal conditions, he said increased liquidity should promote trade and increase prices because easier transactions allows more people to make those transactions in a confident manner. That increased consumer confidence is at the heart of it: if you are convinced that any investment in any field is safer, if all things are equal then you are more likely to make that investment.
Zurzolo's companies had sold the first $1 million comic, an 8.0 copy of Action Comics #1, and followed that up with $1.5 million for an 8.5 and $2.1 million for the previous 9.0 copy.
Overstreet said one of the main components of increased liquidity in high end comic books was the acceptance of independent, third-party certification, which meant that collectors and even other dealers no longer had to rely on the grading talents or lake thereof of sellers with whom they were not personally acquainted.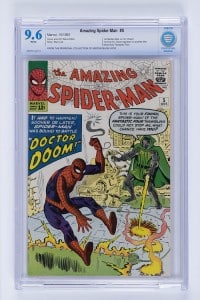 Comics Guaranty, LLC, better known in the comic book market as CGC, entered the arena in well over a decade ago and quickly established themselves as the dominate force in third party grading for comic books. Following a model akin to what was seen in the world of coin collecting, their interpretation of Overstreet's grading standards, which had themselves evolved after years of give and taken between dealers and collectors, certification of comics began with a handful of serious players realizing it was needed.
"The fact is that the majority of people who expressed an opinion thought it wouldn't work, and they weren't shy about saying so. There were some early proponents, of course, but they were vastly outnumbered," said Steve Borock, who previously served as President and Primary Grader of CGC, and who after a five-year stint at Heritage Auctions has started a new grading company, Comic Book Certification Service (CBCS).
"That said, the need for independent grading had become very apparent to a core group. The market was largely stagnant. Key dealers with keen eyes for grading and sterling reputations, enjoyed the trust of their peers, but there was no mechanism for others to build up to that level of consumer or peer confidence," he said.
"Internet sales, largely through eBay, opened a whole new frontier, but they also came with a significant number of disputes about the grades. The lack of independent, verifiable grades was an impediment to a larger, healthier market," he said.
He and others who supported the process were right. A seemingly unending, steady string of record prices has followed. Serious auction houses have emerged or entered the field from other collecting spheres.
Five-figure sales are now almost common. Six-figure sales on comics are long established, and six comic books have sold for $1 million or more.
"It was probably inevitable that additional third party, independent certification services would join the fray since CGC and smaller competitor PGX have been at it for more that a decade," Overstreet said.
But can the market support two major players (there are also several different smaller outfits certifying comics as well)?
Borock says emphatically yes. He said he expects the competition to make everyone better at their craft.
In addition to different pricing and levels of service to distinguish his new firm from CGC, Borock hopes to capitalize on his personal standing in the industry, just as he did at CGC. Before his stint there, he was already well known in dealer and collector circles.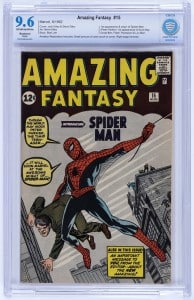 Since then he has raised his profile by involving himself in causes in which he believes. He serves as a board member of The Hero Initiative (the 501 (C)(3) charity dedicated to helping comic creators in need, particular those who labored without health insurance and other benefits) and he also regularly serves as auctioneer for the New York Comic Con and Chicago Comics & Entertainment Expo's fundraiser auctions for St. Jude Children's Hospital. He has also has participated as an active Overstreet Advisor for years, as well as a Senior Advisor for The Overstreet Guide To Grading Comics.
CGC, of course, should be expected to compete strongly. They have expanded their services to include magazines and lobby cards (for now CBCS will focus solely on comic books) and look to continue their domination of the market, secure in the knowledge of what certification has added to the market.
J.C. Vaughn is Vice-President of Publishing for Gemstone Publishing.