May is Really Big for Pop Culture
By J.C. Vaughn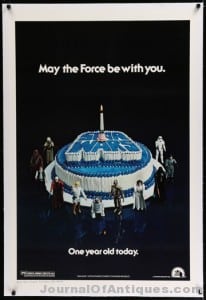 Some months have a lot of pop culture to digest and May is certainly one of the biggest in that regard.
As this column goes to press, April's Captain America: The Winter Solider is still at theatres, Amazing Spider-Man 2 is #1 at the box office, and both Godzilla and X-Men: Days of Future Past are headed our way.
To give you an even better idea of how important May is to pop culture in this country, take a look at the events of just three days, May 3-5, 2014…
Free Comic Book Day
It's not too early to mark down next year's Free Comic Book Day on your calendar. Free Comic Book Day is a single day – the first Saturday in May each year – when participating comic book shops across North America and around the world give away comic books free of charge to anyone who comes into their stores.
This year Free Comic Book Day (FCBD) was Saturday, May 3, and there were 60 different free issues being offered by their publishers, Diamond Comic Distributors, and local shops. Not all stores participate and some stores have different rules, so be sure to check with your local comic book shop ahead of next year's FCBD event to see if they're part of the fun.
Flying Colors Comics proprietor Joe Field discussed the subject in Comics & Games Retailer's August 2001 issue and it became reality by 2002, coordinated by Diamond. For the last 12 years it has been an industry-wide event in North America and at a number of locations around the world.
Originally the date changed each year, but it became quickly standardized as the first Saturday in May. Not coincidentally, the first Friday in May generally sees a major superhero movie release from one of the big studios.
Star Wars Day
Driven by the fans, May 4 has turned into Star Wars Day – as in "May the Fourth be with you!" – and this year was the first one with a new Star Wars movie in production, the first new one since 2005's Star Wars: Episode III – Revenge of the Sith. In the intervening years there have been several animated projects and many fan gatherings, but nothing like Star Wars: Episode VII, which is now filming in London.
Prior to the official announcements some of the news had leaked out – or was blurted out by Carrie Fisher – the official word is that actors John Boyega, Daisy Ridley, Adam Driver, Oscar Isaac, Andy Serkis, Domhnall Gleeson, and Max von Sydow will join the original stars of the saga, Harrison Ford, Carrie Fisher, Mark Hamill, Anthony Daniels, Peter Mayhew, and Kenny Baker for the film.
"We are so excited to finally share the cast of Star Wars: Episode VII. It is both thrilling and surreal to watch the beloved original cast and these brilliant new performers come together to bring this world to life, once again. We start shooting in a couple of weeks, and everyone is doing their best to make the fans proud," said director J.J. Abrams.
Star Wars: Episode VII is being directed Abrams from a screenplay by Lawrence Kasdan and Abrams. Kathleen Kennedy, J.J. Abrams, and Bryan Burk are producing, and John Williams returns as the composer.
The movie opens worldwide on December 18, 2015. Given that it's Lucasfilm and that they're now part of Disney, a new unit of measurement will have to be created for the volume of pop culture collectibles which will inevitably be issued before, during and after the release of the film.
This year's Star Wars Day came just three days after eMoviePoster.com's Star Wars-centric auction of a single owner collection of 91 original one-sheets and other items concluded. The offerings included most of the rarest items, including the "birthday style" one-sheet which depicts the original action figures surrounding a birthday cake. A linen-backed specimen sold for $3,151 after 29 bids.
What that particular poster represents must be nearly unimaginable to today's movie-goers. The same 1978 image was run as a full-page ad in many newspapers across the country on the day the original film – now called Episode IV – A New Hope – had been in first run movie theaters for a year. It would stay there another six months after that.
Among the other selections, a linen-backed one-sheet undated teaser one-sheet for Episode VI, which at the time was called Revenge of the Jedi rather than Return of the Jedi, went for $2,100 while the dated version of the poster realized $825, and a linen-backed style C poster from the original film featuring art by Tom Chantrell with a printed "PG" rating sold for $2,250.
24: Live Another Day
Four years after the end of the series 24, Kiefer Sutherland returned as former agent Jack Bauer in the first two episodes (of 12) of 24: Live Another Day on Monday, May 5. The show enjoyed strong overnight ratings, which were reported the day this column was submitted.
24 has always been notable for its strong fan following and line-up of collectibles that didn't quite correspond with the show's popularity. That said, there were definitely some interesting ones. There were two action figures by McFarlane Toys, three action figures and four sets of "Minimates" by Diamond Select Toys, three action figures from Medicom Toy, two figures by Enterbay (one Jack Bauer, one David Palmer), 11 novels under the banner "24: Declassified", a short-lived official magazine published by Titan, official episode guide books from Titan, unofficial guides from several publishers, and 24: Behind The Scenes, a book of photography about the making of the show by director Jon Cassar.
The licensed material also included a series of one-shot graphic novels and a comic book mini-series from IDW Publishing has been collected and just reissued in trade paperback form as 24 Omnibus (disclosure – your columnist co-wrote all but one of them). There have also been a lot of apparel pieces created, though many of them are not officially sanctioned items, and there's a comic book tie-in for the new show as well.
J.C. Vaughn is Vice-President of Gemstone Publishing, Inc.