Mermaid Cove: A Folk Art Love Story
The Cahoon Museum of American Art. Cotuit, MA
How do artists fall in love? By sharing a passion for creating. Ralph and Martha Cahoon shared their love of creativity and together became the "most famous folk artists the Cape has every produced, and Ralph the best-known of any native Cape Cod Artist" according to the museum baring the couple's name, the Cahoon Museum of American Art in Cotuit on Cape Cod.
An example of Ralph's popularity was demonstrated at Northeast Auctions event back in August when two Ralph Cahoon paintings, one titled "A Shocking Incident at the Wharf Rats Club" and the other "Port O' Dreams," finished at $ 31,200 and $30,000, respectively – both handily beating their auction estimates.
The Voyage
Ralph Cahoon, Jr. (1910 – 1982) was born into a family that made their living off the sea; many ancestors were whalers, fishermen, and his maternal grandfather an oysterman. But Ralph turned to drawing early on, taking a correspondence course in cartooning while in high school. Two years after Ralph began studying to become a commercial artist at the School of Practical Art in Boston (which later became The Art Institute of Boston), the Depression hit, ending his schooling so he started painting battleships at the shipyard in Quincy. At the age of 20, he met Martha Farham, a beautiful young woman and furniture artist five years his senior.
Martha Farham (1905 – 1999) lived in the town of Harwich on the Cape from the time she was 10. Her father, Axel Farham, was a furniture decorator whose skills began in his native Sweden. Rather than pursue college, Martha's love of creating decorated furniture drove her to apprentice under her father – honing her skills in both preparing and stenciling furniture in the style of Swedish, Pennsylvania-German and American Folk Art traditions. Her art work while with with her father was deemed "… unsurpassed in New England" according to The Harwich Independent in 1932.
Martha demurred Ralph's affections because of their age difference, but was swept back up after a time when he appeared at her door asking, "Aren't you going to let this baby take you out anymore?" In October, 1932, they went to the nearby town of Truro and were married by a Justice of the Peace.
The Partnership
Martha taught Ralph to decorate furniture, and the two were off and running selling their work from their home in Osterville. In 1945, they moved to the 1775 Crocker homestead (now the Cahoon Museum of American Art) where there was room to expand their business and restore the home. Ralph was now creating on larger pieces including secretaries and cupboards, where he showed off his talents as a decorative painter, and Martha began creating her own folk designs.
The Cahoons had many patrons and collectors at this point, working side-by-side synergistically to create a portfolio of folk art decorated pieces, each with their own distinctive style.
The Big Launch
The popularity of the couple's work beyond Cape Cod goes back to 1953, when a patroness of the couple, Joan Whitney Payson, encouraged Ralph and Martha to frame some of their scenes to exhibit at her Country Art Gallery opening on Long Island. The paintings were sold instantly, and the Cahoons had the first of many two-person shows at the gallery in 1954. This was when Ralph started to gravitate to scenes with sailors and
mermaids, and Martha began concentrating on beautiful country scenes and natural themes with flowers, shells, and birds.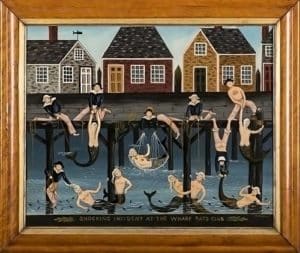 By 1960, the Cahoons had shows from Nantucket to Palm Beach and at many galleries around the country, including the Vose Galleries of Boston, growing their reputation. At this point, the name Ralph Cahoon and Mermaids were almost synonymous. Their often humorous settings (working in the kitchen, having a tattoo business, being in a car accident) done within a New England setting with ships and hot air balloons in the
background were iconic in Ralph's paintings. Martha's work was earning her accolades for her nostalgic country scenes and pictures of shorebirds in their natural habitat.
Returning Home
In the early 1970s, the Cahoons made the decision to pull back from the demands of creating, showing, and selling their art through commercial galleries to sell their art from their home. As local legends living near the same, including Jacqueline Kennedy and members of the Mellon and duPont families, the Cahoons continued to work side-by-side in their studio, enjoying their life in their beautiful home.
When Ralph Cahoon died in 1982, Martha threw herself back into her work to help cope with her grief. Later, she decided to sell the home as she felt she would probably end up in a nursing home. Instead, Rosemary Rapp, a local art collector, purchased the home and transformed it into a museum and gave Martha life-long rights to live in four rooms on the ground floor of the home. Martha had stopped painting, but never stopped creating art, with her final drawing dated just a few weeks before she passed in December 1999 at the age of 94.
Keeping the Art Afloat
The Cahoon Museum of American Art recently underwent a two-year $3 million renovation that doubled its space with larger exhibit space, a new spacious event room and kitchen, and an elevator to all three floors of the museum. Improved parking, widened stairwells and hallways, and a new art storage area (which had been only months away from collapsing) enhance the visitor's experience.
The Museum also has a long-term project it continues to pursue – a Cahoon Catalogue Raisonne. Trying to account for each painting and piece made by the Cahoons is a project which has and will span many years, and they encourage anyone with information on pieces to be included in this catalog to share their information with the Museum. All information remains confidential unless you prefer to be included. If you have any information to share, please go to cahoonmuseum.org/cahoon-catalogue-raisonne-research.
The Cahoon Museum of American Art is located at 4676 Falmouth Road in Cotuit, MA. The Museum is dedicated to focusing on regional art of the Northeast and Cape Cod, and celebrates the creative spirit of folk of the Cahoons through the preservation of their artwork and the 1775 historic building which served as their home and studio. Visit cahoonmuseum.org for more information on exhibitions, programs, and the Cahoon legacy.
Museum Highlights: October 2016