With all the outdoors recreational activities Maine has to offer, you wouldn't think the state would also be a draw for antiquers but if you're looking for a wonderful selection of antique shops, noted antique shows, vintage boutiques, 'quality auction houses, and fun, outdoor flea markets, then Maine is where you want to be this summer!
UPCOMING SUMMER SHOWS
Antique Engine Meet – Boothbay Railway Village
July 2 – 9:30am-5pm
586 Wiscasset Road, Boothbay, ME
Visitors will have the opportunity to see "one lungers" and other early gasoline, diesel and steam engines operate and to learn about them first-hand from their passionate owners at the annual Antique Engine Meet.
36th Camden-Rockport Historical Society Antiques Show
July 23-24 – Sat. 10am-4pm, Sun. 11am-4pm
www.Goosefareantiques.com
Camden Hills RHS, 25 Keelson Drive, Rockport (Camden), ME
59th Boothbay Antiques Show & Sale
July 30 – 10am-4pm
www.Goosefareantiques.com
Boothbay Common, Rte.27, Boothbay, ME
35th Annual Maine Antiques Festival
August 5-7 – Fri. Noon-5pm, Sat. 9am-5pm, Sun. 9am-4pm
Union Fairgrounds, 1 Fairgrounds Lane, Union, ME
www.MaineAntiquesFestival.com
The Annual Maine Antiques Festival is Maine's largest Antiques event. Over 100 dealers from across the US and Canada will be offering for sale a wide variety of vintage collectible and antiques spanning eras from the 18th century through the 1960ís. Literally thousands and thousands of antiques enthusiasts have been attending this festival annually for the past 35 years.
88th Kennebunk Antiques Show & Sale
August 13 & 14 – Sat. 10am-5pm, Sun. 11am-4pm
Kennebunk High School, 89 Fletcher Street, Kennebunk, ME
www.Goosefareantiques.com
You don't want to miss the 88th Annual Antique Show and Sale at Kennebunk High School. You'll find dozens of booths selling everything from vintage linens to priceless antiques, jewelry, and collectibles.  You'll want to be sure to stop by the AWS (Animal Welfare Society) booth, manned by long-time, dedicated volunteers. All items for sale in AWS' booth are donated, meaning 100% of proceeds benefit our animals.
Ellsworth Antiques Show @ Woodlawn Museum
August 13-15 – Thurs. 11am-6pm, Fri. 11am-6pm, Sat. 11am-4pm
19 Black House Drive, Ellsworth, ME
www.woodlawnmuseum.com
The Ellsworth Antiques Show at Woodlawn Museum is America's longest running summer antiques show. It is the region's premier cultural event featuring 28 dealers from Maine and across the United States. The antiques dealers will present an array of quality antiques and art.
Annual Coastal Maine Antiques Show
August 24 – 9am-4pm
Round Top Farm, Business Route 1, Damariscotta, ME
www.Maineantiques.org
The Annual "Coastal Maine Antiques Show" will be a one-day indoor & outdoor antiques show open to all members of MADA as exhibitors.
AUCTION HOUSES
Houston-Brooks Auctioneers
207-948-2214 – www.houstonbrooks.com
Horseback Road, Burnham, ME
James D. Julia, Inc.
207-453-7125 – www.jamesdjulia.com
203 Skowhegan Road, Fairfield, ME
Poulin Antiques & Auctions
207-453-2114 – www.poulinantiques.com
199 Skowhegan Road, Fairfield, ME
Thomaston Place Auction Galleries, Inc.
207-354-8141 – www.thomastonauction.com
51 Atlantic Hwy, Thomaston, ME
MUSEUMS
Museum of African Art & Culture
207-871-7188 – 13 Brown Street, Portland, ME
The only institution in northern New England devoted exclusively to sub-Saharan African arts and culture. There are over 1,500 pieces in the collection of the Museum, ranging from large-scale, elaborately carved wooden masks to smaller scale figures, cast copper alloy (bronze) figures, textiles, utilitarian objects, ceramic, bone, ivory and composite objects.
Portland Museum of Art
207-775-6148 – www.portlandmuseum.org
7 Congress Square, Portland, ME
The PMA boasts significant holdings of American, European, and contemporary art, as well as iconic works from Maine – highlighting the rich artistic tradition of the state and its artists. PMA is also the home of The Winslow Homer Studio, one of the most significant locations in the history of American art and where the great American artist Winslow Homer (1836-1910) lived and painted many of his masterpieces from 1884 until his death.
Seashore Trolley Museum
207-967-2712 – www.trolleymuseum.org
195 Log Cabin Rd, Kennebunkport, ME
Founded in 1939, the Seashore Trolley Museum has grown into the largest electric railway museum in the world with a collection representing almost every major American city that had a streetcar system to provide samples of how generations past moved about for work, school and leisure and to show the dedicated craftsmanship put forth to construct these workhorse vehicles.
The Wadsworth-Longfellow House
207-774-1822 – www.hwlongfellow.org
489 Congress Street, Portland, ME
Within its walls lived four generations of one remarkable family that made significant contributions to the political, literary, and cultural life of New England and the United States.
Umbrella Cover Museum
207-939-0301 – www.umbrellacovermuseum.org
62 Island Avenue, Peaks Island, ME
A museum that pays tribute to umbrella covers. The museum was created and is curated by Nancy 3. Hoffman, who has collected more than 1300 umbrella covers from over 60 countries and holds the Guinness World Record for the most umbrella covers.
SHOPS AROUND TOWN
1839 House Antiques
207-563-2375 – www.1839house.com
366 Bristol Road (Route 129), Damariscotta, ME
Come in and explore this 1839 barn filled with antiques and vintage furniture located in the heart of Mid-Coast Maine.  More than 3,600 square feet of fabulous finds for you to discover.
Orphan Annie's Antiques
207-782-0638 – www.orphananniesme.net
96 Court Street, Auburn, ME
A legendary selection of antiques that
span several centuries, with glassware, 'collectibles, jewelry, books, music, and more!
Roller Rink Antique Mall
207-487-5565 – www.rollerrinkantiques.net
43 North Road, Detroit, ME
7500 sq. ft. with 70 of the best antique dealers in the state of Maine!
Sabattus Antique Mall
207-375-8500 – 5000 sq foot barn filled with vintage treasures, antiques, collectibles, and renewables.
Showcase Antiques Gallery
207-882-4373 – 85B Main Street, Wiscasset, ME
Multi-dealer shop dealing in antiques and collectibles. Featuring over 50 dealers with china, glass, silver, toys, jewelry, folk art, primitives, miniatures, accent furniture, artwork, and much, much more.
Stoney Creek Antiques
881 Civic Center Drive, Augusta, ME
207-626-9330 – www.facebook.com/stoney.creek.antiques
4,000 sq ft of furniture and home furnishings from 1700-1980, conveniently organized in a clean, bright shop.
Route 2 Antique Mall
207-848-7699 – route2antiquemall@aol.com – www.route2antiquemall.com
814 Main Road (Route 2),  Carmel, ME
We are a group antique shop located in Central Maine. Our 60 vendors offer a wide variety for the collector of antique and vintage items. You can find furniture, glassware, jewelry, coins, toys, sports cards, books, comics, record albums, sporting items, gas & oil and other man-cave items, primitive decor and much more in our 4500 square feet of ever-changing inventory. Open 10 -5 every day. Find us on Facebook!
Central Maine Antique Mall
207-262-4010 – www.CentralMaineAntiqueMall.com
1372 Union St.  Bangor, ME
A 9000 sq. ft. multi-dealer shop with plenty of paved parking offering fine antiques, primitives, investment quality art, collectables and a relaxed atmosphere for a pleasant & unique shopping experience.  Offering some of Maine's finest dealers and best pickers.  Buy where the dealers shop. Open 7 days a week 9 a.m. – 5 p.m.
Reed's Antiques & Collectibles
207-646-8010 – 1773 Post Road (Route 1), Wells, ME
A 4000 sq. ft multi-dealer shop located on coastal Route 1 in Wells, Maine with 65 vendors and an abounding inventory of antiques, collectibles and vintage household items.
Cabot Mill Antiques
207-725-2855 – www.cabotiques.com
14 Maine Street Brunswick, ME
An antique lover's heaven, this multi-dealer antique emporium boasts over 160 quality displays, making it one of the largest antique destinations in Northern New England.
Searsport Antique Mall
(207) 548-2640
149 E. Main St., Searsport, ME
Located in beautiful mid-coast Maine on scenic Route 1 between Camden and Bar Harbor. The Searsport Antique Mall offers  a world of vintage goods and bona fide antiques from over 70 dealers from all over Maine and beyond. Voted "Best of The Best" Antique Mall in Waldo County. Find us on Facebook!
 Reed's Welcomes New Vendors to Launch 21st Season
WELLS, MAINE (Tourist News, 2016) – With 65 vendors and an abounding inventory that a staff member guesstimates is "in the many many thousands," Reed's Antiques & Collectibles is a magnet for enthusiasts of vintage household items.
Brightly illuminated and clean as a whistle, the roomy shop on Route 1 in Wells features organized rows of cubbies and "open spaces" that showcase sterling silver belt buckles, stylishly-dressed Mme. Alexander dolls and children's Big Little Books copyrighted 1934, just for starters.
Perhaps the store sign on Route 1 states it most succinctly: "Furniture, Primitives, Art, Sterling, Toys, Jewelry, China, Books, Paper, Pottery, Glass, and Much Much More!"
 Owner Caren Reed is justifiably proud of the spacious red barn-like shop that she and her late husband Frank opened on July 3, 1995. "We only had a few vendors then but business just blossomed, especially in the late 1990s," she says.
The shop experienced a major increase in offerings in November 2015 when nearby BoMar Hall shut its doors, and many of its vendors relocated their displays of antiques and collectibles to Reed's. Caren embraced the new vendors (as well as some longtime employees from Bo-Mar Hall) and revamped the interior of the shop to accommodate them.
Unlike many antique business owners, Caren did not have a lifelong passion for antiquity. "Amazingly, I didn't even like antiques when U was young and growing up in northern New Jersey," Caren says. Her decorator mother often took her into New York City on buying trips, "and I'd think what's so special about that vase – it's just old!"
That all changed after she moved to California where Caren worked as an attorney. Frank served as her assistant, doing research and speaking with clients. Their close neighbors were avid antique collectors who ignited both Reeds' interest in collectibles. In 1991m these neighbors also convinced the Reeds that a trip to the Brimfield (Massachusetts) Antique Flea Market, "America's oldest outdoor antiques market, was a cross-country trip worth taking.
For more on their story and to visit Reed's on your next trip to Maine, look for the bright pink dinosaur that Caren calls "My baby" or go online at https://www.facebook.com/ReedsOfMaine/. Reed's will be holding a storewide sale, July 2nd & 3rd.
Cabot Mills: A Destination Worth the Visit!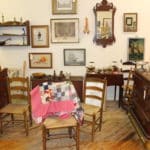 Located in the beautifully restored historic Fort Andross building on the Androscoggin River at 14 Maine Street in Brunswick Maine, Cabot Mill Antiques is an antique lover's heaven, offering a very unique shopping experience. Sun streams in through huge windows, 16-foot ceilings add a sense of grandeur, river views, exposed brick – all add to a wonderful browsing experience. The multi-dealer antique emporium boasts over 160 quality displays, in its 16,000 square foot showroom making it one of the largest antique destinations in Northern New England. With special educational, appraisal and sales events, it's a true destination shop. Cabot Mill Antiques is conveniently located on Maine Street, close to restaurants including two in the Fort Andross building. Bowdoin College, museums, art studios, shopping, lodging AND the Amtrak station are all located nearby.
Browse through a vast selection of items from period furnishings, to vintage collectibles, jewelry, rare books, art, textiles, nautical items, furniture, rugs, clocks, quilts, glassware, ironstone, pottery and ceramics as well as a variety of items in other categories. "You're sure to find something rare, unique and one -of-a-kind!" Make it your one stop antique shop today!
Cabot Mill Antiques has an excellent reputation and will celebrate its 20th anniversary this fall since opening in 1996. Cabot Mill Antiques has been voted Reader's Choice Best of Mid-Coast Maine Antique Shop for three consecutive years, and has been featured in numerous publications including, Country Home Magazine, Portland's CWTV, Destination Brunswick, Down East Magazine, AAA's Places You Must See, Frommer's Travel Guide, Travesia's and WGME CBS 13 Road Trippin.
 Cabot Mill Antiques is handicapped accessible and all major credit cards and personal checks are accepted. The antique mall is open Daily 10am-5pm & Friday's 10am-7pm. Our friendly and very knowledgeable staff is here to ensure every visit you make is a pleasant one. We love answering questions and talking "antiques," and pride ourselves on offering over-the-top service and commit ourselves to being friendly and approachable. Please don't ever hesitate to contact us for any reason. Remember, we're Open All Year Round The time to buy antiques is when you see them!
For more information please contact Deborah J. Stufflebeam, Cabot Mill Antiques Manager,
 207-725-2855 or email cabot@waterfrontme.com. Visit us on the web at ww.cabotiques.com or in person at Cabot Mill Antiques, 14 Maine Street, Brunswick, Maine 04011.
Thomaston Place Auction Galleries' Spring Sale Rings in Successful Spring Auction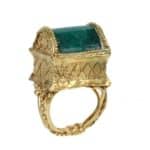 THOMASTON, ME:  A circa 100 BC Greek gold and cabochon emerald ring attracted frenzied bidding at Thomaston Place Auction Galleries' Spring Fine Art & Antiques Auction on May 21 & 22, until one participant finally caught the prize for $152,100. This important antiquity came from the New York Estate of Anne Bigelow Stern, daughter of Lucie Bigelow Rosen and Walter Tower Rosen, passionate early 20th Century collectors and the founders of the Caramoor Music Festival.
Another piece of ancient jewelry from the Stern Estate, a necklace composed of 13 solid gold Byzantine era coins, also created excitement, as competing bidders pushed it to a $14,040 selling price.
Many Asian artifacts also fared well in the sale.  A Qing Dynasty cauldron form two-handled open bronze censer with Kangxi seal mark created excitement when bidding reached a final selling price of $70,200.  A collection of bronze sculpture, including many depictions of Buddha, was presented.  A bronze seated scholar in deep thought led the group, bringing $14,040; and a gilded Buddha in meditation set with semi-precious stones sold for $4972.50.  An ornate, expertly cast bronze Hindu temple bell shattered its $600 to $800 estimate and brought $4,914.
Among the leading decorative arts items were: a monumental, circa 1900 Daum Nancy cameo glass stalk vase that sold for $14,040; a 259-piece set of Herend porcelain in the Rothschild Bird pattern that fetched $12,870; a 177-piece set of Georg Jensen sterling flatware in the Acorn pattern that achieved $12,870; and a circa 1800 22-piece Old Paris porcelain dessert set hand painted by Jean Nepomucene Hermann Nast that brought $11,700.  A 19th Century French Louis XIV style rosewood vitrine with ormolu mounts rocketed past its $2,000 to $3,000 presale estimate to reach a selling price of $11,115.
Leading the folk and marine art group were two wonderful ship paintings, one by Joseph Smith (NY/NJ, 1798-1876) of the schooner "J.W. Seaver" that sold for $17,550, and the other, "The Black Ball Line 'Great Western' in the Approaches to New York" by Joseph Stobart (MA/FL, 1929- ) that brought $12,870.  A rare circa 1905 running cat carousel figure fetched $9,945 and a Napoleonic War era cased prisoner of war model of a British man-o-war reached $9,360.  Bidder interest in two fine California Native American baskets drove final selling prices well above presale estimates, a circa 1900 Yokuts coiled 'Friendship' basket brought $6,435 (est. $1,000-2,000) and a Pomo coil built bowl sold for $2,691 (est. $800-1,200).
There were also several high flying American historical artifact items in the sale.  A rare Revolutionary War broadside, "A Poem on the Bloody Engagement that was fought on Bunker's Hill in Charlestown New England", created excitement when bidders battled until a selling price of $17,550 was reached.  A Civil War era 12-star Union field flag brought $9,945; a marble bust of George Washington, possibly after a work by Horatio Greenough (MA/Italy, 1805-1852), achieved $8,775; a collection of 52 Maine Native American Red Paint People artifacts fetched $7,605; and a circa 1863 Civil War field marching drum by Rogers sold for $7,605.
A complete list of auction results can be found at www.thomastonauction.com.  The next Thomaston Place Auction Galleries fine art and antique feature auction will take place on Saturday, Sunday and Monday, August 27, 28 & 29.
A Summer of Goosefare Antiques Shows in Maine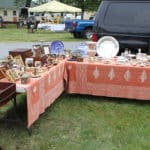 This June & July in Maine there are three major antiques shows that have excited customers for years.  The Wells Antiques Show on June 26, the Camden-Rockport Antiques Show on July 23 & 24, and the Boothbay Region Antiques Show on July 30.
The 16th annual Wells Antiques Show and Sale will be held this year on Sunday, June 26th, on the spectacular grounds of the historic Wells Reserve at Laudholm Farm.  The show is an effort by Goosefare Antiques & Promotions to bring buyers and vacationers from the Northeast and Canada to the antiques show and the many antique shops in Wells, and to introduce them to the wonders of the Wells Reserve at Laudholm Farm.
Heralded as one of the best antiques shows in New England, more 75 exhibitors from all over New England and beyond will be displaying and selling quality antiques in every area of the antiques market under large and small tents, in the barn, and in the open.  Exhibitors specialize in early painted and country furniture, Americana, antique & vintage jewelry, early ceramics and silver, fine glass and china, early baskets and decoys, early pottery, brass, copper, and pewter, quilts, vintage linens, and other textiles, antiquarian books and prints, tools, garden furniture and much, much more.  Visitors will find the show well-rounded with an exciting variety of antiques in all price ranges.
Also, enough cannot be said about the site.  The Wells National Estuarine Research Reserve at Laudholm Farm preserves 1600 acres of fields, forests, wetlands, and beach on the coast of southern Maine.  Here the Merriland, Webhannet, and Little Rivers meet the ocean tides, creating a rich estuarine habitat for wildlife.  Laudholm Farm, an historic saltwater farm, is the focal point.  The facility, which is comprised of restored farmhouse buildings dating back to 1700, houses a Visitor Center with a welcoming video presentation, five rooms of exhibits, and a gift shop.  Seven miles of trails give visitors a view of the varied habitats of the Reserve, and a great way to spend a day.
The Antiques Show will be catered with lunch and snacks available.  Adult admission is $7.00 each ($6.00 with the ad appearing elsewhere in this paper) and children under 12 are free when accompanied by an adult.  Show hours are from 10 to 4 on Sunday and the show will be held 'Rain or Shine.'  Laudholm Farm is located off Route 1 in Wells, midway between Exits 19 & 25 of the Maine turnpike.  Laudholm Farm Road is 50 yards south of the Maine Diner on Route 1.  Because of the many wildlife habitat and nesting grounds, Laudholm does not allow dogs, leashed or otherwise, to walk the grounds.
The 36th annual Camden-Rockport Historical Society Antiques Show and Sale will be held on Saturday and Sunday, July 23 & 24, at the Camden Hills Regional High School.  The Camden Show has been the premier antiques show in Maine for early 18th, 19th, and early 20th century furniture, Americana, and accessories.  This year's show will be another great show with antiques dealers specializing in American and English furniture, antique silver, marine antiques, decoys, Staffordshire, Flow Blue, Americana, Folk Art, early hearth equipment, and more.  This year's show will have 38 booths from 9 states selling antiques in every area of the antiques market in room settings and in the open.  Returning dealers in early painted furniture and Americana, antique & estate jewelry, fine glass and china, silver, early soft paste, pottery, brass, copper, and pewter, quilts and other textiles, antiquarian books and prints, Hudson River Valley Paintings, tall clocks, English smalls, Marine antiques, muskets, paintings, paper items and ephemera, silver, garden antiques and decorator items.
Visitors will find the show well-rounded with an exciting variety of antiques in all price ranges and with the quality that the Camden Show patrons have come to expect over the years.
The Camden-Rockport Historical Society uses the proceeds from the show to help fund their many local projects.  Among them is The Conway House, the Society's Museum located on Route 1 south of the village, where visitors are welcome from Mondays to Fridays.  The Antiques Show will again be catered with lunch and snacks available.  Adult admission is $7.00 each ($6.00 with the ad appearing elsewhere in this paper) and children under 12 are free when accompanied by an adult.  Show hours are from 10 to 4 on Saturday and from 11 to 4 on Sunday. Camden Hills Regional High School on Route 90 less than a mile from the intersection with Route 1.
The 59th annual Boothbay Region Antiques Show and Sale will be held this Saturday, July 30, on the Boothbay Common.  Two years ago the antiques show format was changed to a one-day show held outdoors, under tents and in the open, on the grounds of the Boothbay Common, right on Route 27 across from the Boothbay Town Offices.  It has been a great success and the customers and exhibitors both applauded the new format.  This year at least 28 exhibitors from Maine, Vermont, New Hampshire, Massachusetts, Connecticut, Maryland, and Florida, will be selling antiques in every area of the antiques market.
The Boothbay Show has always been known for its tremendous selection of antique furniture, folk art, and country accessories and this year will be no exception.  Annual show-goers will again be pleased to see many of their favorite exhibitors returning to the Boothbay area. Exhibitors will also be selling antique and estate jewelry, fine glass and china, silver, paintings, prints, books, textiles, vintage garden furniture, decorative items and more.  Visitors will find the show an interesting variety of antiques in all price.
The show will be held "Rain or Shine."  Adult admission to the antiques show is $6.00 each ($5.00 with the ad appearing elsewhere in this paper) and children under 12 are free when accompanied by an adult.  Show hours on Saturday are from 10 to 4.  For more information, please contact John or Elizabeth DeSimone of Goosefare Antiques & Promotions at 800-641-6908 or go to their website at www.goosefareantiques.com.
 2016 Maine Antiques Festival Moves to New Dates in August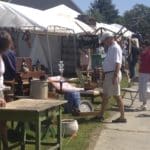 UNION, MAINE – After 34 years of the Maine Antiques Festival being held on the 2nd full weekend of August, festival organizers have moved the show this year to the first full weekend in August.  This year's dates – August 5, 6 & 7 – were changed in an effort to distance Maine's largest antiques event from other major antiquing events in the northeast traditionally scheduled during the same time.  In doing so, sellers and shoppers alike will no longer have to choose which major events to go to and which to miss as it will now be possible to attend all.  In addition, the schedule change will enable more dealers to set up and sell at the Union Maine Festival.
The first Maine Antiques Festival was held August 14-15, 1982 and was originated in part by Paul Davis, the present manager and owner of this festival.  Over the 34 years of its existence, millions of dollars of antiques have exchanged hands on the grounds of the Union Fair location where the festival takes place.  With over 100 dealer booths located in both enclosed and open air buildings, as well as 100 more in tents large and small on the field, people searching for vintage items and true antiques have a multitude of merchandise to choose from.  In past years there have been as many as 35 states represented and several Canadian provinces by dealers selling here in one year.
Items offered range from formal furnishings, rug, paintings, china, glassware and jewelry to vintage bicycles, boats, toys and clothing. There really does seem to be something for everyone.   The show & sale is also well known for its great Maine food as well as its wide variety of antiques and vintage items.
Mark your calendar and make your travel reservations for August 5-7,2016 to attend the Maine Antiques Festival, 1 Fairgrouunds, LN, Union, ME 04862 Hours: Friday- Early Bird Weekend Pass 12pm-5pm good all weekend $25 Saturday- General Admission 14&up $10;  Sunday – General Admission 14&up $10. For more information visit www.MaineAntiquesFestival.com or email antiquefest@hotmail.com
19th Annual Coastal Maine Antiques Show, August 24

DAMARISCOTTA, MAINE – The Maine Antiques Dealers Association is pleased to announce the 19th annual Coastal Maine Antiques Show. Please join us on Wednesday, August 24th, 2016 from 9:00am to 4:00pm at the scenic Round Top Farm, Business Route 1, Damariscotta, Maine.
The 19th Annual Coastal Maine Antiques Show will be a one-day indoor & outdoor antiques show. The Maine Antiques Dealers Association and the Damariscotta River Association are partnering to make the 2016 show a very special event!!
This much anticipated antiques show will feature seventy of the Northeast's finest antiques dealers offering for sale a vast selection of merchandise to include paintings, silver, folk art, primitives, both formal and country furniture, jewelry, textiles, decoys, toys, glass, books, and hooked and oriental rugs, as well as a variety of items in other categories.
In 1929 a group of antiques dealers within and around Maine formed an association and promoted their trade by organizing an annual show. Thus the Maine Antiques Dealers Association (MADA), the nation's oldest organization devoted to the antiques trade, was born. In 1943, after a number of years sponsoring successful antiques shows, the members of MADA ceremoniously voted to organize into a corporation to promote fair trade practices and relations within the antiques business, to promote and maintain a standard of ethics designed to inspire the confidence of the public, and to disseminate valuable trade information. These practices and standards of ethics continue within our membership's obligations today. The Coastal Maine Antiques Show will benefit the Damariscotta River Association, a non-profit community supported conservation organization and land trust dedicated to preserving and promoting the natural, cultural and historical heritage of the Damariscotta River region.
Patrons attending the highly acclaimed Maine Antiques Dealers Association Coastal Maine Antiques Show will have the opportunity to view and purchase quality antiques while helping to support the activities and conservation efforts of the Damariscotta River Association and the Maine Antiques Dealers Association.
Pets are not permitted onto the Round Top Farm property. Show Hours are 9:00am to 4:00pm Wednesday August 24th, 2016. Admission fee is $10. Free ample parking on site. Food and drink catered by the Damariscotta River Grill. For more information please contact: Elizabeth DeSimone, Maine Antiques Dealers Association, at: 800-641-6908 or email: edesimone@goosefareantiques.com. Visit www.MaineAntiques.org
On the Road to… Maine