An overview of 18th century agricultural buildings in Williamsburg, VA, and throughout the greater Chesapeake Region
by Jennifer Wilkoski
Shirley & Richard Roberts Architectural Historian, The Colonial Williamsburg Foundation
Unlike their domestic counterparts, early barns and agricultural buildings do not tend to survive as well as houses of the colonial era. Utilitarian in purpose and sometimes roughly constructed, the earliest agricultural building in the Chesapeake region, which consists of Maryland and Virginia, dates to no earlier than 1750. Today, these rare survivors can tell us much about the early people who built and used them.
While no original barns, stables, or livestock shelters survive today at The Colonial Williamsburg Foundation in Williamsburg, VA—the country's largest outdoor living history museum—visitors can see reconstructions of these common 18th century agricultural buildings while walking through town. A reconstructed tobacco barn and corncrib stand at Great Hopes, an area outside of town that was set up to function as a rural plantation. In town, numerous stables, smokehouses, and dairies, some original, can be found tucked behind houses, taverns, and commercial buildings and help provide a glimpse of what life was like in the colonial era.
An Era of Research and Discovery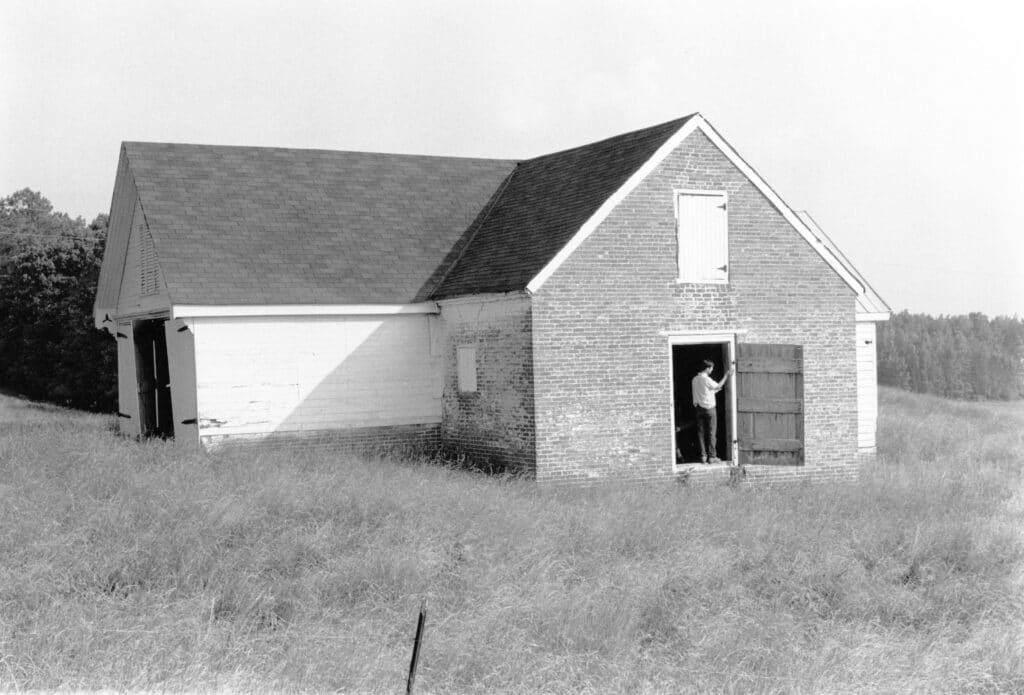 Beginning in 1980, Colonial Williamsburg's Architectural Research Department began recording agricultural landscapes across the Chesapeake region in a decade-long survey that would eventually be named the Agricultural Buildings Project. These agricultural landscapes, many populated with forlorn antiquated outbuildings, became the focus of the team. That research eventually gave way to a deeper understanding of early agricultural buildings including barns, stables, granaries, and livestock housing.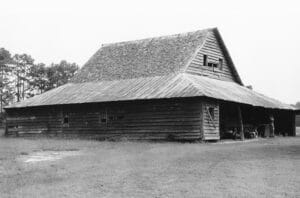 In the colonial and early-American period what exactly did a barn look like? Barns, and in fact, any building in the 18th century was a product of many influences. Location, ethnic background, and socio-economic class all played a large part in the appearance, construction techniques, and function of any building. The Chesapeake region, which Colonial Williamsburg is part of today, had different building traditions than the New England or South Carolina colonies, even though they were part of the same family tree with roots in England. Similarly, the ethnic background of the people who built and used the buildings is important to consider. The British colonists had different building traditions than the Dutch colonists in New York, for example, or the Germanic settlers in the Shenandoah Valley. Physical location—urban towns versus rural homesteads and plantations—was another factor.
In the period, there was a multitude of building types specialized for various agricultural purposes. Barns, stables, granaries, livestock shelters, smokehouses, and dairies, were all valuable assets to any farmstead. Before the late-18th century, most barns were built for a set purpose. Tobacco houses, threshing barns, and corn cribs were generally built for one function.  Sometimes shed additions would provide additional storage or animal housing, but generally, livestock was not housed within multipurpose barns until the post-revolution era.
18th Century Agricultural Buildings: Tobacco Barns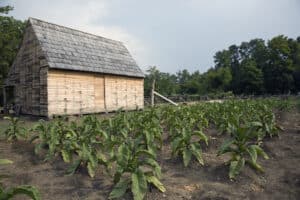 These singular-focus barns provide an important peek into the era where tobacco was king and currency and the most important crop for the Chesapeake colonists. Pre-revolution Virginia and Maryland were built on tobacco. Today, the rural landscapes of Southern Maryland still provide a small glimpse into the tobacco-based economy of the colonial Chesapeake. Tobacco barns continue to dot the landscape, a remnant of the past.
Tobacco barns, or tobacco houses as they would have been called in the period, are a building type that is based almost solely on function. After growing all summer, tobacco plants were harvested in late August and hung to dry before being packed and shipped to England for trade. These specialized barns had understated exteriors clad in sawn weatherboards or riven clapboards, while the interiors were designed specifically for drying the tobacco. The harvested tobacco plants were speared on poles and then hung in tiers throughout the barn. Dirt floors and earth set posts were common features. If the tobacco was packed too tightly in the building it would not dry properly and would mold, destroying the crop. Over time, new tobacco barns with integrated shutters replaced the simpler colonial tobacco houses. Shutters allowed for more controlled ventilation, though the tobacco was still hung and arranged the same inside.
18th Century Agricultural Buildings: Threshing Barns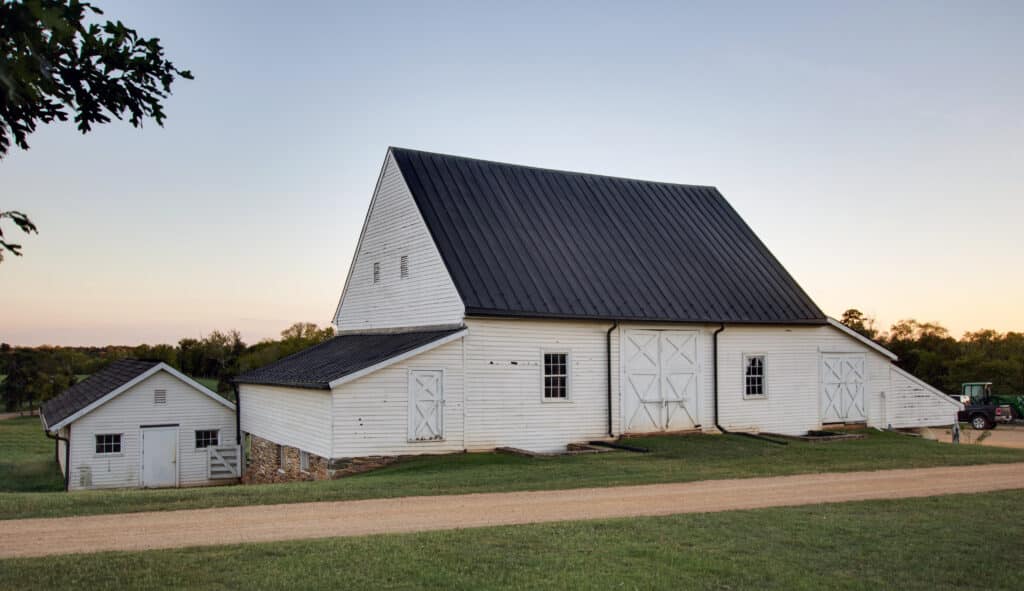 By the end of the 18th century, tobacco production was declining. Tobacco plants favor virgin soil to flourish. By the end of the century, fresh, cleared land was in short supply forcing farmers to diversify their crops. Corn, already a staple crop for feeding both livestock and humans, increased in production. Wheat, meanwhile, was added to the rotation and eventually became a dominant crop in the 19th century. With increased wheat production came the need for a specialized barn for processing and storing the grain.
Wheat was notoriously labor-intensive to prepare for the market. The kernel had to be removed from the stalk in a multi-step process. First, the wheat was threshed. This was done either manually by beating the stalks with wooden flails, or under animal power by treading or dragging a threshing board over the stalks. After the grain was separated from the stalk, a process called winnowing sorted the edible kernels from the non-edible chafe or stalks. This was also done by hand. The flailed wheat was thrown up into the air while there was a slight breeze. The heavier kernels fell back down while the lighter chafe would be caught on the breeze and carried away. After the grain and chaff were sorted, the grain was then stored in special bins, either in a shed addition to the threshing barn or in a separate building called a granary.
Barns purpose-built for treading or threshing appeared throughout the Chesapeake. George Washington famously built a sixteen-sided barn at Mount Vernon specifically for processing wheat. Sturdy threshing floors, often made of oak two to three inches thick and "trunneled" or secured with stout wooden pegs that could hold up to the rough threshing process, are a distinct feature of these barns.
Later, when horse-powered machines were invented in the 1780s owners throughout the Chesapeake adapted their barns for the new technology. Founding Fathers including Washington, Jefferson, and Madison, amongst others, embraced the new technology and incorporated threshing machines into their process. In 1796, Thomas Jefferson visited William Douglas Meriwether at Cloverfields—his Albemarle County, Virginia home—to inspect his new threshing machine. Jefferson was impressed, although his writing after his visit reveals that he already had plans to modify the design for his own machine.
The barn that Jefferson visited is still standing and is now part of Clover Hill plantation. Although modified over time, it still retains its 18th-century appearance. Like its Pennsylvania bank barn cousins to the north, this barn is built into a small hill. Livestock pens on the cellar level provided animal shelter, while the first floor opened to a large threshing floor. Substantial posts with decorative chamfers and lamb's tongue stops provide a modicum of ornamentation while functionally supporting the second-floor level where hay might have been stored. Shed additions, built between 1800-1805 acted as a granary, allowing the entire process of wheat production and storage to occur in one building.
18th Century Agricultural Buildings: Corn Cribs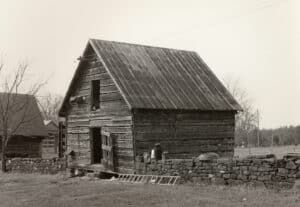 In addition to tobacco, corn was one of the earliest crops to be cultivated by the colonists in the new world. Introduced by the Native Americans, corn production was vital to the survival of both people and livestock, and thus was generally not exported to England like tobacco. Once harvested in the fall, corn—both on the ear and as
kernels—required specific storage conditions. Like tobacco, corn required ventilation and a dry environment, as well as a structure that could support the heavy loads. Corn cribs were the answer to these conditions. Robust timber or log buildings with thick floors, and vertical or horizontal slats spaced with an air gap between the boards to provide ventilation, are quite recognizable.
18th Century Agricultural Buildings: Stables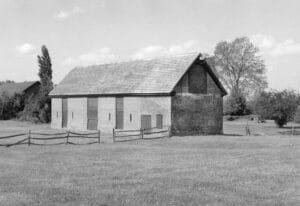 In the pre-Revolution Chesapeake, livestock was more apt to be free-ranging or housed in rough structures or sheds than in a barn. The exception to that was horses. Whether for draft or recreation, horses were kept in specialized stables. Stables ranged from commercial endeavors associated with taverns or courthouses to specialized buildings for specific horse types where draft horses, carriage horses, and racehorses were segregated due to their specific needs. In urban environments, small one- to four-stall stables often sat at the rear of the lot. Whether frame, log or brick, these standing stalls were about four to five feet wide and eight to ten feet long with wooden partitions. Mangers for grain and feed bins were part of most stable furnishings. Tack and equipment were kept on racks and pegs nearby. Ventilation and drainage were important factors in situating and siting a stable.
Today, the Department of Architectural Preservation and Research at Colonial Williamsburg is actively researching colonial stables in an effort to reconstruct Peyton Randolph's stable, which was demolished sometime in the 19th century. The building was listed as "stables to hold twelve horses and room for two carriages" in the 1783 auction of the property following Betty Randolph's death. Once completed, this stable will be home to Colonial Williamsburg's rare breeds program and will provide a much-needed space to showcase the many heirloom animal varieties that Colonial Williamsburg maintains.
Livestock Houses
Throughout much of the 18th century, housing for livestock was basic, or non-existent. Hogs, cattle, and sheep could free-range until slaughter or sale. However, towards the end of the 18th century, housing for cattle and other livestock began to be incorporated into their own separate buildings or into multipurpose barns. "Cow Houses," as many of these cattle shelters were called in the period, could be a walled building or perhaps just a shed-roofed enclosure. At Mount Vernon, Washington built a grand tripartite stone stable and added a post-in-ground cow house on the back covered with a shed roof.
Smokehouses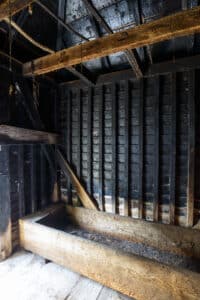 Hogs, on the other hand, were generally allowed to roam unencumbered before being rounded up and penned for fattening before being slaughtered. Traditionally, the cold days of December and January brought the slaughtering and smoking of pork. Pigs were a critical part of the Chesapeake diet and provided sustenance over cold winters. Once slaughtered and portioned into cuts, the pieces would be salted, often in a trough made from a hollowed-out tree, and then hung in the smokehouse where fires would smolder for up to two weeks imparting a smokey flavor and rot and pest-resistant cure.
Smokehouses, often in the form of square frame buildings with pyramidal roofs, were built specifically for the purpose of curing and storing meat. Often close-studded, the buildings were windowless and small, usually about twelve feet square. The close-studding was a framing technique where the wall framing or studs are placed close together, usually with less than six inches of space between studs. This framing style was not for structural stability, but for theft deterrence. With the studs spaced so closely together, the thief could not slip between the studs and purloin the bacon.
The roof framing of the smokehouse was typically over-built with a sturdy king post in the center and rafters studded with wrought spikes or wooden pegs where the various cuts of pork could be hung to smoke and then for storage. When fully loaded, a smokehouse could provide nearly a year's worth of meat for a family.
Dairies
If cowhouses were the least architecturally impressive outbuilding in early America, then dairies might be the most impressive. Like smokehouses, dairies were often square with pyramidal roofs. In the best dairies, louvered or vented window openings and coved and plastered eaves that created a deep overhang allowed for cooling and air circulation. Inside, dairies were often sunken into the ground and fully plastered to further aid in the regulation of temperature. The plaster could also be limewashed regularly to create a more hygienic environment for the storage of butter, cream, and milk.
Unlike barns and other agricultural buildings more suited to rural settings, both smokehouses and dairies were common in both urban and rural environments. Of the 89 original buildings at Colonial Williamsburg, ten are smokehouses and three are dairies. The small lot sizes were perfect for these compact outbuildings, and the pyramidal roofs and decorative vents on dairies fit in with the domestic setting.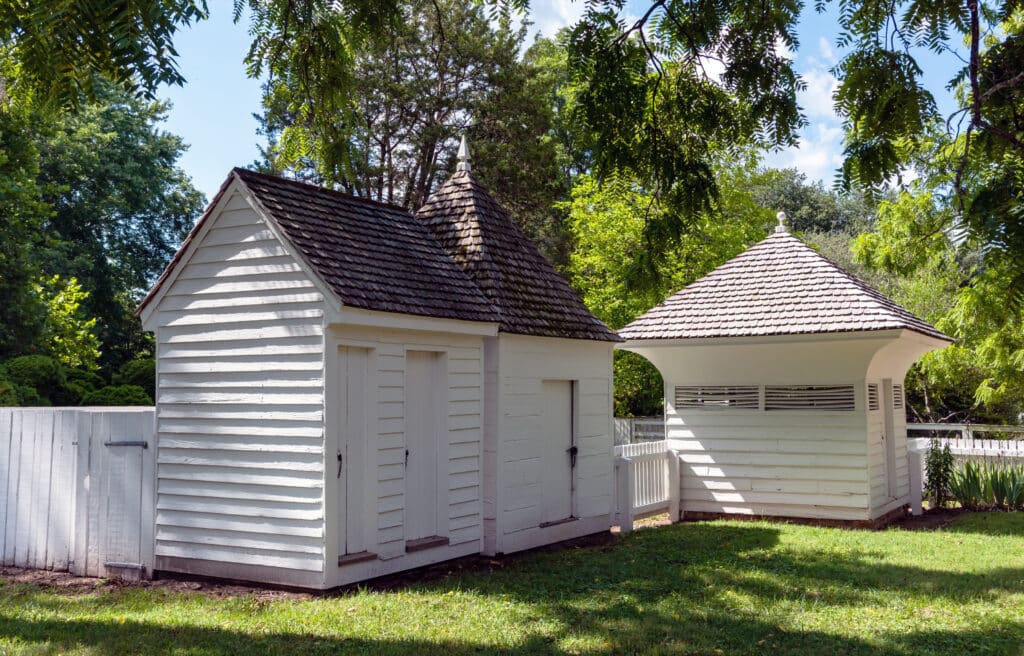 And More to Come
Agricultural buildings in the era were built by hand by skilled craftsmen from various trades trained in carpentry, timber-framing, masonry trades, joinery, and blacksmithing. Like most buildings built in the 18th and 19th centuries in the South, many of the skilled hands undertaking the construction were enslaved. In 18th century Williamsburg, half of the population was Black, and the majority enslaved. On rural plantations, enslaved women and children made the bricks that formed the foundations that these buildings stood on. While in many cases we don't know the names of the craftsmen or their status, whether white, free Black or enslaved, these buildings are their legacy. So not only do these buildings teach us about the building and farming traditions of the past, but they also help shine a light on the people that built, lived, and worked in them.
The extensive research collected for Colonial Williamsburg's Agricultural Buildings Project continues to help scholars across the nation better understand the colonial and early-American built environment. Early agricultural buildings have invaluable stories to tell  – stories of their many uses and of the men, women, and children—enslaved and free—who worked and, in some cases, lived in them. As we continue to build upon this research, we look forward to finding new and more vibrant ways to share these stories.
Colonial Williamsburg is the world's largest living history museum. The over 300 acres in Williamsburg, Virginia feature iconic sites, working tradespeople, historic taverns, and two world-class art museums. Colonial Williamsburg is open 365 days a year. For more information, visit www.colonialwilliamsburg.org.