By Ryan Brutt, The Auto Archaeologist
Barn Find: A barn find is a classic car, aircraft, or motorcycle that has been rediscovered after being stored, often in derelict condition. The term comes from their tendency to be found in places such as barns, sheds, carports, and outbuildings where they have been stored for many years. The term usually applies to vehicles that are rare and valuable, and which are consequently of great interest to collectors and enthusiasts despite their poor condition. (Wikipedia)
---
When I was 16, I found on accident a 1971 Plymouth 'Cuda sitting buried in a repair shop in Chicago. That car flipped a switch in my head about vintage cars. This car was so cool, the grille looked mean, the gills on the side. It was just the epidemy of cool for me. I thought to myself if I could discover this car completely on a fluke, just think what I could do if I put my mind to it. That was the start of my long slide into madness … I mean hunting vintage cool cars in neglected situations. Because there is so much out there to find, if you are willing to put in some time and effort.
Vintage Car Barn Find: 1967 Shelby GT500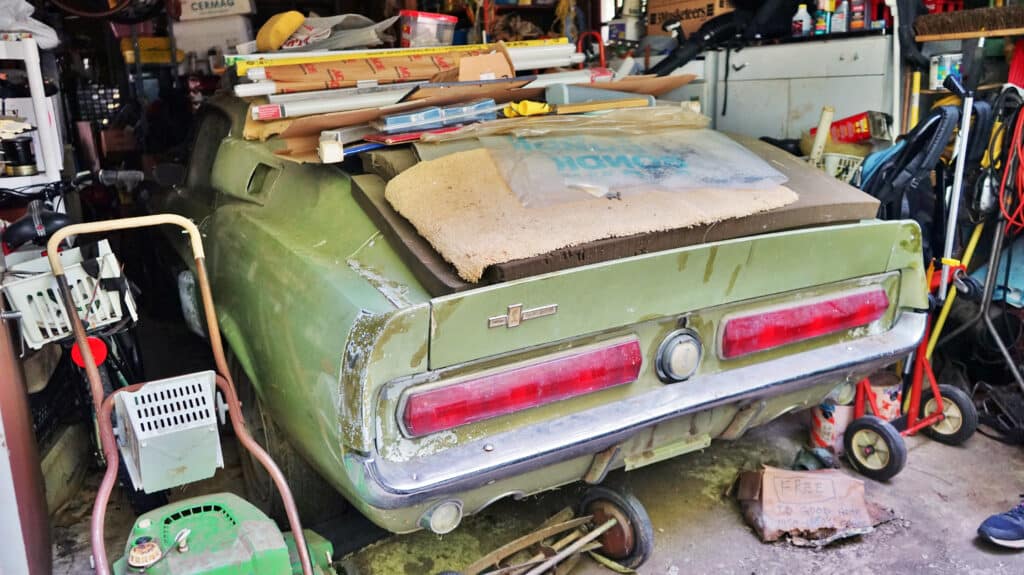 I've been hunting cool cars in neglected situations for years. I've been able to put together a map of leads and stories I've heard from all over. A gentleman told me about a car on the East Coast of the United States that I should check out if I was nearby, a 1967 Shelby GT500 Mustang still owned by the guy that got it new!
Every year I partake of the Hot Rod Power Tour – a 7 day/7 stop driving event that would crisscross the country while driving mostly on two-lane roads. Fortunately for me, it ended just a short drive from this Shelby and some close friends of mine. It was meant to be, so as I drove through town, I came across a vintage early Plymouth Horizon K-car, the "Car that Saved Chrysler," sitting next to a shed. I was perplexed, as I had not seen such an early and untouched example for a very long time. This ended up being the same house with the Shelby!
I never trespass, I always go knock on the door first. My life is not worth the problems that come from trespassing. The owner was more than happy to show me his Horizon. The car had belonged to his mother long ago, and when she couldn't drive anymore, they brought it to their home and parked it. It was the first-year model, which is rare since most rusted away. Other than some mold and moss, the car was pretty solid. After talking a bit about each other and what I do for a living, he said he had something I might be interested in. He walked around the
corner and unlocked the single car garage door and flipped the door up, revealing the 1967 Shelby GT500 Mustang.
The car had been sitting in the garage for a few decades at this point. Being an engineer at Ford in 1966 and 1967 he bought the Shelby through the company plan and drove the car around the country for years. He has pictures of that car from basically day one. With being an engineer, he also knew how everything worked and how it should all fit together.
That's where some letters came into play.
He had written back and forth with Shelby American discussing the horrendous "build quality" in the car. There were holes in the tail panel allowing exhaust into the car and he wrote a long, detailed letter to Shelby with diagrams showing the problems in design and implementation of the Shelby conversions. This went back and forth so long that when Ford took back production of the Shelby Mustangs about halfway through production, the owner got a letter from Shelby American to take up any further claims with the new company in charge of production!
After fixing a bunch of little things, and driving the car around the country, the original engine died, and a replacement short block was installed. Not long after that, the car was put into the garage and really hadn't moved since. But with my enthusiasm and that of a friend who runs the Shelby Research Group, we hope to convince him to get the car dug out and have something done with it before time catches up to us all.
Vintage Car Barn Find: 1969 Chevrolet Camaro Z/28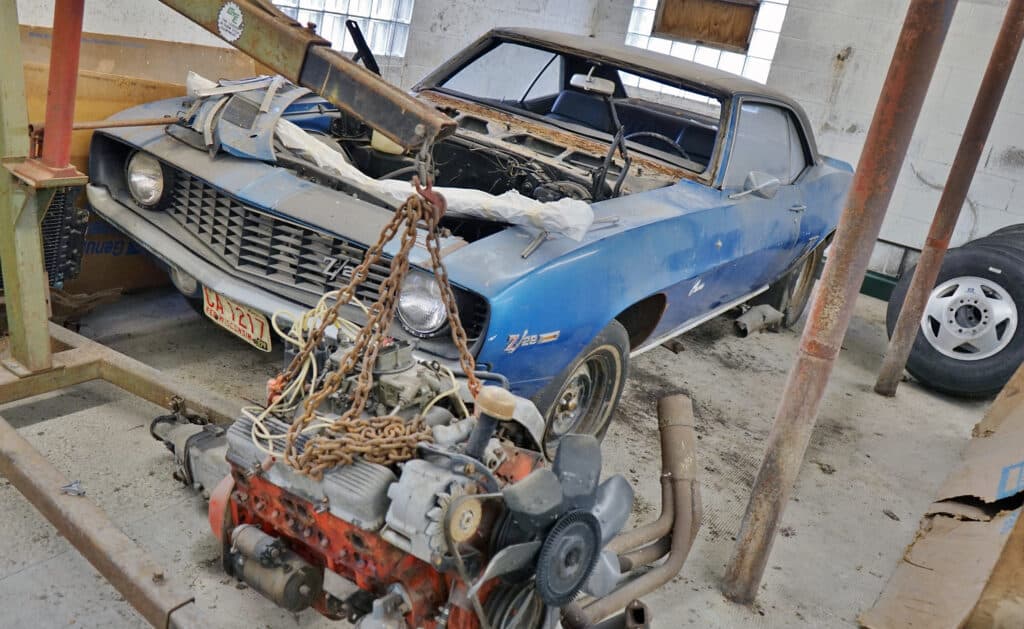 Few cars are as popular as the 1969 Chevrolet Camaro. Many consider it the top dog when you think classic muscle car. They made a ton; new ones are made every day through new bodies.  When you think of a Camaro, there are a few models that automatically get people excited, SS, RS, and Z/28 Camaro. The SS was always the higher horsepower version of a standard Camaro, the RS had nicer options like extra gauges and fancy headlight covers. And the Z/28 was always meant to be a race car, and this one in an old Dairy Barn was at some point!
The Z/28 option package was produced by Chevrolet to allow them to race a similar model in the Trans Am racing series alongside the Boss 302 Mustangs, Firebird Trans Ams, and later Plymouth AAR 'Cudas and Challenger T/As. They needed to produce so many cars to be able to use the car in competition. Nobody knows exactly how many were produced, and there have been so many tribute cars built to Z/28 specifications. Finding an original untouched one is a rare treat!
A friend of mine from the Dairy State dropped me a picture of this Camaro, saying his boss who owned the car would soon be working on the car and would I like to check it out before they did anything with it. Only a few hours away, I jumped at the chance as soon as I could. Turned out to be perfect timing when I drove up there in early spring. Cold enough so there were no bugs or real foliage to deal with, but warm enough that you don't freeze.
My friend and I arrived at the converted dairy barn at the same time, and the owner opened it up for us. Sitting there in the corner was the 1969 Chevrolet Z/28 Camaro. The owner had bought the car around 1974 after his previous Z/28 had been stolen. He bought it in Milwaukee and bought it basically as it sat in the barn, with side pipes and headers. But all the important parts were left alone – the engine, transmission, and rear end assembly are all original to the car.
Even with the car sitting since roughly 1979, it had been indoors and dry, unlike many of the cars I come across. That's not to say it was perfect – there was surprising rust along the top of the cowl where the windshield ends. The benefit of restoring a Camaro nowadays is everything is readily available to put the car back together to better-than-new condition.
The plan was to tear the car down and get the rust repair started. I was hoping that they would leave most of the original paint alone (unfortunately the rust might be far deeper than originally noticed, but I can hope). A car is only original once, after that, it just becomes another 1969 Camaro Z/28 in a sea of other Z/28s. But an original one is at a different level!
Vintage Car Barn Find: 1969 Dodge Daytona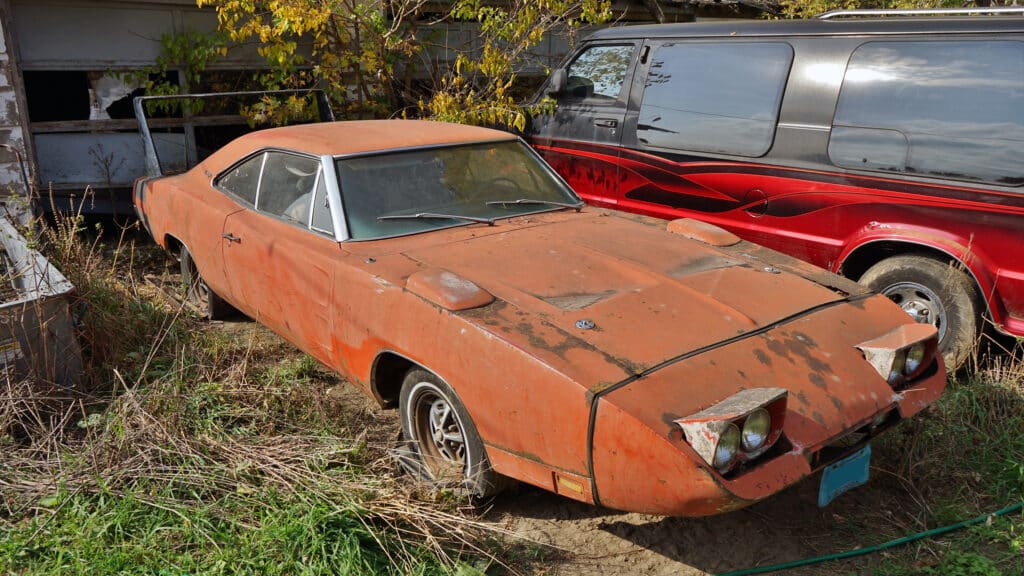 In the world of vintage American Muscle Cars, few cars capture the imagination like a 1969 Dodge Charger Daytona. They were made to go fast – made for NASCAR with the famous nose and wing on the car, and they did it right. To be legal for racing in NASCAR in 1969, 500 of the cars had to be produced for consumers. 503 were produced in total. To find one nowadays that isn't in a museum or restored is nearly impossible. To find one sitting in a backyard and owned by the original owner was just about impossible, but I did it!
Through the years I had heard from friends of mine in the Mopar world that there used to be a Daytona sitting outside not too far from where we lived. Nobody knew what happened to it, but they remember it sitting at two different locations, and then poof! it was gone. Even the people who work specifically with Daytonas and keep track of them had no idea. It was a real mystery.
Randomly out of the blue a fellow Mopar fan contacted me about some Mopars I had posted about, and how he also knew the cars.
We talked back and forth for weeks talking about different cars and yard art we knew about. Then he dropped the bomb on me. He knew where the mystery Daytona was! He told me only under complete secrecy, and when I brought it up on my map program, it was less than an hour away.
The next weekend I made my way out to the farm where the Daytona currently resided. Pulling up to the gate at the front of the farm, I could see the family was outside doing odds and ends.  I shouted who I was and what I did, and they opened the gate for me. I came around the gravel drive and there it was, sitting on a concrete pad in front of a dilapidated garage.
Once I was out of the car, the grandfather greeted me, and sat me down to talk. I showed him some of my work and told him the story of how I found him and how I kept everything private to protect the owners. With that, he told me how he got the car.
Back in 1969, he had bought just the previous year a GMC pickup truck for the farm. As he said it "wasn't their finest vehicle." One day his wife was driving past the Dodge Dealership in Madison,Wisconsin when she saw this Daytona sitting on the showroom floor. She immediately pulled in and wanted it, she called her husband and he brought the GMC in for the trade-in. That afternoon they drove off the lot new owners of a 1969 Dodge Daytona.
The family used the car for years as a regular driver – that was, until the first gas crisis. After getting gas in the Daytona, they had gone home to swap cars to go out to dinner. The next day the father went to take the car to work and got a few miles down the road when the engine just quit with a loud noise. What they discovered was someone had siphoned all the gas out and filled the tank with a bit of water, which promptly locked up the engine. The car has basically sat ever since at one location or another.
For a while it was in the garage it was sitting in front of, but they discovered was full of termites and wood rot, so they pulled it out in case the roof came down, which it did eventually!
The Grandfather that bought it new passed away a few years ago, and the car was so ingrained in the family and with him that they had my articles from Hot Rod Magazine at his funeral, and one of his Grandsons has one of my pictures tattooed on his shoulder blade.
It might be an extremely rare Mopar worth tens of thousands of dollars, but to the family, the car is a family heirloom and priceless.
1969 Dodge Charger 500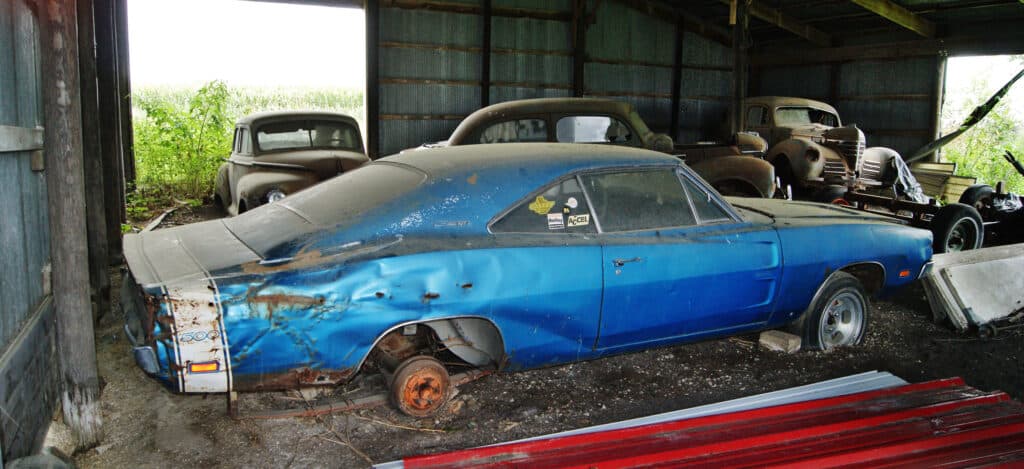 You never know what you are going to find out in the wild. I get leads that sometimes turn up gold, but at other times they're tin. Fortunately, I plot everything on a map, so I can hit up a bunch of stuff during a trip. This adventure worked out so perfectly, and lead to one of the rarest muscle car finds I've ever come across: one of three 1969 Dodge Charger 500's, Hemi car, with a 4-speed!
Traveling through the central part of the U.S. while heading to a Mopar car show—a car show devoted to vehicles produced by Chrysler, Dodge, Plymouth, Desoto, etc.—and just a little drive out of the way was this lead I had from a friend. He said there was a guy on a farm with a bunch of cool cars out in his field and in his barns. He wasn't very specific, but he assured me that it was worth my time.
With no information but the address I drove out to the farm, and nobody was home. I could see some cool cars hanging around, but nothing to set the world on fire. So, I drove into town and had some food, went back, and as I pulled in, he pulled in behind me. We talked for a bit, and he commented on the nice car I had, a newer blue Dodge Challenger. I showed him what I did, documenting cool cars in neglected situations. He made me a deal: take him for a fun ride in the Challenger and he will show me everything.
The deal was struck, and I showed him a recent article I did in Hot Rod Magazine on a 1969 Dodge Daytona, and he mentions he has one of the cars that makes a Daytona. And my mind jumps to, oh, he has a 1969 Dodge Charger since that is the original basis of the rare car. Nope! Out in his tractor shed, in the mud sat a 1969 Dodge Charger 500, the first of the Dodge Aero Warriors as they are called.
Built to go fast in NASCAR, the regular '69 Charger had some horrible aerodynamics with the recessed front grille and recessed rear window area, and the Charger 500 fixed that with a flush front grille out of a 1968 Dodge Coronet, and custom flush rear window area. That was good, but not great and the cars were still not competitive. Dodge took a huge leap and created the Dodge Daytona, famous for the tall wings on the back and pointed nose up front. They were crazy, and did the job.
For 1969, the top option engine you could get was the famous 426 Hemi. And, if you wanted to have a bit more fun, you got the 4-speed. This car had both, and with the color combo it worked out to be just one of three produced.
Unfortunately, time had not been kind to the car, at one point it had hit a guard rail and done damage to the passenger side rear quarter. A pole had gone through the nose of the car, wrecking the original engine. The owner traveled the country as an over-the-road truck driver, so when he had some room on his flatbed, he would pick up cars or parts and drop them at the farm. That's how he got the Charger 500.
While the Charger 500 was the cherry on top of the cake, there were still tons of vintage cars all over the property and stashed away in barns and sheds. This adventure still is one of my favorites, even after a decade.
1970 Chevrolet Chevelle SS Convertible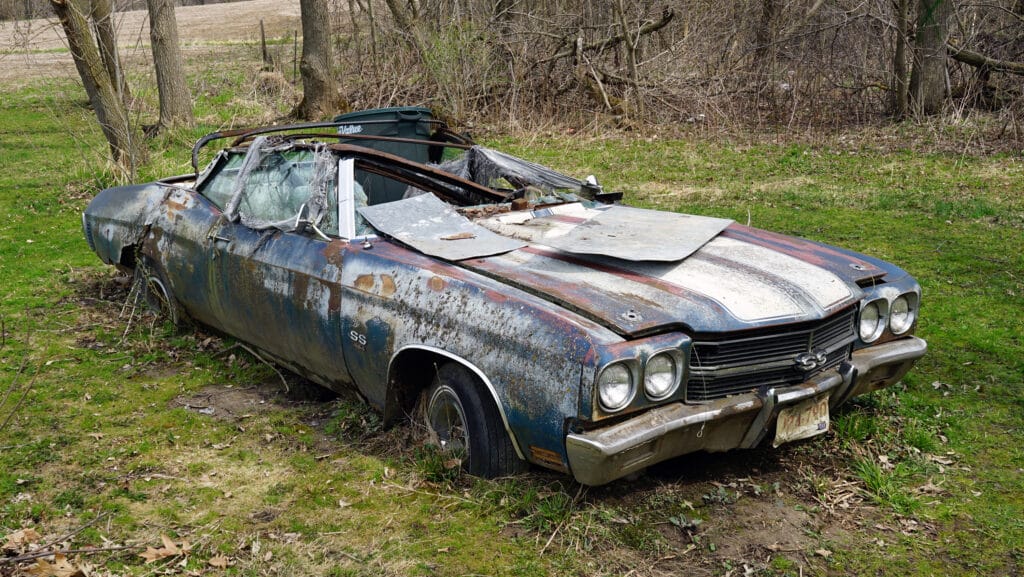 There are stories about cars you just don't believe, stuff that just seems too far-fetched, even with everything I've seen. I had heard a story about a rare 1970 Chevrolet Chevelle SS Convertible just sitting in a field, complete, just sitting there. Now that's not the interesting part, the car had been sitting there so long that a tree had fallen down and crushed part of the car. But since this car is only one of a handful built, it always intrigued me as to why it was sitting. And fortunately, the reasons were on my side for once.
Traveling through Wisconsin, I was told by friends exactly where the car was, and every time I drove past it in my 2009 Dodge Challenger, I could never see it. I thought I had the wrong location. One winter day I was with a friend in his truck driving past the area and with the little bit of additional height I could see over a small hill, and bam, there it was! Behind some bushes and trees was the Chevelle!
I followed up later that year on the car, and met the brother of the owner. He was kind enough to let me document the car and go over it very carefully. I almost had a heart attack though. As I was doing some filming a cat jumped out of the car and ran into the woods. Talk about a surprise.
The car was basically complete and mostly original. It is a 1970 Chevrolet Chevelle SS 454 Convertible with a 4-speed manual transmission and air conditioning. It had the top engine available with that combination, which was the LS5 engine. It produced 390 horsepower. The only step up from there was the LS6 454 cubic inch V8 option, but it was not available with the A/C and a 4-speed. So, this was the top dog you could get with those options.
Time had not been kind to the car, it was indeed sitting in the open in a field. Just down a little hill from the house where the brother lived. At one point the trees were closer to the car, but a storm years ago had brought a bunch down, including one right over the Chevelle, crushing the windshield and other parts of the car. Even with as bad the car was, being a complete example of such a rare and unique car made it was worth restoring if it could be saved.
I got in touch with the owner of the car after that, and he told me the history of the car. He was drafted into the Army, and while overseas his brother would send him brochures on different Chevrolet products coming out. So, he special ordered the Chevelle while in the Military. He ordered everything he wanted in the car, and wanted the higher horsepower engine, but was denied when that engine couldn't be paired with the A/C and 4-speed. The brother paid for the car while he was in the Military, it was so well optioned it topped out at $7,000.  Once he got home, he raced the car all over the place.
In the 1970s the car was a bit worn out. He eventually parked the car in his neighborhood and when a neighbor's kid shot out the driver's window, the car was moved out to the brother's farm for safekeeping. And that is where it sat for decades. Just recently, though, the brother sold the farm and they moved the car back to the owner's garage, hopefully, to be restored someday.
1970 Hemi 'Cuda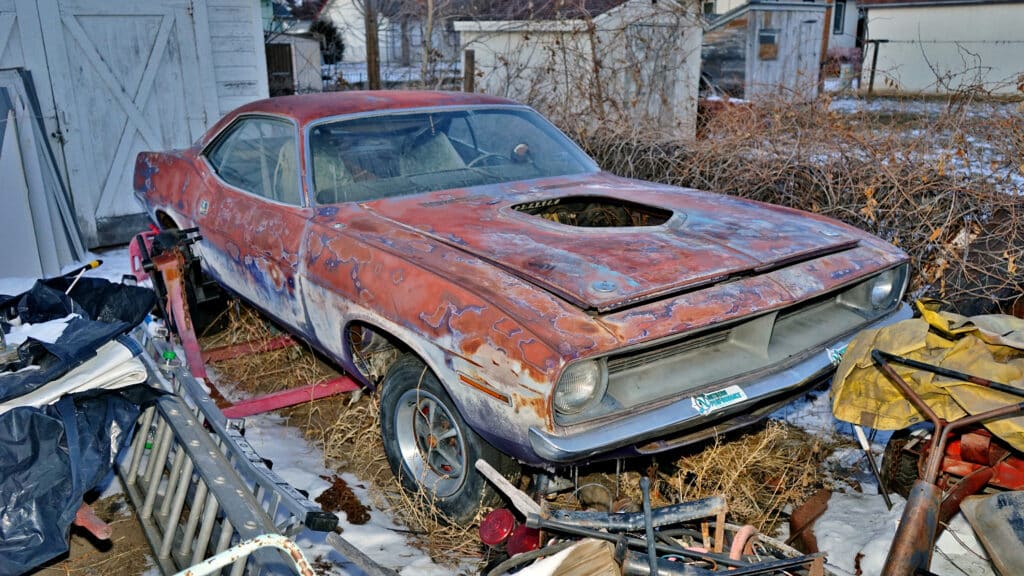 For years I had heard stories about a purple 1970 Plymouth Hemi Barracuda sitting in a guy's back yard out west. Hemi 'Cudas are to most the epidemy of the Muscle Car era. They look mean, sound mean, and are insanely priced nowadays. Through the years I pieced together information from people I met from that part of the country to see if I could nail down where the car was sitting. I didn't get much, but then luck was on my side and I got a really solid lead.
In one of the Facebook Groups I frequent on Barn Finds and Hidden Gems, an individual posted a single picture of a purple 1970 Plymouth 'Cuda sitting in a backyard area in a suburban neighborhood. The poster would not share any information on where the car was with anyone. Just that it was a 1970 Hemi 'Cuda in purple. But with the information I had collected, that one picture was all I needed to work out where the car was.
In the picture was some sort of stadium light. The shadows in the picture showed that the car was sitting North West of this light because the shadows were pointing east as the Sun was setting. After that, I jumped on Google Earth and began looking at different stadiums, football fields, etc., looking for one that matched the one in the picture. It was easy enough to go back and forth on Google Earth looking for homes like the ones in the picture. One had a brown roof; one had a metal roof with a shed out back. And soon enough, there it was, clear as day! You could see the car right there sitting in the backyard. I put the information into an online map to follow up someday.
Well, a few years had gone by and my sister was moving to Utah.  It provided me with the excuse to check out this car as it wasn't far off the route west! After a few days, I made it to the owner's house just a bit before sunset, unfortunately. Time was not on my side, but I knocked on the door and the owner came to the door asking what he could help me with. I quickly told him the whole story, at which point he chuckled and said he would show me the car.
The owner was very gracious with his time and allowed me the opportunity to uncover the car, in winter, when it had frozen solid to the car, ruining the cover as we pulled it off.  But there it was, a legit 1970 Plymouth Hemi 'Cuda in Violet Purple. The original 426 Hemi engine was still residing between the front fenders, and a manual 4-speed transmission, surrounded by a white interior that rounded out the car beautifully. Only a handful of cars like this were made, and fewer with this exact combo. It's an extremely rare car, and normally into the mid-six-digit range or more.
Back in 1975, the owner was looking for a 1970 Dodge Challenger R/T Convertible with the rare 440 cubic inch V8 with Six Pack induction on the engine. He could not find one in Northern Michigan at the time. After two tours of duty in Vietnam, he was assigned to various Strategic Air Command radar sites in the U.S. So, he was looking for a fast car, and he settled on the Hemi 'Cuda. He drag-raced the car for a few years, had his fun. Eventually, his job took him out west and he brought the car with him, and since he doesn't have a garage, he put it up on jack stands in his back yard and that's where it has been ever since.
I talked with the owner recently and nothing had been changed. The car was still in his backyard, with a new car cover that I supplied, after ruining the last one. He said maybe if he wins the lottery things might change. But right now, he's just happy as a clam having it chilling in his back yard. So, who knows what will be next for it!
---
My name is Ryan Brutt, and I am known as "The Auto Archaeologist." I travel around the country documenting cool cars in neglected situations. Sometimes they are in barns, or junkyards, or back yards. If it is something interesting with a story, I'll want to document it. I've seen everything from a Duesenberg in a shed to a Hemi 'Cuda in the backyard. There is so much interesting history out there that people just don't know yet. Another one of my codas is I don't share who the owners are or where they are at. I want to protect them from unsavory individuals that would do bad things to these cars. But they are out there if you are willing to look hard enough. Thankfully I do not have a social life, so I'm always on the hunt. Find me online at www.barnfinds.org.