by Bud Michael


Ahhh, the great outdoors. Cowboy coffee shared with friends by a warming campfire somewhere in the Rockies. A weekend trip along the one of the many trails in the Appalachians. Backyard camping with the grand-kids. The familiar fragrance of bacon frying in a skillet at a lakeside camp site in the Adirondacks. Gaining Dad's trust to light the Coleman lantern at sunset. Unforgettable memories come from sharing outdoor experiences across generations and among family and friends. Those nostalgic memories drive some of us to collect, restore and use vintage and antique camping gear.
Who among us is not familiar with the seemingly ubiquitous green Coleman lantern and stove? Even folks who are not particularly attached to the joys of sleeping on the ground know the venerable Coleman name and recall the famous "Sunshine of the Night" logo stamped on millions of lanterns over the decades. The Coleman Company, however, goes much further back than the green camping appliances we see at flea markets and yard sales today.

Coleman goes back, way back. Decades before camping became popular, Coleman was a household name for gas lighting, heating, and cooking. In the late days of system gas lighting where appliances attached to the wall or ceiling were fed by a hollow tube supplying fuel, William Coleman envisioned the utility of portable lighting-a gas lamp that could go from room to room and even outdoors. Coleman began in 1900 as the Hydrocarbon Company selling the "Efficient" lamp made by a small Tennessee firm, the Irby-Gilliand Company, a gas lamp that could be moved from place to place indoors. He was struck by the brilliance of the light produced by the gas pressure lamp compared with the more commonplace wick lamps and lanterns. Within three years, W.C. Coleman owned the manufacturing rights to that lamp, changed the company name to The Coleman Lamp Company, and stamped his own name on the improved products he was manufacturing. Around 1910, the first affordable "Reading Lamp" went on the market for the rural home. Then in 1916, Coleman introduced the first truly portable lantern, the model 316 or ARC lantern, for farm use. Early print ads claimed it was far safer to use and "brighter than twenty ordinary wick lamps."
Coleman became a household name after the 1915 Panama Pacific International Expositions in both San Francisco and San Diego when the Coleman name became widely recognized for safety, quality and reliability. Collectors and gas pressure
appliance enthusiasts today can still bring a decades old lamp, lantern or stove back into reliable operation thanks to a network of online users and vendors offering products, experiences, and technical advice.
Coleman and Camping
In the late 19-teens and '20s when autocamping – "autogypsying" it was then called – took hold, Coleman gradually expanded from manufacturing gas pressure table lamps, chandeliers, and farm lanterns for mostly rural households to include high quality portable camping stoves and lanterns. Those early appliances evolved to the great diversity of Coleman branded outdoor products we see and use today.
Beginning in the 1920s thanks to improved roads, accurate road maps, the availability of affordable automobiles, and shorter workweeks, Americans hit the road in pursuit of the Great Outdoor Experience. Popular writers of the time including George Brimmer touted the pleasures of autocamping and the responsibilities of camping on public and private property with his "Code of Conduct for Autocampers." Brimmer partnered with Coleman to write the 64 page Auto Campers Manual, a glovebox booklet all about how to camp in comfort. Coleman products were featured throughout. Henry Ford, Harvey Firestone, and Tom Edison went autogypsying for weeks at a time, further popularizing camping. Capitalizing on the autogypsy movement, Coleman manufactured an economy model stove called the "Gypsy" for several years (about 1927-31).
Before WWII, most Coleman lanterns were nickel plated. Beginning in 1922, somewhere on the appliance along with the famous Coleman name was a manufacturing date mark, usually one digit for the year and one or two digits for the month. While the date stamps meant little if anything to users at the time, this information became important for collectors to help demonstrate the evolution of particular appliances.
Devoted to quality and reliability, Coleman made continuous improvements to its line of lanterns and stoves, expanded to camper and cabin stoves, and produced a myriad of related outdoor products as well as heaters, self heating irons, water heaters, street lamps, even blow torches and tire pumps. (During WWII, Coleman supplied the big stars attached U.S. warplanes.)
Returning home from WWII, many young former soldiers longed for the kind of single burner "G.I. MPocket Stove" they used in the field. It seemed the perfect small cooking stove for hunting, fishing, and the growing popularity of weekend family camping. Coleman complied by manufacturing a civilian version, the Model 530 pocket stove. Other models included single, double and even triple burner camp stoves. Picnic stoves, too using small LP gas canisters.
Coleman advertised widely, utilizing popular radio, movie, and sports stars to promote their products for outdoor activities. Lucille Ball (in radio at that time), Andy Devine, Our Gang kids, and many other famous names touted the Coleman brand in ads on the pages of popular magazines.
Collecting Coleman
With a name synonymous with quality and reliability, it's no wonder that collecting these appliances is a natural extension of our experiences using them to enhance hunting, fishing, and camping activities.
New collectors usually begin with familiar items – lanterns primarily, and stoves. Some also collect canvas tents; others seek Coleman coolers. More experienced collectors look for the early stuff and obscure items including table lamps, chandeliers, early copper funnels and Coleman related ephemera -advertising, catalogs, brochures, shelf hangers and signs. One of the most popular Coleman lanterns is the red model 200A (about 1951-1977). The 200A is a popular Coleman collectible, fairly easy to find, readily restorable, and fun to use. Of course, condition is everything when it comes to value. A 200A at a flea market or yard sale in well loved condition might fetch $15-25, while one in new condition with the original box might be multiples of that.
There's really no limit to the variety of Coleman related collectibles and the diverse interests of collectors. Some enthusiasts are keen on finding derelict lanterns, restoring them to better than new. Others are experts on lamps and glass lamp shades. A few revel in vintage camping, putting their gear to good use.
Most collectors I know are tinkerers who enjoy the challenge of bringing a vintage appliance back to life, so to speak. The reward of a few hours in the garage after dinner or on a rainy Saturday morning reconditioning a lamp or lantern is the reassuring glow issuing from a vintage lighting device or the "Band-A-Blue" flame of a camp stove back in action.
Where to Turn for Information
Originating in 1993 with an informal gathering of Coleman collectors from across the US and Canada at a 4H barn in Rochester, Indiana, the Inter-national Coleman Collectors Club (ICCC), Inc. has grown to hundreds of registered members across the world. The club issues three informative newsletters annually and supports a popular website. Members have access to an extensive library of vintage literature. Another source is OldColemanParts.com operated by collector Michael Merz. Merz, in addition to supplying hard to find old original and reproduction items, sponsors the Coleman Collectors Forum, a free newsgroup for collectors as well as newbies and the simply curious. Other online newsgroups cater to specific gas pressure appliance enthusiasts.
In 1995 collector Carl Tucker and Coleman historian Herb Ebendorf self-published Coleman Collector's Guide 1903-1954. This 220 page hardback was about all collectors had for reference to the universe of Coleman products. More recently, the ICCC published a much more thorough 385 page book for collectors: Guide to Vintage Coleman Products 1900-1983. Edited by ICCC member Darcy Vantiger, an expert in vintage glass lamp shades, the book is replete with excellent photos of lamps, lanterns and stoves. This excellent book ($55 from OldColemanParts.com and a few other sources) shows evolution and variation details heretofore completely unavailable to collectors. The book is a labor of love by many volunteer collectors, photographers, and researchers. I highly recommend this book for collectors interested in Coleman gas pressure appliance collecting. But don't look for valuations. The ICCC steers away from that.
What to Pay
The appeal of collecting Coleman lies not only in the diversity of branded products, but the availability and generally reasonable prices of more common items (Coleman made millions of lanterns and stoves). That's not to say a serious collector will not pay $400 or more for a rare stove or more than $1,000 for a 1910 table lamp with the original glass shade. A beginner, on the other hand can get started for well under 50 bucks. The web sites I mention here, and the books, avoid evaluating specific items because prices are all over the map. Amongst all collectors of anything, Coleman collectors constitute a very small subset. The frequent response is, "It's worth what you are willing to pay for it."
So, if you love to tinker, a Coleman lantern is a great start. If you collect ephemera, Coleman literature might pique your interest. And if you enjoy weekend camping, get to cooking that smokey bacon outdoors on a vintage Coleman two burner stove. Coleman collectors gather in regional groups all around the country and in Canada, Germany, the Netherlands, and Japan, as well. Regional gatherings are hospitable, low key and fun opportunities to "Heat Light and Cook the Coleman Way" as a vintage ad reminds.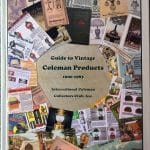 About the author: Bud Michael is a veteran collector of vintage gas pressure appliances. He has contributed articles to the Coleman Light, the newsletter of the International Coleman Collectors Club, Inc., for more than 20 years and is considered an authority on fuel filtering funnels.
Camping with Coleman