Story and photos by Donald-Brian Johnson
Something Old … Something New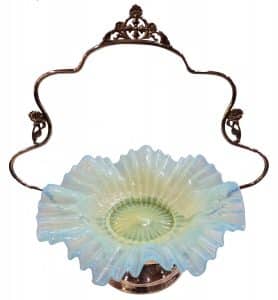 Wait. Stop right there. If you're on the hunt for a wedding gift, how about a two-fer? That's right: a gift that combines both options: something old and something new.
"Hmmm," you murmur. "A double-duty present? That sounds great!  But I know how these things work. It's probably too good to be true."
Well, brighten up, bridal guest. Your wedding gift worries are over. The answer to your "something old-something new" conundrum is as close at hand as your nearest antique show or online auction site. It's been around for well over a century, yet its style and usage remain timelessly modern.
It's a bride's basket.
Now, if your initial response was "huh?", that's understandable. Bride's baskets have often gone by more generic monikers, such as flower bowls, fruit bowls, and the like. When first introduced in the late 1800s, however, their elegant lines made them a hit with both wedding gift-givers of the time and the couples lucky enough to receive such a memento of their happy day. And, while the gift tag may have been addressed to both bride and groom, there was no denying who the present was really intended for. That's why, soon after their initial appearance, these unique glass centerpieces in their graceful metal frames were dubbed, and have remained bride's baskets.
A Tisket, A Tasket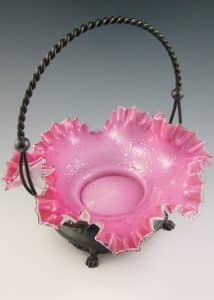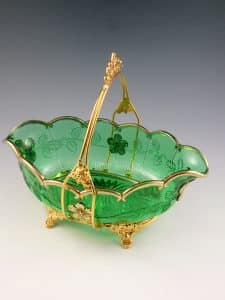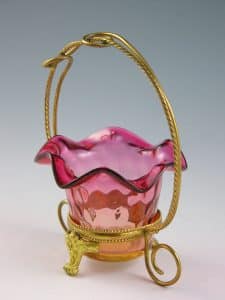 Bride's baskets were an offshoot of handled silver baskets, a popular (if pricey) wedding accessory during the early 19th century. As the church service began, a flower girl made her way down the aisle, strewing blossoms from a tightly clutched silver basket (sterling or coin). At the reception following, the now-empty silver basket provided a picturesque receptacle for the bridal bouquet and served as an attractive head table centerpiece. And, when all the wedding hoopla had concluded, that silver basket found a permanent place of honor on the dining room table or sideboard of the newlyweds' home. There, the basket could be admired by all (even those unable to afford one of their own).
The market perked up considerably with the introduction of bride's baskets made of much less costly silverplate. Soon, they found their way onto the shelves of mainstream department stores and gift shops. However, something new had been added. Relieving all that unrelenting "silveryness," and contributing to the basket's usefulness, was the addition of a colorful glass insert bowl specifically designed to fit and complement the silver frame. The lightness of the design, reminiscent of an actual straw basket, ably served as a visual offset to the heft of the glass and metal which comprised it. Now, this was a gift to be reckoned with.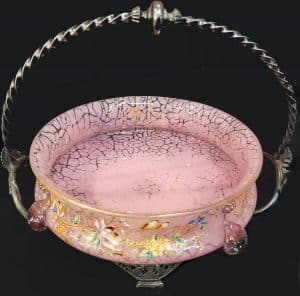 While early inserts were traditional round bowls, it wasn't long before manufacturers realized that, with glass as the medium, tradition could be easily and inexpensively improved upon, the variety serving to boost sales. Processing possibilities were limitless. Glass could be satin, frosted, dotted with glittering mica chips, or even "cased," resulting in different colorations on the bowl interior and exterior. The bowl shape soon moved far beyond the ordinary round. Ovals, rectangles, triangles, and even shallow circular plates all vied for position as glass inserts. Smaller baskets, sometimes with an accompanying spoon, or rigaree (horizontal bands of applied glass embellishments), were used for marmalade and sweetmeats. These had a deeper "cup" shape, ideal for holding in their somewhat sloppier contents.
The most visually interesting variations occurred in manipulating the basket edging. Here, the glass could be crimped, crinkled, fluted, ruffled, or even deeply dipped, with portions of the interior folded outward, to create an eye-catching color contrast with the basket exterior. Often adding to the beauty were hand-painted accents, such as flowers, vines, leaves, fruits, and other nature-based images related to new beginnings.
Metal frames also evolved, moving from a simple base, with a delicate basket handle arching over the glass insert to more elaborate configurations. Some handles, bedecked with vine-like filigree, boasted additional flourishes: central cut-out silhouette plaques of flowers and birds. Others had no real functioning "handle" at all, just decorative metal spokes extending from the base. The bases themselves were at times perched on column-like pedestals, or on metal renditions of cupids and other mythic creatures.
Among the many manufacturers appeasing the appetite for bride's baskets, some specialized only in the making of the metal stands, while others focused on the glass inserts. Consolidated Glass, for instance, created its inserts for frames made by Roger Smith & Co. Others on either side of the process included such names as Fenton, Meriden, Reed & Barton, Britannia, and Pairpoint. As mass-production increased, and less-expensive materials (such as nickel-plated silver) were utilized, the glass insert and stand often went unmarked. In almost every case though, the glass inserts were designed to nestle snugly in a specific metal stand. This helps explain a modern dilemma: a collector runs across an exceptionally lovely bride's basket, ideal in every respect, except … it wobbles. If the glass insert rests uncomfortably on the stand, chances are good that it is not the original. The insert was, at some point, pressed into service to replace a missing or damaged bowl.
Is such a Frankensteinian mashup a detriment? Value-wise, the basket may bring less if you are planning to sell it to another collector, especially if the true original was by a known manufacturer. The most important question, though, should be a personal one: if you're buying this for yourself, and are fully aware that it's an artificial combo, do you still like the way it looks? If the answer is "yes", then go for it. No 19th century brides are likely still around to object.
The Perfect Match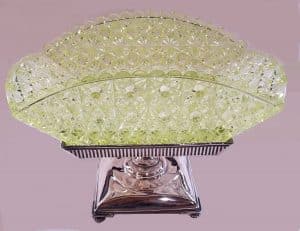 Although the first heyday of bride's baskets faded in the early 1900s, by mid-century they were enjoying a second resurgence in popularity. Young moderns of the 1950s and 60s, who once admired the basket which took center stage in grandma's fussily outfitted dining room, now eagerly welcomed it into their own, more streamlined environments. The reason was simple: although created during an earlier time, bride's baskets are not really of that time. The stylistic modernity of a bride's basket allows it, unlike many other remnants of Victoriana, to reign successfully on its own, outside of its initial time frame. The gentle, flowing lines and softly glowing colors of a bride's basket made it just as comfortably "right" on a starkly blonde Heywood-Wakefield table of the '50s, as it was on the Eastlake sideboard of grandma's day. That adaptability continues into the present, making bride's baskets a visual highlight on the period-blended tables of today.
One of the nicest inherent aspects of a bride's basket is that, in addition to being lovely to look at, the basket can actually continue to perform its original function. Place one on the table, and fill it with fruit. Or flowers. Or brownies. But don't stop there. Bring it in the bathroom – finally, an attractive repository for those tiny guest towels. For Easter, pile a basket high with gaily decorated eggs. For Christmas, stack one with heirloom glass ornaments. And, when the idea well runs dry, just do what grandma did: set the gleamingly empty basket on your sideboard so that guests can marvel at your exquisite taste. And they will.
Down The Bridal Path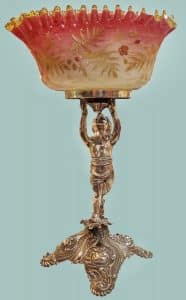 Considering their age—well over the century mark for the earliest examples—bride's baskets remain both remarkably available and in remarkably good condition. A quick perusal at a recent midsize antique show turned up over two dozen baskets, each unique in style. More than one thousand are also listed daily on eBay and other online sources. Condition is, of course, paramount. When not in use, decorative objects spend much of their lives on display. Few (if any) collectors have an interest in displaying bride's baskets with faded paint and broken glass inserts or dented stands with worn silver plating.
Fortunately, bride's baskets generally assumed pride of place in the home, far removed from the hazards of everyday life, which means that any deal-breaking damage is generally non-existent. The most common sign of aging: stand tarnish, which is easily rectified with silver polish. These were, after all, items originally intended to shine, and they do look their best when allowed to live up to that intention.
Since their basic components are decorative glass, and silver-of-some-sort stands, bride's baskets are not among the most inexpensive collectibles. Even the smallest (those marmalade bowls) will set you back somewhere around $200. The traditional larger bride's baskets hover in the $400-600 range, while the most elaborate designs—those on pedestals, or with significant hand-painting, extensive applied trim, or unusual edging—can teeter close to the thousand-dollar mark. So, if you're planning on buying one as a wedding gift for your friends, make sure they're really good friends. And if you're in the market for one yourself, the Fall, 1954 issue of
Modern Bride
offered some encouraging words for those in need of a bit of personal arm-twisting to justify the expense:
"The right gift imbues 'modern' with a new and richer meaning: the art of graceful living combined with a true appreciation of the eternal principles of beauty. The right gift can be so strong, so good, so beautiful, that over and over all the days of your life it will delight you. For it has pleased all who have ever owned it. Use it for daily beauty. It is meant for use. Tend it well, and gather lovely lasting things around it. So goes the dream. So goes the lifetime."
In other words, go for it.
Bride's baskets. They wonderfully infuse the present with the voice of the past. And when it comes to wedding gifts, a vintage bride's basket beats a gift card hands down. After all, it's a twofer: something old and something new.
And as for "something borrowed, something blue"
… well, there you're on your own.
---
Photo Associate: Hank Kuhlmann
Donald-Brian Johnson is the co-author of numerous books on design and collectibles, including
Postwar Pop, a collection of his columns. Please address inquiries to donaldbrian@msn.com