By Erica Lome
Basket making is one of the earliest and most prevalent forms of folk art in the United States. First developed by Native Americans and later adopted by early colonists and settlers, baskets have a long history as both utilitarian objects and highly decorative art forms made for both domestic and commercial purposes.
While basketry is generally associated today with other homespun arts in the domain of women, a different strain of basket making developed in the nineteenth-century on the small New England island of Nantucket. Produced at sea by men in the whaling industry and later popularized by those stationed on ships close to harbor, Lightship Baskets remain a unique and highly collectible object that reflect the fascinating history and heritage of Nantucket.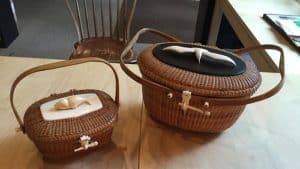 A typical Nantucket basket is characterized by its solid wooden base with a shape created by  weaving rattan or thin slats of wood over a mold, then finished with a 2-piece wooden rim secured with cross lashing and escutcheon pins. Whether round, oval, square or nested, they are frequently topped by a piece of whale ivory carved into a fanciful shape. Originally, the component pieces were made on Nantucket – the molds often made from masts of old ships – and the baskets were assembled while at sea. Some early baskets were made without molds, but the distinctive form of a Lightship Basket, derived both from local Wampanoag traditions and barrel-making (done by coopers), consists of a wooden base and rim with a swollen midsection.
The history of Lightship Baskets parallels the development and decline of whaling in Nantucket – a thriving industry by the mid-1800s. Local fishermen traditionally assembled baskets, along with scrimshaw and other maritime whimsies, to pass the time while at sea, but it is Captain Thomas S. James of the Nantucket South Shoal Lightship that is generally credited with originating Nantucket's commercial basket making tradition, hence the name Lightship Baskets.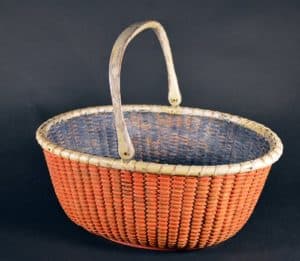 The Nantucket South Shoal Lightship was a portable lighthouse commissioned by the U.S. Government and anchored 25 miles off the coast of Nantucket from 1872-1882 to help illuminate the dark and foggy and highly-trafficked waters. An important but monotonous task, James and his crew took up basket making, a tradition that extended to several successive generations of these early artisans. Some of the finest historic baskets are attributed to the likes of William D. Appleton, previously aboard the whaling vessel Martha Wrightington, who had retired to the South Shoal Lightship, and to Charles B. Ray, a captain known for his neat and simple style of basket.
The materials for basket-making were often found amongst the scraps of cargo from far-flung locales, including cane from Southeast Asia. As a hobby these men made Lightship Baskets for their families or sweethearts who in turn prized them for their durability and distinctiveness. Many were sold to supplement household income and by the turn of the century they were a staple of a growing tourism economy. By that time, the great age of whaling was coming to an end and basket making shifted to the Island itself.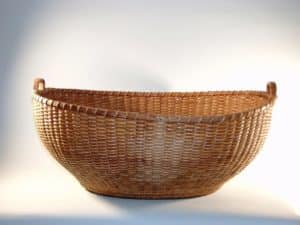 Lightship Baskets retained their look as the former whalers set up shop selling and teaching younger generations of craftsmen. As New England developed as a landscape of heritage in the early to mid-twentieth century, so did Nantucket and its tradition of basket making. The baskets attract collectors and connoisseurs of folk art, who today continue to seek out these treasured baskets on the market. At auction, these baskets command anywhere from $500 to a whopping $115,000. Recently, Heritage Museum & Gardens in Sandwich, MA featured an exhibition on baskets made by James, Appleton, and others, and the Nantucket Lightship Basket Museum continues to preserve the Island's history of basket making and encourage new artists to continue the tradition into the twenty-first century.
There Once was a Basket from Nantucket