Danna Crawford is a self-made social-marketing expert who went from having three jobs while raising her family to creating her own megawatt brand. In 1997, she stepped outside the box and decided to sell items on eBay to achieve her goal of moving to Florida for a better life. Starting out small, she wanted to build an inventory of things to sell, but scouting out goods took more time that she could spare back then. She decided to take items on consignment to sell and placed an ad in a local paper. What happened next changed her life.
PowerSellingMom Builds Her Brand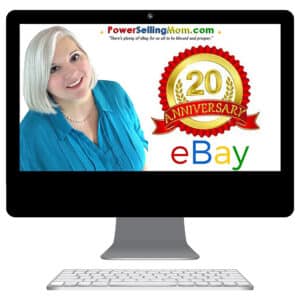 Danna went on a mission to learn the tools of the trade and then some. Tools that included best practices for shipping, photographing items, doing research, how to write-up a description with all the information buyers were looking for, and learning to optimize her process for the best exposure on the site along with increased sales. Knowing the ins and outs of using keywords, search engine optimization, email marketing, social networking, and more were part of her porfolio of skills. With all this knowledge and the massive growth of her online sales, Danna moved to Florida in 1999 and kissed those other jobs goodbye. She was on her way!
"I became an Education Specialist trained by eBay after going through their Educational Program. After that, I decided to take it up a notch and signed up for their Business Consulting Program. At that time, there were only 29 of us in the country," said Crawford. "These programs gave me a strong advantage because so many people were asking me about eBay anyway. After completing them, I got paid to tell everybody about eBay!"
Weaving her way into the fabric of online selling, Crawford became a go-to mentor to many. She always enjoyed networking with other sellers and enjoyed helping them build their brands, as well. "I started doing in-person workshops for eBay, and as my confidence continued to grow, I was paid to speak at various conferences and events."
Crawford was doing so well that she was inducted into the eBay Hall of Fame in 2008 – an award given to those who contribute to the health of the eBay community. This is just one of her many accolades.
Sharing the Tools for Being Successful
The wealth of information Crawford amassed and then shared with buyers and sellers kept expanding exponentially with every transaction she made. Her education continued and she graduated from the eBay University as a Certified Education Specialist in 2007, followed by becoming a Certified Business Consultant in 2009 – something right up her alley, being someone who believes in sharing knowledge. Her website (https://powersellingmom.com/) grew as her "home base" of information offered to anyone interested in becoming a successful online entrepreneur.
Crawford also found time to delve into her own hunting for goods to sell, and goods to collect. "The Cabin Fever Antique Show is where I bought my first Art Deco lamp. I just fell in love with it. A man at another booth told me, 'Sometimes you just have to buy the thing you love,' and that has stuck with me ever since. Value can be measured by money, but it can also be measured by the amount of joy it brings."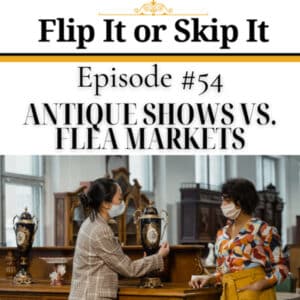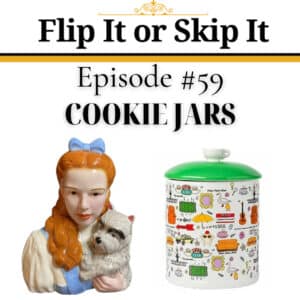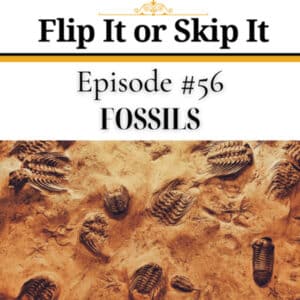 Never one to sit still, Crawford started a "Flip-It or Skip-It" podcast that launched in early 2021 (available wherever podcasts are listed). In these podcasts, Crawford works with Wayne Jordan and talks about such topics as Corningware, fountain pens, and even trucker hats and puzzles. A longtime columnist, writer and author, Wayne Jordan is an antiques and collectibles expert, retired antique furniture and piano restorer, musician, shop owner, auctioneer, and appraiser. Their rapport is fun and easy-going and they are always open to new information and inquiries, making it an enjoyable and informative listen.
Danna's Newest Add-On: Joining Worthpoint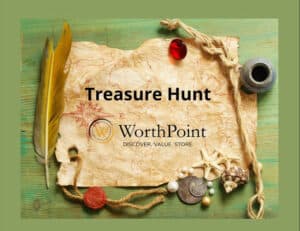 In 2017, WorthPoint approached Danna Crawford to lead their Treasure Hunt events at antique shows across the country. This involved having Crawford work with buyers as they "hunt" for something that draws their attention, then teaching them how to use the many tools WorthPoint.com offers online to learn more about the item, its history, and a value based upon sales results from the over 350 partners sharing their information through WorthPoint."Of course, I jumped on it," said Crawford, "because I get to travel and I get to do what I love to do!"
WorthPoint manages the world's largest online resource for researching, valuing, and preserving antiques, art, and collectibles. The company's suite of offerings on WorthPoint.com includes a price guide, a resource gallery for identifying makers' marks, autographs, patterns, symbols (M.A.P.S.), and a digital library with more than 9,000 books on collectible topics. "Joining WorthPoint means I get to share more information on the market value of antiques and vintage goods with both buyers and sellers. Because it is visually driven, where someone can explore many examples and then hone in on the image that matches as an example of what they have, buyers have the latest sold-for prices right in front of them.
The Treasure Hunt experience is like a mini-coaching session; people learn how to discern auction sales from shop or show sales and make informed decisions. "These are not appraisals or what someone wants to sell something for, but sales results," said
Crawford. "Appraisers develop their value results based on these plus other indicators, such as current trends, doing a deep dive into an item's history and provenance, and handling a piece to determine its condition. WorthPoint values are the results of past sales with descriptions as given by the seller or auction house with all the 'homework' shown with each sold item." It is this immense database that drives the success of the Treasure Hunts offered at antique shows and events around the country all year long.
Today, Crawford is the Director of Customer Education, Affiliate Marketing, and the Affinity partner program at WorthPoint.
On the Road Again … and Again
Crawford is a fast-rising star in the world of buying and selling antiques and vintage. Ever the student, she continues to absorb insight into the business everywhere she goes.
This year she started out in Lincoln, NE at the Cabin Fever Antique Show. She will be in Houston, TX to do a workshop and Treasure Hunt, and later in Dallas. She just spoke in New York City at the Affiliate Summit East, keeps up with online consulting and teaching, and shows no signs of slowing down!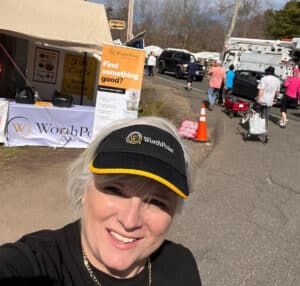 At the May 2022 Brimfield Antique Show in Brimfield, Massachusetts, she conducted Treasure Hunts with her team and had a home base at Hertan's show field, and still found time to make a few purchases while networking with local media, buyers, sellers, and those new to the world of collecting and antiquing. "We all got to see how this amazing show operates up close. I made many new friends and saw some old friends I had met at Round Top in Texas. These people do travel!"
How Does She Balance All This and Stay on Top?
Today, all you have to do is "Google" her name and up will pop a plethora of options on the many topics in which Crawford is fluent. Her articles include everything from "Tips For Starting a Craft Business Online," to "Expanding Your eBay Selling Brand with List Perfectly," and "Selling Concert Apparel on eBay." She coaches on everything from writing essays to resumes, information marketers use online, and how to get your brand going on eBay. It all comes from a mix of experience along with her inside track with companies including Worthpoint and eBay.
As Crawford told WorthPoint, "It's important to take a step back now and then and evaluate different strategies to adjust to new styles of online selling; becoming better with each change that rolls out. I embrace change. Change challenges me to improve my business."
For Crawford, staying organized is key to navigating her network of clients, partnerships, and promotional opportunities, but cautions that
keeping up with the pace of her schedule is not just physically taxing but mentally, as well. "I live by my calendar. Planning each day depends on meetings or events listed on the calendar. I've also learned to schedule time for myself and my family. Adding little reminders helps keep the flow running smoothly."
Learn more about Danna Crawford here:
Website: https://powersellingmom.com
Consignment Course: tps://powersellingmom and teachable.com/
Instaghram: Instagram: /dannacrawford
Facebook: Facebook.com/dannacrawford1
Podcast: "Flip-It or Skip-It" available on all major podcast platforms