By Jonathan Sternfeld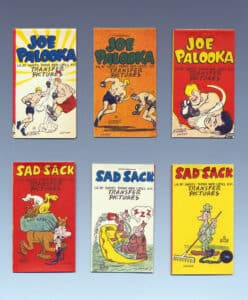 I started collecting Harvey Comics as a child in the late 1970s, but my interest in merchandise that featured Harvey's characters did not really start until the early 2000s. While I originally only followed Richie Rich, I have come to study and appreciate all the characters Harvey was involved with over the years. Here is a brief history of Harvey Comics' character merchandise through the lens of four of their most popular characters.
Alfred Harvey founded Harvey Comics in 1941 by buying out Brookwood Publications and their comic book, Speed Comics. He then recruited his brothers, Leon and Robert, to help run the company, and together they renamed the company Harvey Comics Publications, Inc. That name would vary over the years, depending on usage. By 1942, anthologies of newspaper comic strips were very popular, and the Harvey brothers took notice. They began acquiring licenses to characters, starting with radio star The Green Hornet, but later adding newspaper strip characters including Blondie, Dick Tracy, Mutt and Jeff, and the first character to help tell our story, Joe Palooka.
Joe Palooka
American comic strip writer and cartoonist Hammond Edward "Ham" Fisher met boxer Pete Latzo in 1921 and was then inspired to create the cartoon character "Joe Palooka." (Latzo became the World Welterweight Champion from 1926 to 1927.) It took Ham until 1930 to get his creation syndicated, and by 1948, the comic strip named Joe Palooka was ranked as one of the five most popular newspaper comic strips.
Pinback buttons, punching bags, children's boxing gloves and helmets, belt buckles, and more were made featuring the heavyweight champion. Individual items are easy enough to find these days, but it is difficult, if not impossible, to know everything that was produced. Two other companies produced comic book anthologies of the newspaper comic strip before Harvey Comics took over in 1945.
Soon, characters were added to Joe's world, including Joe's friend Humphrey Pennyworth. The Ideal Toy Company made a 15" tall doll of Humphrey in the 1940s, and a hard plastic coin bank was also produced. Harvey gave the Humphrey character his own spin-off comic book in 1948.
Joe Palooka married his girlfriend Ann Howe in 1949, and they had a daughter, Joan. In 1952, Ideal made a doll of Joan, and National Mask & Puppet Corp. made a "stringless marionette" of her. Little Max, an orphan who never spoke, joined the cast, and a metal lunchbox was produced in 1948 featuring Joe, Humphrey, and Max. Harvey gave Little Max his own book in 1949. An 18" tall Little Max doll was produced in 1954.
Ham Fisher died by suicide at the end of 1955, but an advertisement for a "Joe Palooka Home Gym" in a February 1959 Harvey comic book still says copyright, Ham Fisher. The Palooka family later added a son, Buddy, and a February 1960 Harvey comic book contained an advertisement for a 16" vinyl doll of him. This ad also pictures Little Max, reminding the reader to look for his doll, but lists it as 21" instead of 18". Since it is six years later, it may be a different doll, but no examples are available to compare.
Sad Sack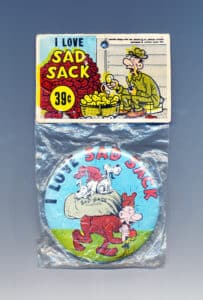 The next character to help tell the Harvey Comics story is "Sad Sack." Cartoonist George Baker was a Sergeant in the U.S. Army during World War II when he created the cartoon character Sad Sack based on his friend, Private Ben Schnall. Baker published the first Sad Sack comic strip in the first issue of Yank, The Army Weekly magazine in June of 1942. Sad Sack quickly became very popular with the troops.
After the war, the style of the strip was changed for a younger audience and was syndicated in newspapers from 1946 until 1958. In 1949, Harvey Comics published their first Sad Sack comic book, with scripts and art by Baker. While he eventually gave up scripting, Baker would continue to illustrate the covers of the Sad Sack comic books until his death in 1975. In 1957, Harvey Comics started Harvey Films to produce a live-action Sad Sack movie starring Jerry Lewis.
Sad Sack was never as heavily merchandised as Joe Palooka but in the 1950s, a doll was made of Sad Sack in uniform measuring approximately 20" tall. A February 1959 Harvey comic book contains an advertisement for an 18" high Muttsy, Sad Sack's talking dog, as a plush toy by Schwartz Toy Co., and another for a Sad Sack Roly Poly (bop bag) in large and small sizes by Alvimar Manufacturing Co. Inc. Button World Manufacturing Inc. made an "I Love Sad Sack" pinback button in 1966, showing Sad Sack carrying a large sack on his back. The pin came bagged with a cardboard header card depicting Sad Sack peeling potatoes – George Baker was credited with the copyright.
One thing characters Joe Palooka and Sad Sack had in common, other than fighting in World War II, was a curious bit of merchandising from Japan. They both had three small booklets of Transfer Pictures – temporary water transfer tattoos, printed with pictures of characters from the comics. At first glance, they could easily be dismissed as a bootleg, but they credit the copyright to Fisher and Baker respectively, and they all state "Lic. by Harvey Famous Name Comics, NYC." This could be the first reference to Harvey on a piece of character merchandise, but it is hard to date these booklets. They do not have a copyright date, and examples for sale have been credited to anything from the 1930s to the 1950s.
Casper, the Friendly Ghost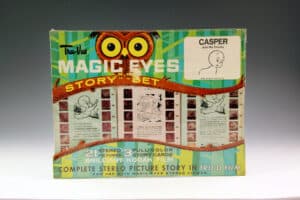 Moving from fighting and war to friendlier times, we come to what could be considered the "Golden Age" of Harvey Comics merchandise, brought about by Casper, the Friendly Ghost.
Paramount Pictures, founded in 1912 as the Famous Players Film Company, was affected by the changeover in film production from silent to sound in the 1920s. Cartoons could be produced faster than feature films, so Paramount signed a contract with Fleischer Studios in 1929 to distribute Fleischer's Screen Songs animated cartoons. Paramount assumed full ownership of Fleischer Studios in 1942 and renamed it Famous Studios.
American author Seymour Reit came up with the character Casper the Friendly Ghost in 1939 for use in children's books, and cartoonist Joseph Oriolo provided illustrations. They came up with three stories before Seymour went to serve in the U.S. Army during World War II.
While Seymour was gone, Joe sold the rights for Casper to Famous Studios. In 1943, Famous Studios began producing Noveltoons to compete with Warner Bros. Merrie Melodies and Looney Toons. Reit and Oriolo's book The Friendly Ghost formed the basis for the first Noveltoons appearance of Casper in November of 1945. The Little Audrey character was created to replace Little Lulu in Famous' lineup so they could stop paying royalties to Lulu's creator Majorie Henderson Buell. Little Audrey made her first Noveltoons appearance in December of 1947. Other characters—Baby Huey, Buzzy the Funny Crow, and Herman and Katnip— also got their start in Noveltoons. Starting in 1951,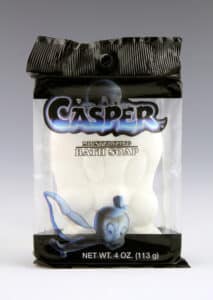 Harvey Comics licensed these characters, began printing Casper and Little Audrey comics in 1952, and Baby Huey comics in 1956.
Paramount started running into financial troubles and sold off assets to raise capital. Paramount sold Harvey the full rights to the characters they had been printing, along with some of the Noveltoons. Harvey Films reshot the opening titles with new Harveytoons branding, then Mattel Toymakers sponsored a show on ABC-TV called Matty's Funday Funnies using this material. The show ran from 1959 to 1961 using Harvey characters.
Mattel created what are still some of the most sought-after Casper toys during this time. The talking Casper doll, jack-in-the-box ("Casper-in-the-music-box"), and toy guitar ("Ge-tar" that actually played music via cranked music box, not the strings) are the cornerstones for any serious Casper collector. Working examples are rare, and boxed examples are rarer still.
The only rarer Casper items I am aware of are two lithographed tin toys produced in Japan by Linemar. One was a wind-up "Mechanical Casper," copyright Harvey Famous Comics, while the other was a rather strange wind-up "Mechanical Casper Ghost Tank," copyright Harvey Features Syndicate. Previously produced with much more sensible Superman graphics, the Tank features turnover action, with Casper lifting the tank until it rolls over. Characters Herman and Katnip, Buzzy, Baby Huey, and Little Audrey are all pictured on the tank, along with another ghost, possibly one of the Ghostly Trio.
The Gund Manufacturing Company produced six "Gunderful" hand puppets, with the sixth being Casper's cousin Spooky. Some of these do show up for sale from time to time but are almost always in poor condition. The felt hands suffered the worst and are usually missing or have been replaced. Milton Bradley made a Casper board game and produced enough copies of it that it is easily available for purchase today.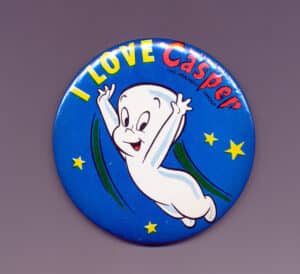 Publishing company Saalfield produced four boxed activity sets, which are now fairly rare and typically have missing pieces or are partially completed. Hungerford Plastics Corporation made vinyl figures of Audrey, Huey, Herman and Katnip, and two different Caspers. Wonder Books produced a total of eight books between 1960 and 1969 featuring Matty's Funday Funnies cast. In 1961, Sawyer's Inc. created a set of three Casper picture cards for their Tru-Vue 3D picture viewer, and in 1965 made an "Electric Projection Theater" set.
Once the Harvey characters were replaced on Matty's Funday Funnies with Beany and Cecil, merchandising began to slow down. A February 1963 Harvey comic book contains an advertisement for Tarco's "Casper Electronic Adventure Game," a game of skill where you fly Casper by remote control. I would guess this would work like some of the road racing games of the day, but I have never seen an example of this game for sale. Button World made an "I Love Casper" pinback button in 1966, similar to the Sad Sack button mentioned above, but I have never seen the bag and cardboard hanger.
Richie Rich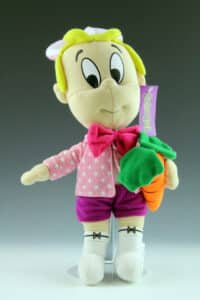 First appearing in 1953 as a backup story in Little Dot # 1, Richie Rich became popular enough to get his own comic book in 1960. His popularity continued to grow, and more titles were added featuring the "Poor Little Rich Boy." By 1974, Rich started appearing on merchandise as well. A May 1975 Harvey comic book contains an advertisement for "Great Harvey Gifts" including plastic belts, and cartoon character charms featuring Harvey characters Casper, Richie Rich, Wendy, Sad Sack, Hot Stuff, and Baby Huey. Pressman made the Richie Rich Big Money Game in 1978, but Richie's big break came at the end of 1980. ABC began airing a Richie Rich cartoon produced by Hanna-Barbera Productions, creating a whole new fan base. A great deal of Richie Rich merchandise was produced in 1981, including a series of rack toys produced by Larami.
Then, in 1982, Alfred Harvey retired, and Harvey Comics ceased publication. Alfred's oldest son, Alan, fired up the printing presses again in 1986, and another line of Richie Rich rack toys was produced in 1988, this time by JA-RU. But Alfred slipped into a coma in 1989, and the company was sold out of the family to a young entrepreneur and filmmaker named Jeffrey Montgomery. The acquisition cost an estimated $6 million, but that price tag apparently didn't frighten investors, nor did Montgomery's relatively tender age of just 25. The renamed Harvey Comics Entertainment would publish reprint material until 1993, then ceased printing again, instead focusing on movies and cartoons. Richie Rich got a live-action movie in 1994, and a new cartoon series produced by Film Roman in 1996, but no merchandise was produced in conjunction with these. Casper got a live-action movie in 1995, with strong merchandise support.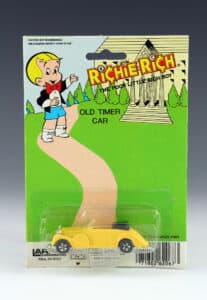 1998 and 1999 saw dolls produced by Good Stuff for different holidays. A Hot Stuff doll was made for Halloween 1998, and a Richie Rich doll for Christmas of that year. Richie got Valentine's Day, Halloween, and Christmas in 1999, with Wendy also getting a Christmas doll.
In 2001, the Harvey characters (other than Sad Sack and Black Cat, the rights to which are owned by Alan Harvey) were sold to Classic Media. Classic Media was, in turn, bought by Dreamworks. NBC Universal then bought Dreamworks and currently owns the rights. The last use of Harvey characters I know of on toys, with dolls produced by Kellytoy and Toy Network, dates to 2007. Artists and clothing labels continue using the Harvey characters; however, what the future holds in store for our cartoon friends remains to be seen.
---
Jonathan Sternfeld is a lifelong collector, hobbyist, and polymath. He funds his various follies by working as an applications developer in New York's Capital Region, where he lives with his long-suffering wife and pet cat. He is the founder and curator of the Harvey Mercheum, the Harvey Comics Merchandise Virtual Museum website: www.harveymercheum.com