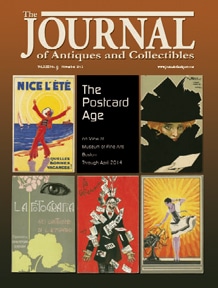 In The Journal of Antiques and Collectibles November 2012  issue, features
The Postcard Age: Selections from the Leonard A. Lauder Collection
Celebrates the Postcard Craze that Revolutionized Communication at the Turn of the 20th Century.
Guess What
by Bob Cahn – "The Primitive Man" Size Does Matter!.
Comic Character Collectibles
By J.C. Vaughn.
To read these great articles, along with favorites like "
Ken's Korner
,"  "
The Business of Doing Business
," "
Gavels N' Paddles
," and more, subscribe to the Journal of Antiques and Collectibles and be sure you don't miss any of our great features both online and in print!
Also, please take a moment to follow us on
Facebook
&
Twitter
. Be sure to bookmark the site or add it to your favorite RSS reader.