by Peter Wade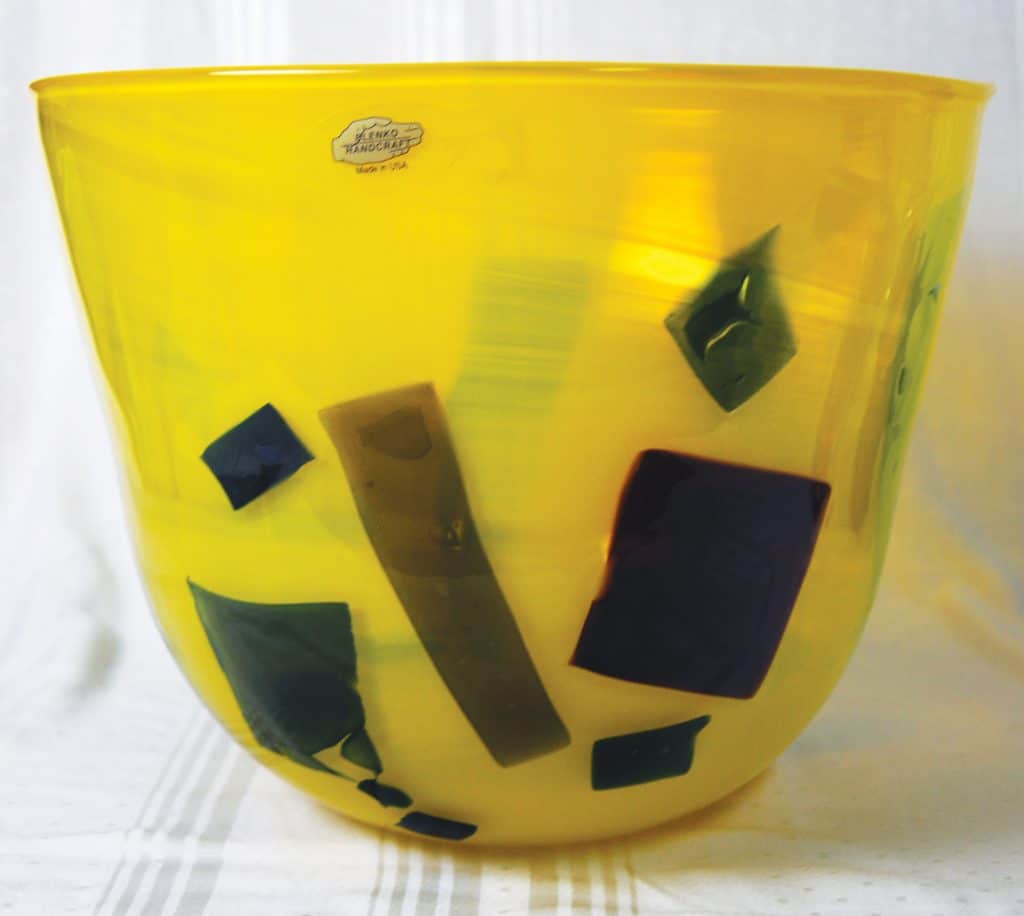 Something happened this past decade in the glass collecting marketplace that we may all have missed. It's hard to see when you're only in one regional market area and unable to observe the whole picture. I'm beginning to believe an exciting change in glass collecting is taking place.
The collectible market for glass has been in a long slide as values have been correcting downward for some time now. Much of this has been the result of "cashing out" amongst baby boomer collectors in the midst of retirement and downsizing. More and more, large collections have been appearing at auctions as these retirements are forcing beautiful glass specimens back into the general market. What has been unseen are all of the small collections that have been showing up, especially at estate sales. This is bringing excitement back into glass collecting. There are real treasures to be found.
I don't think the downsizing is, by any means, over. We'll see more of it especially during the 2020s decade. But, I think a turn in the marketplace is starting to occur as I observe more frequent opportunities to acquire high quality, beautiful glass that's affordable.
I'm seeing younger collectors buying at sales and a changing interest in the glass being collected. High-end art glass with recognizable names will continue strong, but good, undamaged pieces are hard to come by. A lot of glass will be lost due to mishandling and misunderstanding of what it is. This is especially true for unsigned pieces where you need experience and knowledge to recognize it. Good examples of this are all the Loetz and Murano glass items misattributed on the internet. Of course, all of the reproductions and look-a-likes continue to confuse and make buyers cautious.
The Al(Lure) of Design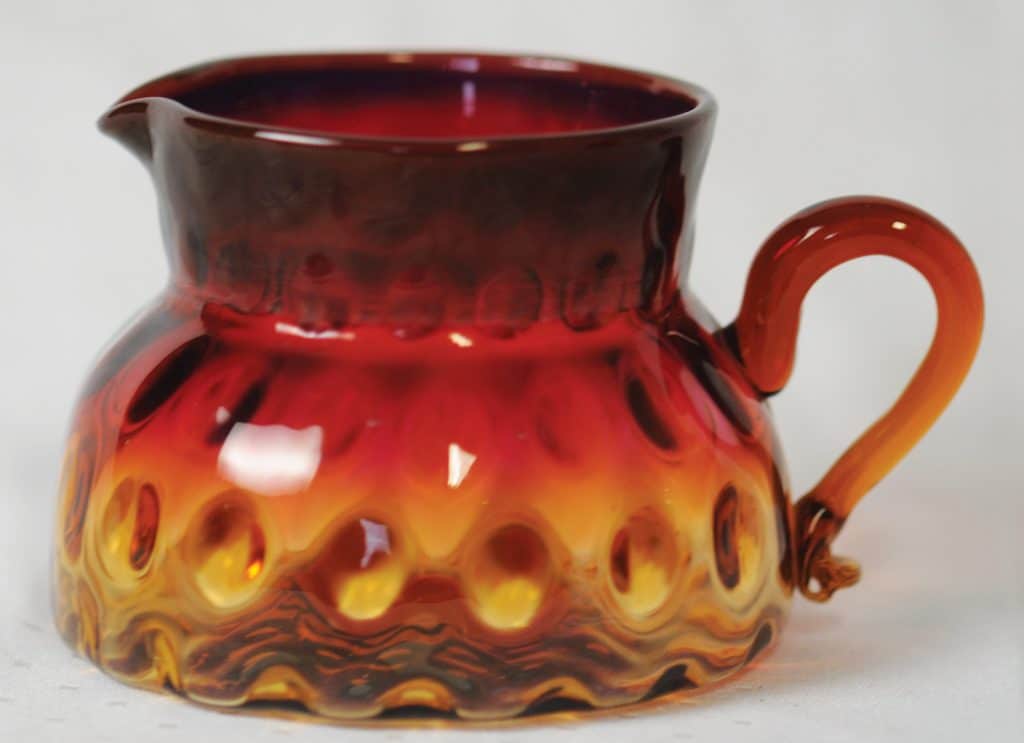 Glass is fascinating to behold. The play of light and color as it is refracted through glass is eye-catching and beautiful. The refraction is always changing and moving. Glass is actually a form of liquid. Combine these aspects with good design and it's little wonder why it excels as an artistic decorative. I don't think this will ever change.
The Element of Fun
Because of the turmoil that's taken place in the glass market with more collections turning up, there's an element of surprise of what you will find. There's also a greater expectation of making an exciting discovery. When you go to a sale and can acquire a piece that's beautiful and unique with underlying value, now, that's a treasure! I see this as I observe shoppers looking at and buying glass at sales. Invariably, they will hold it up to a light and look at the play of color as it reflects through the glass.
Murano … The Glass that Delights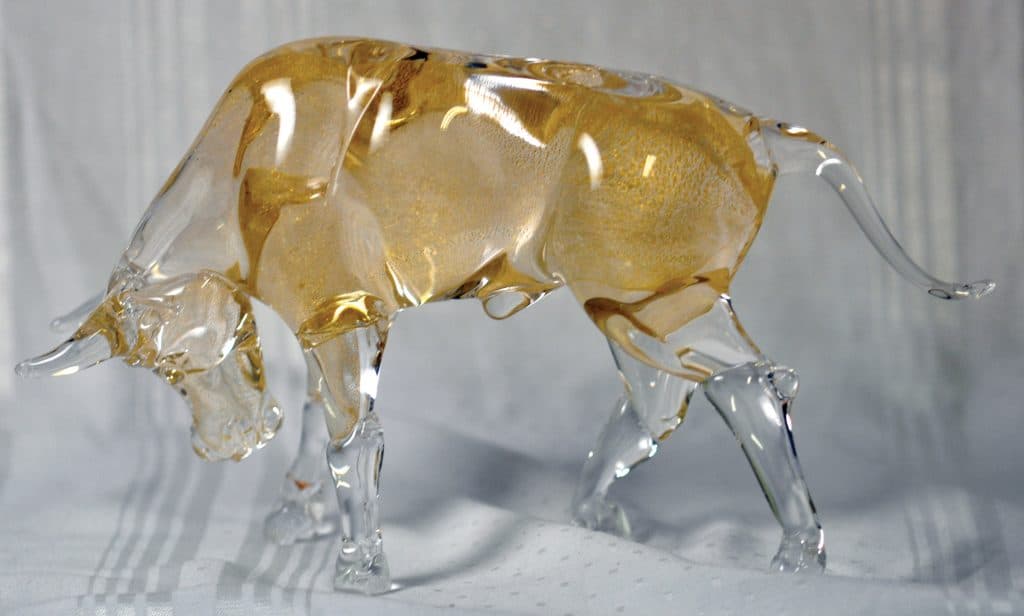 Italian glass has a long tradition of wonderful design behind it. Their designers have been consistently innovative and creative for centuries, perhaps to a degree greater than anywhere else. They have a wonderful sense of style and flair that has withstood the test of time. Murano glass is still going strong, continually innovative and sought after in the marketplace with values to match. But it isn't all great, a lot of it was mass-produced for the tourist market, especially in the 1950s. Much of this tourist glass was unmarked and the Chinese Murano imitations have frustrated collectors for years. These reproductions have also significantly reduced some values.
Signed pieces and examples that clearly illuminate great design are in demand and remain a favorite among contemporary collectors. The artistic bull (shown) is a great example of Italian design. It took considerable skill to make – the lines are fluid and full of energy. This bull commands attention.
American Contemporary … Modern & Individualistic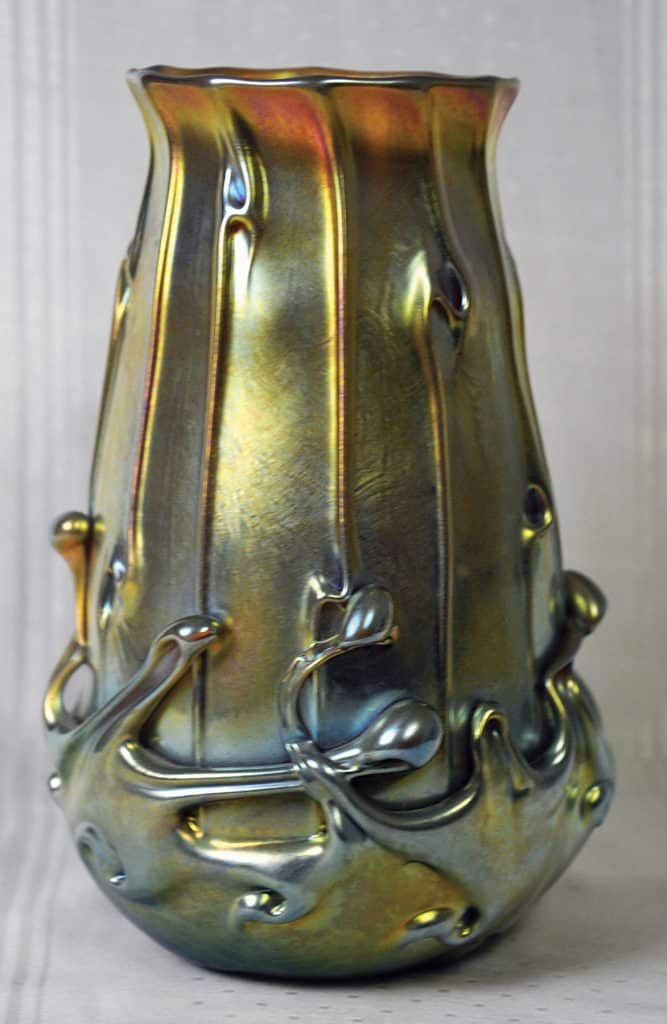 The rise of the Mid-Century Modern and Studio Glass Movement in the 1960s to the present day characterizes the American market in glass. Individual glass designers and small studio glass operations have taken over the American glass market with highly creative designs that range from the classical shapes to the cutting edge of design. The market is strong for those designers who have managed to brand and carve out a market niche for themselves. Exactly who will become the next Tiffany or Steuben amongst them still remains to be seen.
The hardest part for the individual collector today is to keep track of so many studio glass houses and to be able to figure out what is their collectible value going forward. Lotton Studio Glass, for example, produced beautiful, expensive glass, but will their values hold up in tomorrow's market? The gold luster Steven Lundberg Tsunami or Volcano vase (shown) proved to be an excellent find. The shape and form convey the energy and power of nature. It's impressive and a highly desirable piece now in my collection.
The best guide to glass collecting is your sense and knowledge of good design.
Glass Treasures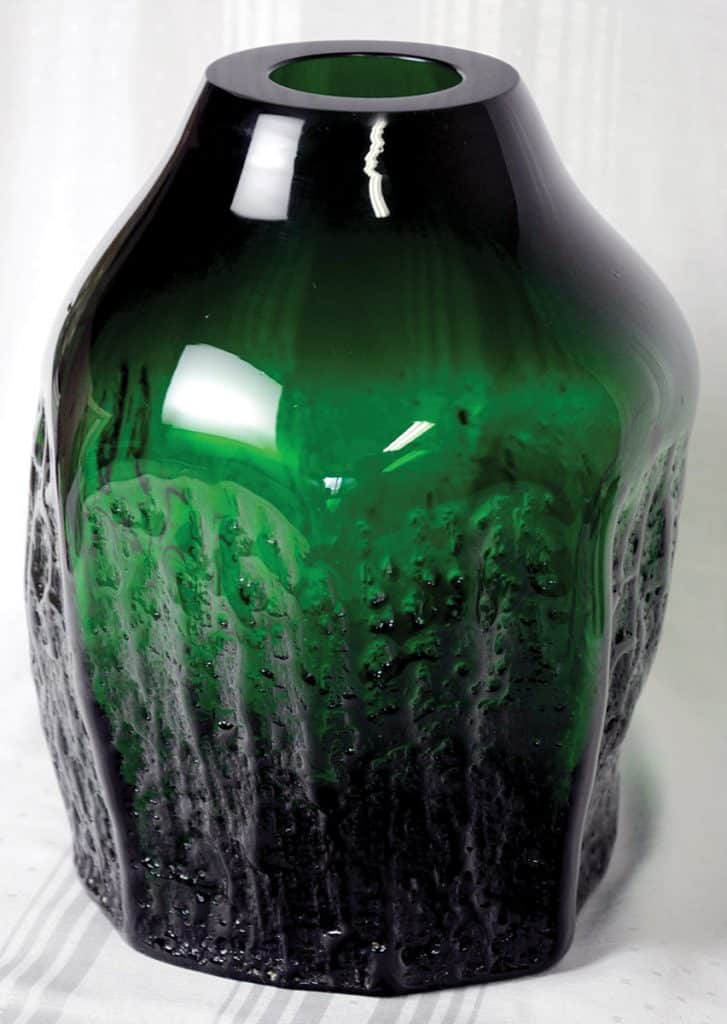 Another recent find was two pieces of art glass from Argentina signed Querandi. The name is from the aborigines of the Santa Fe province in Argentina. It was founded as the Bohemia Glass Argentina by Otto and Hubertus Ullmann who emigrated to Argentina and produced Bohemia style art glass there from 1957 to 1976. They developed some unique glass melts from South American raw material and minerals for the production of massive and overlay colored glasses. The heavy, large, sandblasted emerald green vase (shown) has a spectacular color I haven't seen anywhere else. The sea urchin paperweight combines a black and green glass that's just fascinating. Both are very contemporary and make a strong design statement.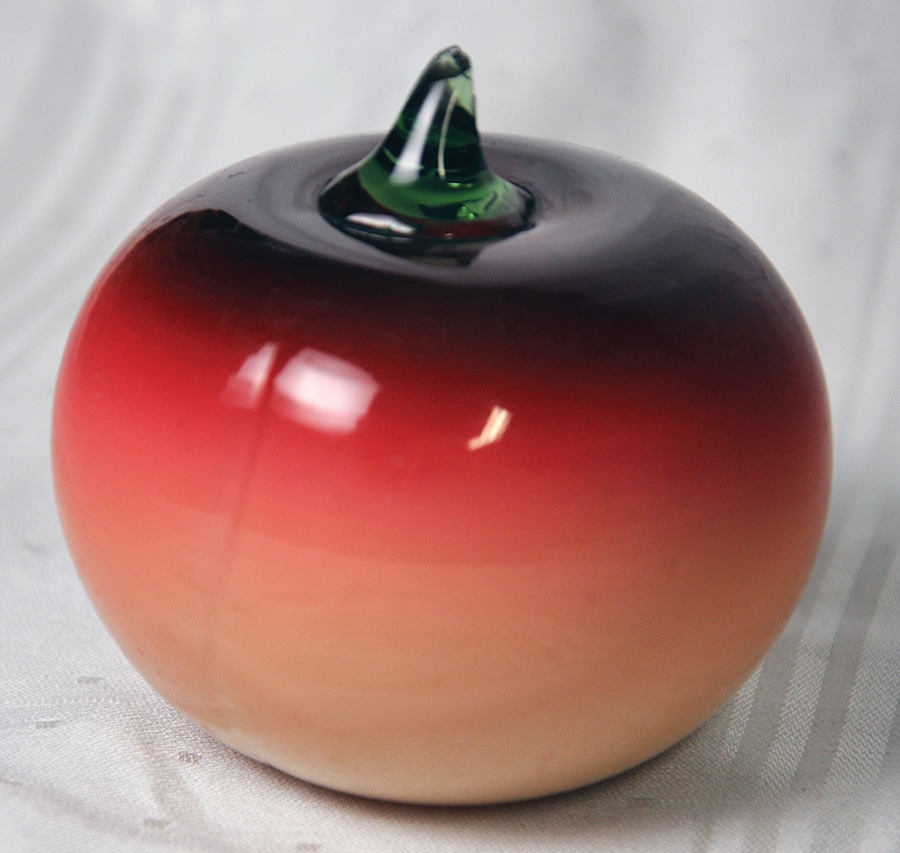 Lest we forget about the wonderful glass made here, the Hobbs Wheeling rose-red apple paperweight I recently found (circa 1875, shown) is a rarity indeed. The only other example I have been able to identify is in the Corning Museum of Glass collection. This example has a small sliver chip on the stem. Still, it's a treasure. I should mention that with older glass that is scarce or rare, slight damage doesn't really impact the valuation that much. Often you just won't find another piece that's perfect at any price. Serious collectors are well aware of this fact. So, if you see something you know is very hard to find, grab it while you can.
Early American Pattern Glass (EAPG) is also showing up more frequently. It was made mostly during the last quarter of the 19th century, including up to about the time of WWI. Glass companies made miniatures of glass serving pieces for children to play with. This child's table set was called the "Wabash" (Tulip & Honeycomb – shown) by Federal Glass in 1904. It's in perfect shape and over a century old. There are well over a thousand different EAPG patterns that were made in a variety of colors, although crystal was the primary color.
Cut glass lead crystal was often found in wealthier homes during this time period. It was a symbol of wealth, more expensive and typically, much heavier than EAPG. Today, you'll find it quite frequently at estate sales. It's not collected as much now, but those pieces that are unblemished with intricate, delicate cuttings still command some strong values. It's a distinct collecting area referred to as ABCG for American Brilliant Cut Glass. The earlier glass usually featured geometric patterns (1870s-1890s) and the later pieces had more floral cuttings (1910-1920s).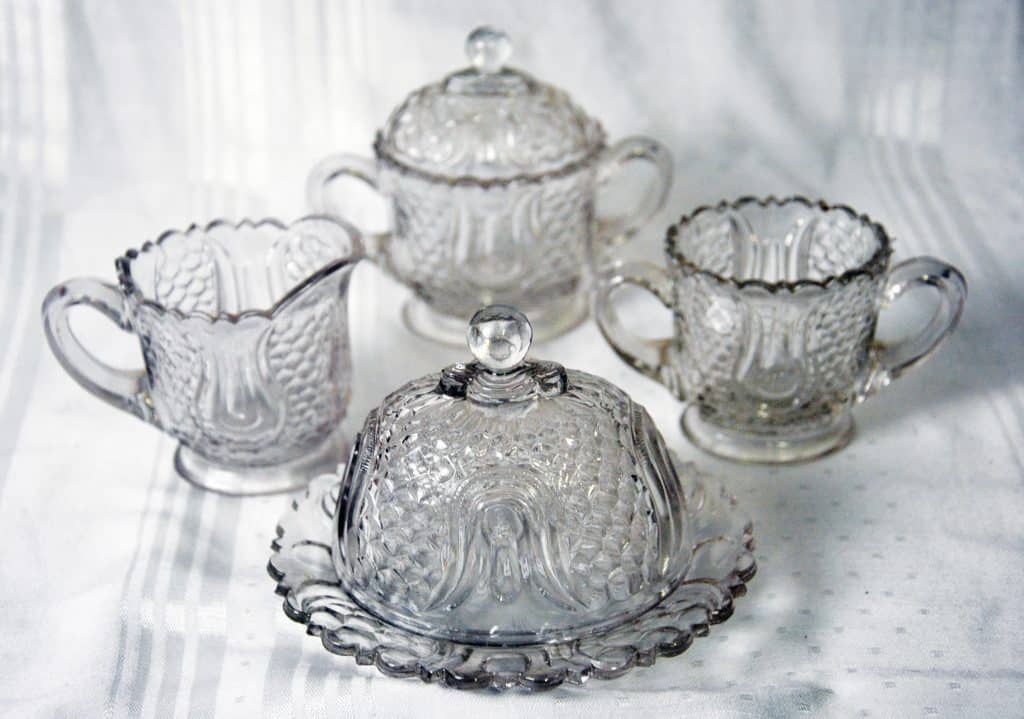 What is often referred to as art glass from Steuben, Tiffany, Durand, and Quezel are harder to find at sales at affordable prices. The iridescent glazes used make them more easily recognizable and people know they're special. Every once in a while, a piece does show up as a real treasure find. I've seen a fair amount of valuable European art glass (frequently unmarked) at estate sales. This is an area you should explore if you enjoy the treasure hunt.
You also need to realize that many other companies made art glass. Verlys is often overlooked and produced high-quality decorative pieces. Pilgrim Glass, which started in 1949 in West Virginia, started producing "American Super Cameo" glass in 1987 under the design auspices of Kelsey Murphy and Robert Bomkamp. Their designs are highly sought after today. The covered vase shown was completed in 2001, the year the factory closed.
The one area of glass collecting that's probably been hit the worst is depression-era glass. This is mostly machine-made glass with little or no hand-working involved in the making of it. This glass was produced in large volume and often was mediocre in quality. However, it is still collectible and the unusual or low-volume serving and decorative pieces are worthy of a treasure hunt.
Good hunting!