The Civil War Collector
By John Sexton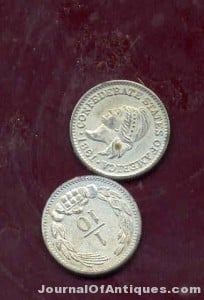 Q: We have two Confederate coins and are unable to identify or attach a value. They are 3/4″ in diameter, light weight metal, whitewash silver in color, seven stars in band on head, stamped "Confederate States of America 1861" and stamped "1/10" on reverse. These were found in an avid coin collector's estate so I believe them to be original issuance. Can you give us any information on their value, and origin? Thank you for your time. –Tom
JS: Confederate-issued coins are quite rare. There were no commonly circulated Confederate coins with Confederate motives; only a limited number of pattern coins were made. Most of these were given to various Confederate officials. I have no way to authenticate these from photographs. If authentic, they are worth many thousands of dollars, but I imagine they are restrikes and of little value. The American Numismatic Association can recommend a service to authenticate them. The ANA has an excellent web site where you can find out about authentication.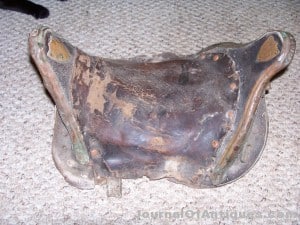 Q: I found an old saddle in my grandfather's attic recently. It has two brass plates, one with "US" on it. It is leather. Do you know what kind of saddle it is, and what is missing from it? –Teri
JS:  Your saddle unfortunately is in quite poor condition, missing skirts and other parts; however, the body is sound and the US saddle shield is still intact. Your saddle is Civil War Era, and the pattern is that of a Grimsley. A fine complete Grimsley saddle can bring $10,000; your saddle as it is will probably sell between $1,000 and $2,000.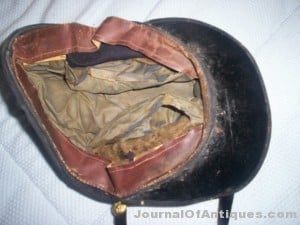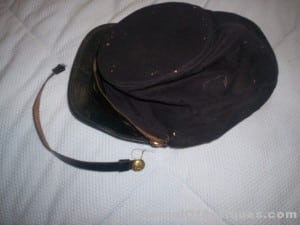 (Another question from Teri:) Q: My mom was cleaning out her parents' attic a few months ago and came across this hat. All she remembers about it was that my grandfather called it a kepi hat. It has a strap across the front with buttons with eagles on it. There is also a chin strap, I think, that has come off. No tags inside. Thank you for any help.  
JS: Your hat appears to be Civil War/Indian War Era. The padding inside the hat
is unusual for a Civil War enlisted kepi, but this hat could have been made for a Civil War officer. The color of the lining and sweat band make this hat possibly post Civil War; however, the blue wool sure looks Civil War Era. If Indian War, your hat should bring $500 or so; if Civil War, your hat can bring $2,000-$3,000. Kepis with transitional features such as this one are difficult to date and market. A letter from a noted uniform authority will make it marketable as Civil War or Indian War.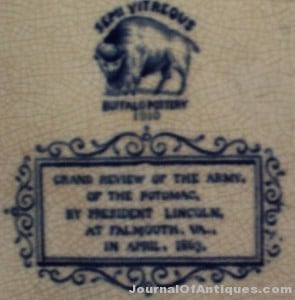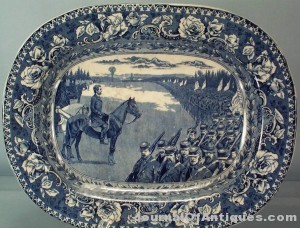 Q: Can you tell me this platter's value and suggest an auction house?  It measures 11 x 14 inches and is in very good condition.
JS: I have seen this same platter priced in the antique market for $300. I am not sure if that is high or low; eBay is a good venue for sale of glassware.