by Jessica Kosinski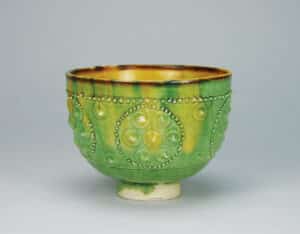 For as long as there have been people on the Earth, hand-crafted goods have existed. People have had to learn to make their own shelters, tools, clothing, weapons, and so much more throughout the centuries. Certain hand-made goods have remarkably shaped the world with their innovative designs and functions. There are few areas where that is more prevalent than in the world of pottery. Potters have consistently created some of the most visually stunning works of art, not to mention functional vessels as simple as bowls or as complex as large vessels. They also created their own specific tools and engineered the kilns used to dry the crockery. In many cases, both function and artistry have been clearly represented.
The role of potters as originators and inventors has influenced our lifestyles to this day. Many of their works have even served to give us insights into ancient history. Potters' techniques have changed over time to accommodate innovations and mass-produce pieces for the public, adding to their roles as suppliers and creators.
Defining Pottery
At its root, pottery is simply the forming of clay into hard objects using heat. However, pottery is much more than just playing with clay. Skilled potters have shaped the science used in producing this craft over time to ensure it is sturdy and wear-resistant, or that it can capture the artistry with color, design, and finish. Some of the vessels and objects they have created have served practical purposes, such as those allowing people to organize and protect their goods and ingredients. Others are amazing artistic pieces displayed as part of their cultures and now on display in many of the world's top museums as an integral part of history.
Different Pottery Types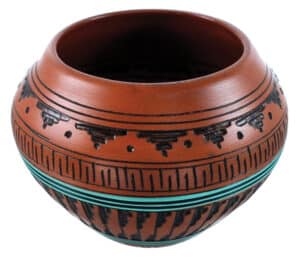 Before we can delve too far into the history of pottery, it must be understood that the word "pottery" encompasses many different types of finished products. For example, stoneware, earthenware, and porcelain are all types of pottery. However, they are distinctly different from one another. Several factors create differences between them that today can help us date pottery, determine the region in which it was made, and sometimes the maker. Such factors include but are not always limited to:
• Color and Consistency of the Clay
• Temperature Reached During Firing
• Type of Firing Process Used
• Glazing, Painting, and Other Related Processes
Of these, the color and consistency of the clay are especially important. Often it is a dead giveaway as to where the clay used was gathered. Clay in each part of the world has its own unique properties that can change the color, strength, and texture of the finished product. When these traits are combined with advancements in pottery techniques, certain parts of the world became known for very specific types of pottery. For example, China is known for being the birthplace of both hard-paste and soft-paste porcelain, although the hard-paste came first in the 7th or 8th century.
People make pottery using complex processes, making it a synthesized material. It has to be formed into certain shapes, heated, often painted, sometimes glazed, and otherwise processed. In fact, evidence suggests it was the first synthetic material humans ever produced.
Another thing to understand about pottery is that the raw clay used to make it is found readily all over the world. It has been that way for centuries. For that reason, pottery is unlike certain other synthesized materials created over the years as practically every region had early versions of it.
Some of the Earliest Examples of Pottery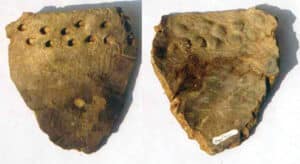 Although there is no way of knowing exactly when the first pottery techniques were used, pottery is a very sturdy medium. For that reason, pieces of it have survived for thousands of years. Those examples give us a glimpse into how and when pottery may have been initially produced by certain civilizations.
So far, Asia is the area with the earliest examples of pottery archaeologists have found. One particular dig site in Japan has yielded examples of pottery that may be up to 16,500 years old. That site is called Odai Yamamoto. There is also evidence that about 13,000 years ago Japanese people were producing pottery to serve practical purposes on a regular basis. In particular, clay pots in that region during that time were regularly used to hold certain foods, showing how pottery played a role in the agricultural industry of the time.
Although it sounds like Japan has some of the oldest pottery in the world, China has it beat, based on archaeological evidence found so far. Xianrendong is an archaeological site in China where pottery dating back as far as 20,900 years has been found, making it the oldest pottery in the world. Another Chinese dig site, called Yuchanyan, yielded pottery that may be as much as 18,900 years old. Interestingly, both of those sites are located in caves.
The Earliest Method of Producing Pottery
The earliest pottery was produced using a method called open firing. Open firing does not use a kiln or any specific structure. The pottery is simply heated over a fuel source. The fuel source used impacts the way the pottery turns out. Some fuels burn slowly, while others, such as straw, burn quickly. Therefore, early potters had to learn to master the ability to control the heat by varying the fuel used. Early potters also had other problems with open firing. For example, open firing can reach temperatures of up to 900 degrees Celsius. That's over 1650 degrees Fahrenheit. Working with such high heat had dangers on its own, but an added danger was moisture. Any damp pottery exposed to such heat is capable of exploding. Thus, pottery had to be meticulously dried before firing.
The Addition of Kilns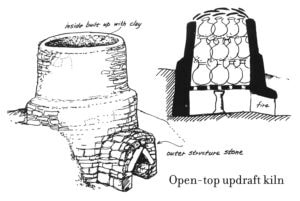 Most experts agree the ancient Egyptian potters were probably the first to use kilns for pottery making. A kiln is essentially an oven used solely to make pottery, bearing no resemblance to ovens used for cooking food.
Kilns throughout the ages have varied in size, shape, and construction from one region and time period to the next. However, the basic concept of how they are used remained the same. The purpose was to create an insulated and dry environment in which to fire pottery. Some kilns were designed so both the fuel and the clay to be fired were in the same chamber while others kept the fuel sources separated from the pottery.
Kilns gave potters a new-found ability to control the environment around their pottery. By keeping environmental factors out of the equation, pottery could be fired more safely. The distinct disadvantage over open firing was the fact that temperatures never got as high in a kiln as they did in the open air. Thus, kiln-fired pottery had its own distinctive properties and was not a replacement for open-fired pottery.
How the Invention of the Potter's Wheel Changed Pottery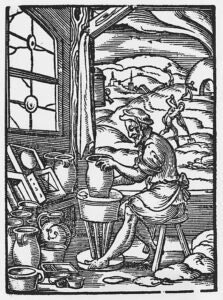 Since its invention, the potter's wheel has made the creation of earthenware vessels with round shapes much easier. Such vessels include everything from bowls to flower vases and urns. As the wheel turns, the potter uses his or her hands to shape the clay into the desired form. Well-trained potters can even add tapered bases or necks to pieces as the pieces spin on their pottery wheel.
There is some debate over when the potter's wheel was first used. However, we know it dates back to at least 2500 BC. That is because Egyptian hieroglyphics from that time depict the use of potter's wheels. We also know that certain shapes, such as that of a well-formed goblet, were impossible to produce without a potter's wheel. Pre-wheel versions of such shapes may have existed, but they were roughly formed.
Modern potter's wheels are designed for maximum effectiveness and comfort. They are electrical and positioned at a perfect height to save wear and tear on a potter's back. However, most early wheels were spun using foot power, which could be cumbersome and tiring for potters working at their craft all day.
Pottery Making and Decorating Techniques
Throwing may be what you traditionally think of when you think of a potter working at a wheel. It is a technique where the potter starts the wheel spinning then adds a ball of clay. As the wheel keeps turning, the potter uses his or her hands to turn the ball of clay into some sort of hollow, rounded vessel, such as a vase or pot. The proper technique gives the walls of the vessel the same thickness throughout, which is difficult to achieve for potters who are not using a wheel.
Coiling is another technique whereby coils of clay are distributed and hand pinched to create vessel walls. Hand coiling is an ancient process. Since the work has to be spun as the coiling is done, it is difficult to do it by hand. Eventually, hand potters developed the process of building their creations on top of flat plates they could turn. From that sprung the use of something called a "tournette," which is a turntable. It was a precursor to the potter's wheel. Even today, some potters still practice "fast coiling" on a wheel. But others simply throw and shape balls of clay.
The Good Potter and So Much More
Early on potters were often members of a household looking to create a specific item for a specific purpose. As the craft developed, those who designed and crafted higher-end and decorative pottery tended to have certain characteristics. They were often gifted artists, chemists, naturalists, scientists, and curious enough to take chances with the clay, its shape, and application of color. They were also those that set trends and had the strength to work with heavy clay while being delicate enough to create the very finest of delicate examples. Their days and nights were long and hot and hard.
Typically, the day-to-day makers of utilitarian pottery were not necessarily the richest within society but were able to do the task put forth by the overseer/supervisor. As far as physical attributes, upper body strength, flexibility, and a good sense of touch were key. Tools were created to extend the potter's reach. But they had upper body strength to mold and dig into the clay and, once the potter's wheel came along, a runner's form and stamina to keep it spinning.
When mass-producing pottery, there could be multiple people working on the same pot – from the one creating the physical pot to a sculptor working on the design and final shaping to the fine artist applying color followed by someone handling the glazing and then the ones doing the firing. You could say it took a village to create multiple pieces after the crafter creates the original.
Commonly Collected Pottery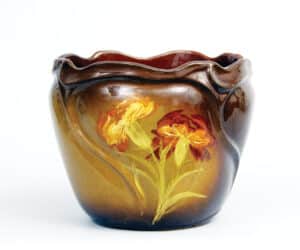 Obviously, most of the earliest pottery pieces are more likely to be found in museums than in private collections. However, there are plenty of types of pottery anyone can easily collect today. Pottery is collectible based on its type, such as earthenware or stoneware, or by maker or artist. Popular antique pottery producers include examples from China and the Orient; American works from Roycroft, Rookwood, and Roseville; Native American pots with their striking symbols and artwork; and European examples from France, England, Italy (particularly Majollica)
Most manufacturers and makers signed their work using stamped or otherwise marked their pottery pieces. By learning those maker's marks you can easily recognize the most commonly collected pottery and date them, as the maker's marks typically change over the years. Also, keep in mind that some companies employed multiple potters. Pieces bearing the mark of a particularly desirable artist may have a higher value than other pieces produced at the same company but by other potters.
Tips for Collecting Pottery Yourself
As the oldest synthesized substance on Earth, pottery comes in a plethora of forms, ages, conditions, and uses. Before you begin collecting it, you need to set boundaries. Researching pottery online or reading books dedicated to collecting pottery is a good way to familiarize yourself with your options.
When you find yourself ready to start collecting pottery, you can also save yourself some money by using all the resources available to you. Since pottery is so popular, you can find it almost anywhere. You may have relatives willing to part with pieces you like. There may even be pottery with some value already in your home that you didn't even know about. In addition to that, you can find great deals in shops, at flea markets and garage sales, and online.
Just be aware that inspecting pottery in person whenever possible is ideal if you care seriously about its condition. Pottery purchased online may have imperfections of which you are not aware. It also has the potential to break during shipment. Insure the package and play it safe!