There is Something Fishy About That Lady
By Pamela E. Apkarian-Russell


Mermaids and sea maidens have excited the imagination for millennia.  She has enchanted us in fairy tales and sagas of the sea as well as delighted us in art. How many ships have gone to sea with her leading as she jutted out in front as a mascot? How many sailors from before the time of Homer told of her charms?  Captain Hook and Peter Pan knew them as did Hans Christian Anderson.  Where would Copenhagen be without her guarding the harbor and watching the many craft go by? Yes, it would still be in Denmark but tourists come to see her and mourn each time she is stolen. (an Eneret sepia postcard of the little sea nymph in the harbor is worth about $5.) Mermaids and mermen appear on the coat of arms of many places. The Trossachs Hotel at Loch Achray, Abbotsford the home of Sir Walter Scott, the Protestant cathedral in Liverpool are just a few which have incorporated the mere image into their logo. How many fountains and statues show Neptune who is lord of the sea and the mere people rising out of the water trident in hand?  Why the fascination for a creature perhaps of fable? Is it the freedom and wildness of the sea or the sexual innuendo or that we may have come to the sea once and we are reaching back to their primordial beginnings.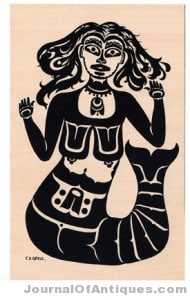 Disney's Little Mermaid isn't the only time they have utilized the image of the mermaid.  An official British Disney postcard showing Donald Duck and Goofy having heart throbs over the masthead of a mermaid they are painting is about as zany as a Disney cartoon can get.  Or a Disneyland postcard of a mermaid with an inset of a moving 3D Donald  which intrigued someone enough in the 1960s to spend twenty cents when most cards were five cents (value $12. Actual mastheads of mermaids are found readily and are most often contemporary reproductions. Old original ones sell in the tens of thousands and often land up in museums. Cast iron reproductions are on the market for 300.00 but the wholesale catalogues sell them for about 125.00.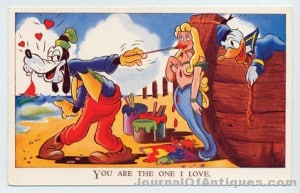 Haitian Voodoo Flags are incredible works of folk artistry and range in size and  artistic execution. The mermaid shows up on them often as many a fisherman hope to catch one in his nets.  This is a small one only worth about ($150.) but a large one with excellent execution can  sell up to $800. Age and artistry make a lot of difference and the increased interest in them after the terrible hurricane which devastated sections of Hatti and destroyed so much wonderful art have escalated the prices.  Many people are surprised that the Zombie legend is basically a movie ploy and that Voodoo is a real religion which is a cross between the Catholic religion and the old religions of Africa. It is no more evil or benign than any other religion. The flags were placed on the family alter much as many place the Madonna painting in Christian countries.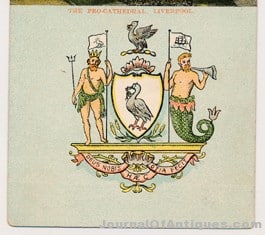 Ayers Hair Vigor a company from Lowell did an advertising trade card of a group of mermaids salvaging a box of the hair vigor from a sinking ship. No wonder mermaids have such beautiful hair!  This is a common card and worth $8.00.
Bonzo, a comic character dog from England  by Studdy must be why the expression "You lucky dog, you" came about.  #2982 Valentine publishing  $55.00 Bonzo was a much loved cartoon image and the English produced many hundred of cards of this loveable rascal.
We often forget that there are mermen as well as mermaids and though Neptune is father of them all the mermen are in the sea as well.  An early postcard 1910ish from France shows the Art Nouveau influence on this hale and hearty merman  out foraging for a frog dinner. Fantasy is what it is an this frog on a lily pad is fantasy as he belongs in fresh water.  Value $45.
The mermaid motif appears in plays, music, literature, and the Opera.  Schubert's Die Forelle shows up on a postcard  for $25. A 1967 Swedish card shows a mermaid dreamily looking a a fairytale castle.  Why should she not fantasize about humans as humans do about the mere people? $20. And can we forget Ondin and other mermaids who came on land and lived and loved mortals?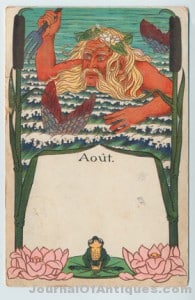 Comic cards of all eras show mermaids and show how lucky the finder of them is. WWII was a grand time for sailors to watch for them from the submarines.   Humor has no boundries but this almost seaside humor is so much more innocent than what comedy and humor are today. They bring a smile to ones face and do not insult or hurt anyone. These cards sell between $5. and $12.



The aquarium figures of mermaids have been popular for years as have been those that were made for placing in planters. They can range in quality considerably and some are beautifully designed and made where others are of five and ten cent store quality. One of the most lovely sets of glass mermaid items was made in England mostly for the vanity. They are wonderful under a black light and are esthetically designed and executed.  To our knowledge there was a large bowl with a ring in the center so it might have held a flower frog, a tray, a covered powder jar, and candlesticks. The powder jar $200., bowl $400. tray 400. These are a must collection for any mermaid enthusiast.
Advertising is fond of Mermaids. A contemporary Max card from the Loucksport Café in Seattle, Washington is worth $400 while a Canadian card from the Beaver Club which was founded in 1785  sells for $15. Estate a Sanremo with schedules is not as pretty as most but rare and sells for $45. I have often wondered why every fish and chip shop, especially in UK, did not use the mermaid for their advertisements.
Ethnic elements or cultural images of the mermaid show up prolifically and sold in the Indian Curio Stores and ranged from prints to totem poles to salt and pepper shakers. In Norway and Sweden the Trolls a happy race of woodland beings loved seeing mermaids besides rushing streams.  Here in America Weeki Wachee In Florida was famous for decades until it recently closed. It was a live show of beautiful women in swim suits in an underwater grand canyon where they put on a musical review. $10.  Webb's Drug store in St. Petersburg had a talking mermaid display #3035 $20.  It was said tens of thousands of people went to the store just to see this display.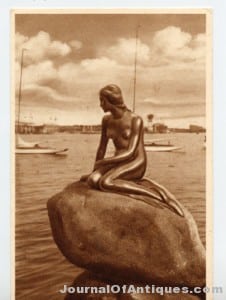 Barnum, Ripley,  and the Hot Springs Alligator farm where just a few of the  places that displayed what was supposed to be real, authentic, genuine, mermen and maids. They are members of a family of Neirids that inhabited the China Sea many centuries ago.  The Arkansas one was  from the Gulf on Tonkin and purchased  from the National Museum of China through the firm of Fook, Woh and Co importers from San Francisco. Much excitement was generated as few specimens have survived and those in prestigious European museums.  Did they ever exist? Are they real? Are these wonderful hoaxes? If human kind came out of the sea we are the children of these curiosities. Are they really our ancestors? A Detroit Publishing card 14047 "Of course there are Mermaids" shows a Gibson girl, very humanoid in features, coming out of the sea. ($10.) With our love for the sea and fascination for it could it be we will except the faux for the real because it is in our nature and ancestry?  There is a children's greeting card from the 50s?  which was to be sent as a birthday card for a one year old showing real children who live under the sea. Are we morphing back as a form of devolution? If it is as much fun as it looks perhaps, we had better take the dive  and head for the wonders of the salt water instead of the stress of our modern day world.   No wonder so many people love to put on the goggles and the and diving gear and explore the world from which life evolved. Paul Winter the composer has done many incredible pieces of music using the song of whales. What if fish could sing like Cardinals, Nightingales, and Finches can? Is there a plethora of song beneath the sea we do not hear with our ears but draws us to it as the shore does the waves?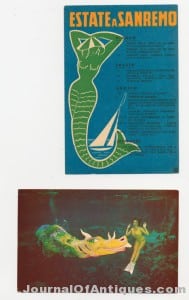 Another exciting thing about the image of the mermaid is that it appears in so many medium and places. Children's books, the works of artists like Arthur Rackam, carved on chairs and other ornate pieces of furniture, in stain glass windows, On mugs and steins, and woven into tapestries and in in textiles. Tiles, shower curtains, wall paper, and stencils have always been popular for bathroom décor.  That same wall paper I have seen lining the insides of old trunks giving them a charm they would never have had with out them.  Carved figures there are some incredible talented carvers out there even today and those carving shows are well worth going to. I have ferreted out incredible pieces of contemporary work from carvers at these shows which I am thrilled to exhibit at the museum.
In recent years the painting of Cahoon have become the rage and justifiably so. The Cahoon Museum, in Cotuit, Mass is a wealth for those who love the image of the often bare breasted   but usually beautiful resident of the seas. His work have a warmth and charm mixed with humor that one can barley resist if one was so inclined to be the depth and breadth of his work is phenomenal and the world of mermaids and there interaction with our world is interesting to see. Our museum has coveted the one Halloween painting we know exists and wish this shows that they, the mer people have all the same interests and activities we humanoids do. Ralph Cahoon has given us an entire world of fantasy much of which depicts the life and times of mermaids.  He was born in 1910 and passed in 1982.  It is probably wrong to consider him as a folk artist as he did take a correspondence course in cartoon art and attended two years of an art school in Boston.  His wife also, was an artist but more of the flower and stencil design school. She did do some mermaids which was defiantly because she was influenced by him. This was a man who grew up by the sea and whose family was involved in the whaling and fishing industry for generations. He may have not desired to follow in the footstep on the men of the sea in his family but in his own way he enhanced and romanticized it and created an entire social history of the sea off the coast of Cape Cod.
Potter is one of those photographers who delved in the Surrealistic and enjoyed incorporating   them into his work. His mermaid could easily be done as art on a computer today but the photography and the limited prints are so real you can not image that this mermaid really is real and someone just caught a grand photograph of her.  The prints sell in the $500. range.
Walk into any major museum and you will see mermaid images from many periods and from important arts like John Waterhouse.  Of course, as the image was so popular with sailors there was a considerable amount of popular art done. Menus on ocean liners and of course the certificates that were given to the sailors who crossed the equator for the first time during WWII. These are lovely lithographed pictures well worth framing and enjoying and are only priced about $40.
The sea many not be heavily populated by the children of Neptune but through  story books, fairytales, and art we are given a wealth of beauty which only you can decide if it is fact or fiction.

Pamela E. Apkarian-Russell
(TM) The Halloween Queen
Castle Halloween Museum
1595 Boggs Run Rd
Benwood, (Wheeling) WV 26031-1050
304 233 1031
www.castlehalloween.com
castlehalloween@comcast.net