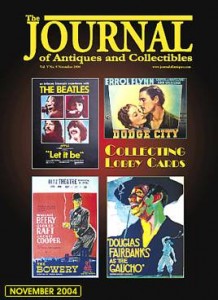 Movie Memorabilia: Collecting Lobby Cards
The Journal of Antiques and Collectibles – November 2004
by Morris Everett, Jr.
Window Cards & Lobby Cards
In the movie memorabilia world, window cards (14" x 22") and lobby cards (11" x 14") used to be the "poor man's" poster, but not anymore. From 1987 'til present, one sheet movie posters (27" x 41"), inserts (14" x 36"), and half-sheets (22" x 28") had all been sold auction by Christie's, Sotheby's, and Butterfield & Butterfield as their headliners, and they commanded record prices. As prices have increased, fueled by the rabid desire for science fiction and horror, window cards and lobby cards have continuously moved up in value.
Window cards were first printed in 1912, duo-tone and without artwork or photographic images, just words. In time, there were duo-tone images, and, eventually, in the late teens, lush colors emerged as shown in this issue. Artwork changed, and by the time window cards stopped being produced in the late '70's, they were photographic on inexpensive cardboard stock that easily bent. Window cards have survived because of the cardboard stock, and because they were placed in the windows of theaters and stores, as well as on telephone poles. They were virtually the only movie poster advertisement that was able to survive in the hands of individuals not in the motion picture business, as they were placed outside the theater. Values for window cards range from $5 for a nothing title to $25,000 or more for a horror piece like Frankenstein or Dracula.
[amazon_carousel widget_type="SearchAndAdd" width="550″ height="200″ title="Frankenstein Lobby Cards" market_place="US" shuffle_products="False" show_border="False" keywords="Frankenstein lobby cards" browse_node="" search_index="All" /]
Lobby Cards: a history
Lobby cards were first produced in April of 1913, according to authority Mike Hawks of Larry Edmonds' Book Store in Hollywood, California… Mike happens to own a lobby card from April 1913. In my own collection of 138,000 lobby cards and posters, my oldest lobby card is May of 1913. I'm one upped by Hawks, again! 98% of the time, lobby cards came in sets of 8, showing different scenes from the movie, thereby telling the story of the film. I have also seen lobby card sets of 4, 10, 12, 16, and 20 cards. The lobby cards were often framed in the lobby of the theater, along with other posters for the film, so that prospective viewers could preview what they might see. In the glory years of American film advertising there were minimally 9 different sizes of movie posters. Sadly, today there are often only 2 sizes, and lobby cards are not one of them.
Lobby cards have been produced for nearly 100 years, but, currently, the only English language lobby cards produced for new films come from England on glossy paper. Which is a shame, as lobby cards are only 11" x 14", thus making them easy to collect and store in legal size filing cabinets. One can store more than 5,000 lobby cards in one cabinet. The current market value for a lobby card (sets are usually broken down, and the cards sold individually) ranges from $1 for a "dead" card to $25,000 or more for a horror title card like Frankenstein or Dracula.
Dead Cards
What is a "dead" card and a title card? A "dead" card is a card that contains no major stars on it, or perhaps, an action scene from the film. On the other hand, a title card is a lead card of the set that lists the title of the film, and the credits for the film, generally along with some artwork. Usually, but not always, the title card is the most valuable card in the set, thus there are collectors who only invest in title cards. Of course, there are exceptions:
The "New York Yankee" card from [amazon_link id="B007QJBHRS" target="_blank" container="" container_class="" ]That Touch of Mink[/amazon_link] (1962), starring Doris Day and Cary Grant is worth $300, while the title card is worth only $75.
The 3 Stooges scene card from [amazon_link id="B000F7CMPO" target="_blank" container="" container_class="" ]Dancing Lady[/amazon_link] (1933), starring Clark Gable and Joan Crawford is worth $4,000, while the title card is worth only $500
There is only one Gift of Gab (1934) scene card that shows both Bela Lugosi and Boris Karloff, thus the scene card is worth $2,000, while the title card is worth only $400
[amazon_link id="B0002HOER6″ target="_blank" container="" container_class="" ]The Wrong Man[/amazon_link] (1956) scene card which pictures Alfred Hitchcock is worth $300, while the title card sells for only $50.
There are many more examples, of course, as almost every star from Valentino to Wayne started out in small roles, and the serious collector seeks out those rare "rookie" cards.
Resources for More Information
One of the best places to find things like lobby cards, window cards, stills, autographs, rare videos, posters, and all kinds of movie memorabilia is at a convention. The largest movie memorabilia convention in New York City, which I happen to run, will take place on Sunday, November 21, 2004 in the Gold Ballroom of the Pennsylvania Hotel on 401 7th Avenue at 33rd Street from 10AM – 7PM. For information, please contact me at my store, The Last Moving Picture Company – (440) 256-3660 or lastmo@aol.com … you can also visit us on the web at www.hollywoodposterauction.com
A book is currently in process by Steve Rebello and Richard Allen about the history and art of movie window cards, and a future tour is also planned.
Another lobby card, window card, and movie poster auction is being offered online in November and December at www.emovieposters.com.
Tell us about your collection of movie posters, window cards, or lobby cards in the comments below!