Janine E. Skerry, Curator of Metals
The Colonial Williamsburg Foundation
Benjamin Franklin, despite his "Poor Richard" persona, liked to shop. Letters written from London to his wife Deborah in Philadelphia document a cornucopia of purchases, including his February 19, 1758, description of "a compleat Set of Table China, 2 Cases of silver handled Knives and Forks, and 2 pair Silver Candlesticks." These items Franklin deemed necessary for his own use as he was "obliged sometimes to entertain polite Company." Clearly, setting a stylish table was considered important even for someone living in rented rooms far from home!
For centuries, silver coins formed the basis of many world economies and owning silver objects was visible proof of wealth. Additionally, silver is very expressive of style. Because it could be re-made without loss of the material, the cost of staying abreast of current tastes was comparatively minimal in a time when the value of the metal far exceeded labor charges. Old objects were owned and treasured in both England and America, and some individuals chose to be conservative; but stylish silver was a powerful statement of wealth and status. Fashions overlapped in popularity, and the phases "plain and simple" or "in the latest taste" were commonly found in period documents and descriptions. The former was shorthand for unadorned silver, while the latter meant new and innovative.
Silver from Mine to Masterpiece, a new exhibition at the Art Museums of Colonial Williamsburg, features more than 170 English and American examples of this lustrous material. Raw silver ore, coins, jewelry, and objects for religious and ceremonial use are included, but the majority of the items on view were fabricated for the dining and tea tables of the eighteenth and early nineteenth centuries. Porringers were among the more common forms of the earlier period; they served as all-purpose eating/drinking vessels much in the same way that soup/cereal bowls function today. Writing as "Poor Richard," Franklin noted that in the early years of his marriage he ate his breakfast from a simple earthenware porringer. Today, these shallow single-handled bowls survive primarily in metal. Although early porringers exhibited a wide variety of handle patterns, most American silver examples made after 1720 feature a so-called "keyhole handle," with little variation on this staple pattern. Porringers continued to be made in America in the post-Revolutionary period, but the form quickly died out in silver in the early decades of the nineteenth century.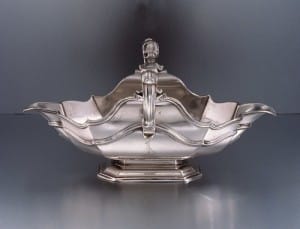 Tankards were large and showy drinking vessels, often made for shared or communal use. Their form evolved over time and differed from one region of the American colonies to another. New England examples gradually became taller and more slender, for example, while New York tankards retained a broader, squatter stance. Prized objects during the Colonial period, they rapidly fell out of fashion as drinking practices changed in the next century. Canns, or small individual mugs without lids, were widely owned.
Although often made in multiples, pairs or sets of canns rarely survive together. By the last decade of the eighteenth century, straight-sided beakers – often dubbed "julep cups" today – began to supplant both tankards and canns as the preferred form for silver drinking vessels. Pitchers also became more prevalent during the early nineteenth century. Their usefulness for refilling newly-fashionable beakers, coupled with their impressive size, made them especially popular as presentation pieces.
Keeping food hot at the dining table was difficult in a time when fireplaces provided the primary source of warmth. Chafing dishes were a popular choice for solving this problem, especially in early New England. Frequently made in matching pairs, chafing dishes typically had pierced sides and removable pierced grates to facilitate air circulation around the burning embers they contained. The knobs on the rim of a chafing dish held the plate safely above the heat source. Earlier, and rarer, variants of the form produced in London sometimes featured removable ring-shaped elements or hinged arms to allow greater variety in the size of dishes they could accommodate. Saucepans, with or without lids, offered yet another way of keeping food hot; they could be placed on a brazier or chafing dish, or even on a warming stand at the hearth. Saucepans remained a prevalent form into the early nineteenth century, especially in the mid-Atlantic and the South.
Service a la francaise dominated the arrangement of the tabletop throughout most of the eighteenth century. This mode of presentation, in which a large variety of foods were served at the same time, dictated that the table be symmetrically arrayed with dishes and plates of various sizes radiating out from a central point. Epergnes, or elaborate centerpieces, were calculated to both dazzle the eye and tempt the taste buds. Among English silversmiths no name is more associated with the production of these complex showpieces than that of the Pitts family. Thomas Pitts I and his son William supervised a shop specializing in the production of pierced baskets and epergnes. Used to display fruits and sweetmeats, these showy items commanded the central position on the dining tables of fashionable society. No early American examples of these elaborate forms are known, but documentary evidence indicates that some wealthy colonists owned English imports.
Many smaller and less imposing dining forms also were made in pairs or multiples to facilitate setting a balanced table. Sauceboats are among such items. The alternate name of "butter boat" offers a clue to the key ingredient in the recipes for sauces of the period. Other paired items include salt-cellars; these small open vessels frequently had gilded interiors or glass liners to inhibit the tarnish-inducing properties of salt. Numerous entries in silversmiths shop records and advertisements, noting the task of cleaning and burnishing salts, are a reminder of the futility of battling this stubborn corrosive agent. Gilding is also found on the interior of egg cups for the same reason: egg yolks also cause silver to tarnish rapidly.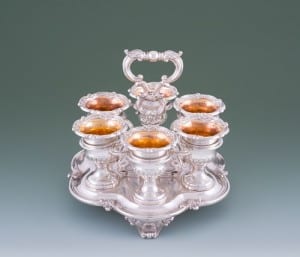 An ideal choice for an impressive table, silver has been prized since ancient times for its beauty, rarity, and usefulness. Whether of large and imposing stance, such as a soup tureen, or of more modest scale, like a meat skewer or fish slice, it added an element of luxury and refinement to early American and British homes. Silver was a key component in entertaining polite company in bygone days, and still sets an unmistakable tone today.
The DeWitt Wallace Decorative Arts Museum at Colonial Williamsburg, celebrating its 30th anniversary in 2015, houses a world-renowned assemblage of early British silver and Sheffield plate and has been actively acquiring early American silver for its collection since 2009. Silver from Mine to Masterpiece, an exhibition of approximately 170 objects dating from circa 1530 to circa 1835, opened September 12, 2015, (and remains on view through January 7, 2018) to mark the reinstallation of Colonial Williamsburg's permanent silver collection in its galleries. Organized by Janine E. Skerry, Colonial Williamsburg's curator of metals, Silver from Mine to Masterpiece has received generous funding from the Mary Jewett Gaiser Silver Gallery Fund.
The DeWitt Wallace Decorative Arts Museum, one of the Art Museums of Colonial Williamsburg, exhibits the best in British and American decorative arts from 1670-1830.
It is located at the intersection of Francis and South Henry Streets in Williamsburg, Virginia, and is entered through the Public Hospital of 1773. Museum hours are 10 a.m. to 7 p.m. daily.
To Entertain Polite Company: Stylish Silver for the Tabletop