By Margaret Carpenter and Alice Muncaster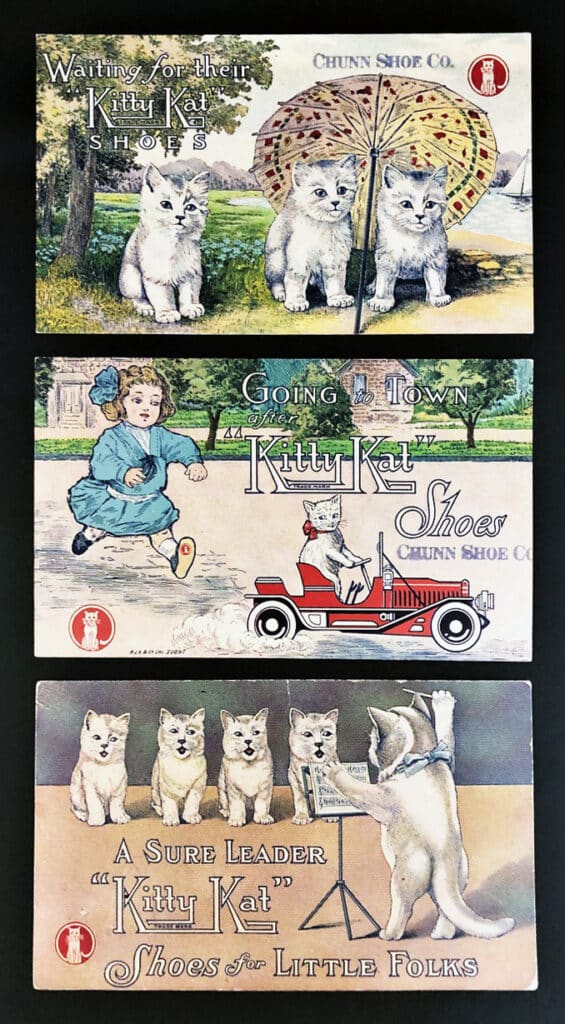 Is it possible for cats to spark a friendship between two people miles (and states) apart? Absolutely! Thanks to the Antique Advertising Association of America (AAAA), we (Margaret Carpenter and Alice Muncaster) discovered a mutual interest that started an online friendship of purrfect proportions: the use of cats in advertising.
Thanks to today's technology, we share and compare our collections with each other through text messages, calls, shared photo files, and emails – and of course, at the AAAA conventions.
Feline Finesse
Cats have a long and somewhat complicated relationship with mankind. From working farm cats chasing mice to pampered pets, felines of all sorts have been featured in art and literature for centuries. So, it's no wonder they began appearing in advertising when marketing mass-produced goods became a widespread practice in the late 1800s. And advertising with cats takes all sorts of forms. From depictions of cats on game boxes, like the turn of the century McLoughlin Brothers' game Black Cat or when kittens adorn a cigar or soap box, the "spokescats" benefit the advertisers with their endless variety of personas.
Our collections are somewhat unique since cats have appeared in so many different kinds of advertising and packaging, and in such a broad assortment of genres. Many collectors specialize in one type of product (tobacco or breweriana for example) or one genre (such as tin signs, tin containers or paper advertising). We've become multifaceted in what we each collect since it's the cat's image we seek. Ephemera advertising is our favorite category to share with others
Tales of the Curious Cat
Cats made ideal attention-getting images because of their varied qualities and attributes. They are known to be resilient and sure-footed, so their image worked well to promote shoes. Kitty Kat Shoes promotions are an all-time favorite of ours. c and Cat's Paw rubber heels are other examples.
Cleanliness is a well-known feline trait; cats are always washing themselves so could appropriately advertise soap, starch, polishes, and cleaning solutions. Kittens are very playful, so you can find many examples of cats playing with various thread and ribbon brands, including Clark's, Corticelli, Willimantic, and Corbett.
While products for the home were mostly advertised to women, felines could appeal to men, too. Some of our favorite "masculine" brands are those for tobacco products including Catlin's, Tabby, Mr. Thomas cigars, Catchy, and Two Toms cigars. Our favorite alcohol examples include Old Tom Gin with the cat resting comfortably on his master's chair, and Black Cat Whiskey. Black Cat Cigarettes appealed to women shoppers as smoking was considered acceptable for ladies in the early 1900s.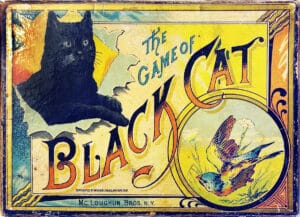 "Mysterious" is almost synonymous with cats, so you'll find cats illustrated on many interesting board games, books, and magazines in the pre-radio, pre-TV, pre-movie decades. We love their playfulness shown on Kilkenny Cats, Robber Kittens, Black Cat Dominoes, and Black Cat Fortune Telling games, and even the Black Cat detective book series and The Black Cat magazine.
In fact, black cats may be the most popular cat image and were likely to lend their name to entire product lines and even companies. Great examples are Black Cat Hosiery, Chat Noir Coffee (and many Chat Noir or Black Cat cafês and dance clubs across the United States and Europe), Black Cat Fireworks, Black Cat Safety Matches, and Black Cat Stove and Shoe Polishes.
Inky black fur likely inspired the marketers of Thomas' Ink to feature a black cat on signage, ads, ink blotters, and other promotional items for its jet-black ink. Carter's Ink went in the other direction in the 1930s, though, picturing cats with rainbow-colored fur – blue, green, yellow, red as well as black, representing the multi-colored Carter's Ink product line.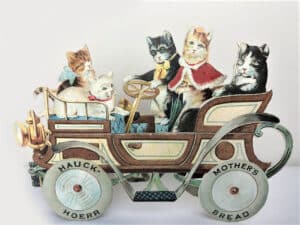 Candy and cookies (or "biscuits" in Europe) may well be our top-of-the-line cat advertising examples because manufacturers large and small produced so many wonderful boxes that contained sweets. Langues de Chat, translated to Cat Tongues, were so named because the chocolate shape shared a slight resemblance to the anatomical part. These were sold under dozens of brand names and in a wide assortment of decorative paper and tin packaging. In Europe, colorful cat-themed containers were lavishly illustrated by famous artists (such as Louis Wain, whose anthropomorphic cats and kittens were realistically drawn wearing human clothing). The manufacturers had clearly hoped that the packages would become keepsakes and drive brand loyalty after the delicacies were eaten. Louis Wain also illustrated many cat-themed postcards and books that are highly sought-after today.
'Tis Black Cat Season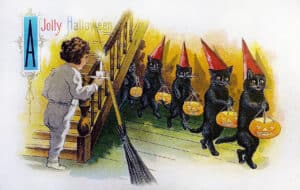 Lastly, there has been a long tradition of celebrating Halloween with black cat imagery as a near-universal symbol of the annual holiday. Paper Halloween decorations, cards, postcards, and costumes are plentiful, but some of the less common examples are true gems of our collections.
Sharing a Love of Cats
Both of us love cats, and of course, collecting cats in advertising. We've both worked with national humane rescue foundations (Margaret professionally with the Doris Day Animal Foundation and Alice as founder and volunteer with Tree House Animal Foundation). And companion cats have an important place in our private lives. We encourage you to adopt a cat (or two or three) into your home and family if you haven't already.