Gladys Emerson Cook – Cats, Dogs, & Erte? – The Journal of Antiques and Collectibles – July 2012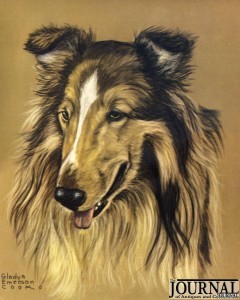 By Pamela E. Apkarian-Russell, The Halloween Queen®
Women artists are often neglected and forgotten by posterity even if they were hugely successful in their own lifetimes. People see their work in museums and galleries and admire them then walk on never knowing who the artist was or the importance of their work as they are not featured and no longer famous. After all, women and their work have always been subjected to being written about and assessed by men. Even Anna Coleman Ladd, one of the most important women sculptors is forgotten, even if her sculptures are so prestigious. Being prolific or important during your life time means little if you are forgotten a decade later. Fame is like a see-saw; when you are up, you are up, but the down can take your breath away.
Being forgotten can sometimes be helped along by the artist's own fault. In the case of Gladys Emerson Cook (1899-1976)0, being 'cutesy' and signing her name in different ways (or in pencil) added to the frailty of her legacy. She hadn't put much thought into the vast amount of pastels and paintings she would leave behind, none of which were commissioned or in the hands of museums or movie studios. When her estate came up for auction at George Fosters in New Hampshire in the early 1980s it comprised four auctions in three days. Most of her cat and dog portraits went up for sale across over 760 individual lots of incredible, in-depth, feline and canine pastels. At the same, auctions of her sketch books and fashion designs–which had sat in stacks in her studio–were put up in large lots. Much of this work was signed in pencil.
We were fortunate enough to be there and see all of her work that was to be sold. It was amazing because of the variety of media she used and a lifetime of enjoying doing different types of art using different subject matter was displayed before us in a quantity that will never again be seen in one place. Her cats and dogs? A joy. Her horses, which seemed not quite as up to par, were not as compelling or alive. Gladys Emerson Cook's designs for The New York Sunday Times & This Week Magazine, amongst others, were part of the social history of their time in the fashion world.
Gladys Emerson Cook's interests and influences
Gladys Emerson Cook's interests were diverse and she enjoyed the challenge of exploring different media and subjects, hence there were many collectors in attendance for different aspects of her work. Those specializing in dog breeds were certainly in their element as there was such a plethora to choose from. Cook's clown watercolors used in A Book of Clowns are a dream for any clown or circus collector. Even her pencil sketch books have a quality about them which is difficult to resist. There were some rather out-of-the-norm subjects included, such as Stonehenge. Upon seeing these pieces, one must wonder where she was, why she sketched them, and if they were for any published project.
Gladys Emerson Cook designed costumes for the actress Gloria Swanson, some of which were worn in movies. She did the centerfold for many magazines for Ringling Bros. and Barnum & Bailey. She wrote a series of books on how to draw horses, dogs, cats, and more. Gladys Emerson Cook illustrated Hiram & Other Cats, The Book of Clowns, and many other books. She even worked on Disney movies. Abercrombie & Fitch was one of many stores that featured her work, and both The Carters Ink Company and Puss in Boots used her kittens and cats with great success.
Gladys Emerson Cook's work was prolific, and she retained most of the original work not sold outright in her studio. Her work is in many museums and her originals keep showing up at art shows and auctions. After the New Hampshire auction, which sold off the contents of the home, her cat and dog pastels were to be seen at many of the best antique shows in the country and museums were very happy to add to their collections.
Because Gladys Emerson Cook often signed in pencil, some of her dress designs began showing up at auctions signed "Erte!" Granted, she had been a student of Erte and her pieces fooled many experts, because they were that good, but they didn't demand the same prices. One has to worry about fashion designs that have had the name tampered with, they are not signed in any of the many Cook signatures, but Erte. It is the Erte collectors that have to be careful.
We were fortunate to have purchased a tremendous amount of her original work at the auction. When I saw paintings I had sold showing up at one of the major action houses in this country, I called them and told them that when I sold them they did not have Erte's name on them, but that of Gladys Emerson Cook. I had photographs to prove it, and could also prove who I had sold them to, who just might be their consigner. They hung up on me! I was shocked at what the prices these were going for but felt powerless to do anything about it. I then held back on selling any more of these fashion designs and just sold cats, dogs, and horses. Many museums were pleased to add to their animal collections and I warned curators and dealers about the potential for Erte impostors.
The problem will always be that artists who sign in pencil will be forgotten. Collectors of Gladys Emerson Cook's work have lost an important part of her legacy and Erte collectors may own fakes. Having sold the best of them as Cook's, with the exception of a few we kept for ourselves, many of these unfortunately will never be correctly attributed to the correct artist.
The scandal about Salvatore Dali's works are a prime example of why we as collectors and dealers need to educate ourselves; Dali commissioned another artist to paint many paintings in his style and not sign them. They were then either sold by Dali as his own originals or reproduced on one of the tens of thousands blank sheets pre-signed by Dali. This is a rather long and involved magilla where people went to jail and many people lost a tremendous amount of money. Greed, fakes and fraud have hurt the art market frightfully over the years. They say that 'greed makes the world go round,' and fakes and frauds are nothing new. Remember, Michelangelo used to sculpt Roman antiquities and sell them as originals rather than as his own as he could make more money on them and sell them more easily. These pieces, if attributed to him today or signed by him, would be worth so much more. If you really want to be disillusioned read the book Dali & I. It will give you insight into the dealings of some incredibly unscrupulous people.
[amazon_carousel widget_type="SearchAndAdd" width="550″ height="200″ title="More on Gladys Emerson Cook:" market_place="US" shuffle_products="False" show_border="False" keywords="Gladys Emerson Cook" browse_node="" search_index="Books" /]
Gladys Emerson Cook's animals were really what she was famous for. She produced an annual cat Christmas card for the American Artist's Group. She worked for Disney on movies, gave numerous showings of her work at places such as the New York Public Library, The Society of Illustrators, The Arts Club of Washington, The Smithsonian, and the Bronx Zoological Park, to name a few. Books and magazines eagerly used her work as well as leading stores in Boston and New York. Cook landed in New York in the early 1930s after she had received her Master of Science degree at the University of Wisconsin.
Gladys Emerson Cook earned her living for quite a while doing fashion sketches, which she sold to various magazines and newspapers, while retaining the original art for her own archives. She had a flair for knowing what the decently-heeled woman-of-the-day wanted. After all, these fashion sketches were what the stores wanted their chic clientele to purchase and don to show how totally stylish their store's products were. The great designer Edith Head was a great admirer of Cook. These designs showed women that they too could become as fashionable and glamorous as movie stars if they shopped at the right stores and purchased the right clothing.
During this time she spent much of her free time at the Bronx Zoo sketching the animals she so loved. Lions, Tigers, and even the squirrel that hung around outside the cages looking for nuts and other hand outs. This was Gladys Emerson Cook's true passion. Animals, domestic to wild, in captivity or out. Elephants, and circus animals especially entranced her. Her art had advanced a long way from the sketches for programs, and pamphlets she did while at Skidmore college where she went to college. Her first one person exhibit included 76 drawings and paintings at the Heads & Horns Museum at the Bronx Zoological Zoo where she spent so much time learning from and about the animals she so loved drawing.
Eventually, she stopped doing fashion sketches and concentrated on doing portraiture of pure-bred dogs, famous animals, cats, and the darlings of their owners. Her work was extremely popular because she had a rapport with the animals she was capturing for posterity on canvas and poster board. Pastels became her medium of choice for portraits and that is why one will find more of her pastels than any other medium.
Her passion for the circus was because of the animals, though she was friends with many of the clowns and other entertainers at Ringling Bros. When she drew the centerfolds for many of the Ringling Bros' programs, it was said she could be a 'royal terror' if animals and people did not pose exactly as she wanted. She hardly ever missed a performance when the circus was in town as she had a season pass to come and go as often as she liked.
Some of the many books Gladys Emerson Cook wrote were 101 Dog Illustrations; You Can Draw Cats; You Can Draw Dogs; You Can Draw Horses; Hiram and Other Cats; Drawing Horses, Cats, & Dogs; Drawing Wildlife; We Lived With Peter; Circus Clowns on Parade; Matou: the Biography of a Cat; Zoo Animals; Favorite Cat Stories of Pamela & James Mason; The Big Book of Cats; and the list goes on and on. While most of the books were instructional drawing books, she also did a considerable amount of illustrations. Some of her books have been reprinted as they are such classics in the field of drawing and are readily available.
Is Gladys Emerson Cook a forgotten artist? Does she deserve to be remembered? If you ask dog breeders, animal lovers, circus collectors, and animal artists, they will know who she is. If you ask most art dealers, you will often strike out. Then, there are those who adore the cat pastel on their wall or the one of a breed of dog that makes their home all warm, fuzzy, and happy; they might have heard the name, but are not quite sure. This, perhaps, is the reason her pictures continue to sell and are enjoyed by many who don't quite remember who she was, if they even ever did. Her fashion and haute couture, especially those her name has been erased off of, are probably lost to her archive of works forever, and probably will not be remembered. Her animals, on the other hand, can not be forgotten as they appeal to so many people, and to their feline and canine friends.
[amazon_carousel widget_type="SearchAndAdd" width="550″ height="200″ title="Books by Pamela E. Apkarian-Russell:" market_place="US" shuffle_products="False" show_border="False" keywords="Pamela E. Apkarian-Russell" browse_node="" search_index="Books" /]
What is your favorite Gladys Emerson Cook piece?