Animals in Advertising
by Jessica Kosinski
Advertising is a huge industry, and it's not a new one. Ads go back for as long as people have been trying to sell products. Some of them have involved catchy slogans, songs, or logos. But many of the most successful and long-lasting advertising campaigns have involved animals. Some more current examples include the Geico gecko, the Aflack duck, and the Budweiser frogs. But in this issue let's take a peek at the impact animals had on advertising years ago.
Why Animals Are Used in Advertising
There are a lot of different theories about why animals can lead to product sales, but they all boil down to one thing, which is the fact that almost everyone loves animals. Many people have pets of their own or just have a love of wildlife. We can all connect to animals on some level. When animals are given voices, personalities, or human-like traits, that connection gets even stronger. When we feel connected and invested emotionally, we are more likely to invest in products financially.
Lassie and Rin Tin Tin
Dogs are perhaps the most lovable animals to humans. After all, they are supposedly man's best friend. So, it should come as no surprise that some of the most popular, recognizable, memorable, and long-running advertising characters have been dogs. Lassie and Rin Tin Tin certainly top the list. They both convinced their "best friends" to buy a wide variety of products. Of course, in the case of these two, dog food was one of those primary types of products. Lassie was the face of Red Heart dog food in the 1940s, and Rin Tin Tin featured prominently in Milk Bone ads in the 1950s. However, they both advertised other products as well. For instance, Rin Tin Tin patches and toys were used to help sell Nabisco's shredded wheat product in the 1950s.

The many products, such as toys, pinbacks, and watches that were created as part of those advertising campaigns shouldn't be overlooked. Many of them are worth a lot of money today. But what you may not realize is that many of the advertisements themselves are just as valuable. Back in the earlier days of printed advertisements, full-page magazine ads and posters featured wonderful artistry and vibrant colors. Today those vintage ads and posters can be framed and sold for a lot of money.
Nipper the Dog and Morris the Cat
While Lassie and Rin Tin Tin were television and movie dogs that became advertising icons, other animals were simply used as advertising icons from the start, but they are no less iconic. Two prime examples are Nipper the Dog and Morris the Cat.
Nipper was a real dog that lived from 1884 to 1895 in England. The family that owned him painted a picture of him seated next to a gramophone intentionally in an effort to get the Edison-Bell Company in the United States to use him as an advertising mascot.
Initial attempts failed, but the early 1900s Nipper was being used in advertisements for the Gramophone Company. He eventually became best known as a mascot for Victor, which later became Victor RCA. Soon after that Nipper could be seen on a variety of products, including RCA record dusters, such as one that recently sold for about $65 online.
Much like Nipper, the original Morris the Cat was a real cat that was rescued from an animal shelter in the Chicago area. That cat died in 1978, but the Morris the Cat campaign for 9 Lives cat food continued on. Morris is, in many ways, more relatable than Nipper simply because he has been used in so many television commercials throughout the years and he was given a voice in those commercials. That may be why posters and old print ads of him can sell for quite a bit. However, the Morris the Cat products that tend to be most popular are actually more practical and useful items, such as drinking glasses, t-shirts, wall clocks, and calendars. Many of those items are vintage, but even the newer ones are prized by Morris enthusiasts.
Smokey the Bear
It's also important to note that animals haven't just been used to sell products over the years. They have also been used to promote ideas. Smokey the Bear is one of the best examples. He has been used since 1944 to educate the public about forest fire prevention. Although, his popular "Only you can prevent forest fires." slogan wasn't used for the first time until 1947. By the 1950s, stuffed Smokey the Bear dolls, children's books, toys, and other collectibles were being produced.
Not only was the Smokey the Bear campaign successful for the U.S. government in terms of forest fire prevention, but it also has created in the past and continues to create thousands of collectibles. Many of them are worth quite a bit of money. For example, in April of 2016, a 1944 Smokey the Bear poster sold at auction for $440. Even many of the somewhat newer Smokey the Bear collectibles often sell well. One example is a 1973 Smokey the Bear thermos sold this year for $278.
Other Popular Animals in Advertising
Of course, those are only a small handful of the animals that have been used in advertising campaigns over the years. Others iconic animals, both live and animated, that have been used for advertising purposes include Woodsy the Owl, the Cadbury Bunny, the Taco Bell Chihuahua, Kellogg's Tony the Tiger and StarKist's Charlie the Tuna.
Even the talking sitcom horse Mr. Ed was once used to advertise Studebaker cars because he had a built in audience and the company wanted to capitalize on how lovable and recognizable he was.
All of these wonderful animals have given us years, and in many cases decades, of pleasure while managing to ingrain themselves into our minds. It's impossible to forget their faces, slogans, and general appeal, whether you collect items relating to them or not.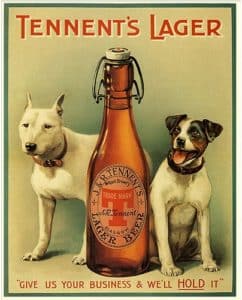 However, true collectors take preserving the legacy of these animal icons to a whole other level. If you are one of those collectors, you can often find good deals on items that range from vintage magazine pages to lunchboxes, plastic toys, and even children's books featuring many of these characters at flea markets, antiques shops, and yard sales. Some of the harder to find items might cost you a bit more, but they are generally readily available online.
Jessica Kosinski has been a freelance writer specializing in writing short articles for 15 years. She is also an avid collector of both antique books and Star Wars memorabilia. Although she is not in the antiques industry professionally, she has learned a lot about antiques over the years by periodically helping out at her mom's antiques shop in Greenville, NH. She currently balances maintaining the antiques shop's Facebook page, www.facebook.com/MallofNE, and working on various freelance writing assignments. She can be reached at dementorskiss77@yahoo.com.
Antiques Peek: August 2016