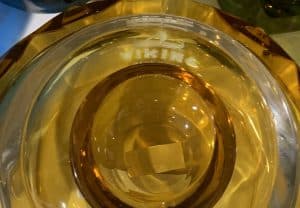 Viking Glass grew out of its predecessor, New Martinsville Glass Company,
which was established in 1900 by Mark Johnson and George Matheny. The plant was up and running in 1901 in New Martinsville, West Virginia, known for its natural gas and access to transportation by rail and by river – the Ohio river. The company quickly became known as a manufacturer of American decorative glass products, and for its use of color – something Viking championed until it closed its doors in 1984.
The Glass Company That Could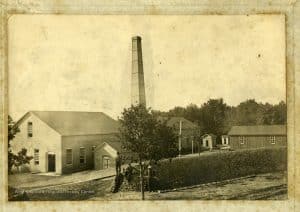 New Martinsville Glass had a bit of a rocky start. In 1907, the factory was destroyed by fire and flood, but rebuilt and reopened by October that same year. During the 1913 flood, the Company suffered some "minor losses relative to the manufacturing of glass" (Paint, Oil, and Chemical Review, vol. 55, circa 1913). Then, with the rebuilding of its glass factory, New Martinsville Glass moved into full-scale production of pressed glassware, and then quickly expanded into vanities, barware, lamps, inkwells, and crystal figurines, among other decorative glass objects.
The New Martinsville Glass Co. went bankrupt during the depression in the late 1930s, but given its location being close to the resources needed to create quality glass, investors with the Silver Glass Company of Meriden, Connecticut purchased the company in 1938.
Mid-Century, Here Comes Viking!
The company reopened as New Martinsville Glass Co., and in 1944 the company was restructured and renamed the Viking Glass Company (due to the popular Scandinavian glass that was encroaching on the market), with crystal glass dominating its production during the war years. The Company launched a full-scale ad campaign promoting its patriotism with ads that boasted "Handmade in America" and "For use in American Homes."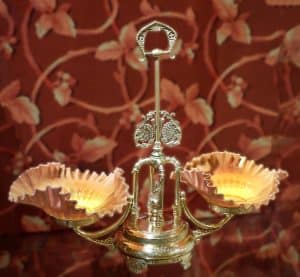 According to Dean Six in the book Mid-Century Glass in America, "Viking was one of the largest and most prolific producers of American glass that embodied the Mid-century Modern aesthetic." The use of color in everything from fashion to home decor was on-trend and in demand. Capitalizing on the mid-century sense of style, Viking introduced a burst of color into its product lines in 1951, first with evergreen, amber, ebony, cobalt blue, sky blue, and ruby colors, and then in 1953 adding amethyst, charcoal, cherry glo, colonial blue harvest gold, and olive green to the mix. New colors continued to be added into the 1960s but by 1964, the Company had reduced the number of color choices from over 30 to seven: amberina, avocado green, bluenique, crystal, honey, persimmon, and ruby.
The largest product line for Viking was the Epic line (1956-1975), which contained the majority of Mid-Century Modern patterns and colors. Also included in this line was an entire set of Noah's Ark animals, birds, and a variety of sculptural items both utilitarian and non-utilitarian. Other lines include the Flamenco line which featured a thick, heavy crystal making it more akin to European design; Tundra featured items that looked handmade but were actually pressed glass items that were then hand-tooled at the top to give each piece that hand-blown look; the Scroll line that was somewhat short-lived (1956-1962) and was more utilitarian in nature (items included a gravy boat and a mayonnaise bowl); and the Astra line that arrived just in time to go into orbit as Sputnik flew above the Earth.
The End of an Era … the Start of Collecting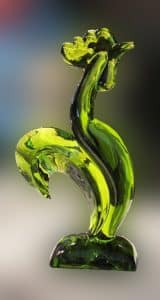 By 1980 the company was struggling amid the recession. In 1984 when the company finally closed its doors, its assets were purchased by Kenneth B. Dalzell, the fourth generation of Dalzells at Fostoria glass, who re-named the company the Dalzell-Viking Glass Company. Dalzell tried to revive the firm with traditional pressed patterns (such as pinwheel and star) in popular 1990s colors like magenta, deep red, cobalt, and yellow. Several Fostoria molds were reintroduced as well, but the new lines couldn't compete with cheap imports and more luxurious hand-blown glass, and in 1998 the Company closed its doors for good. Its demise ended a century of glassmaking tradition … but soon started collectors' appreciation for Viking's colorful molded glass.
Today, Viking Glass is popular among art glass collectors who love its unique colors, Scandinavian modern vibe, and affordability. Viking Glass can typically be found at antique shops, flea markets, thrift stores, and glass shows, in many cases at bargain-basement prices. A search online on sites such as eBay, Ruby Lane, and etsy.com finds the average price for vintage Viking at about $35.
In most cases Viking used paper labels, not marks, to identify its products. Most of the labels on their glass are now long gone, leaving color as one of the few identifiers for buyers. Thankfully, the Company started publishing catalogs of its product lines in the early 1960s. Viking glass catalogs offer a wealth of information, including pattern names, pictures of various pieces, and original prices to both identify and date a piece of Viking glass.
To learn more about Viking Glass and to identify patterns, these books will prove useful:
Viking Glass 1944-1970 by Dean Six; Beauty Is Glass From Viking: A Story with Pictures About the Creation of America's Hand Made Glass by Viking Glass, Viking Glass History by Preston Ver Meer,
and
Popular '50s & '60s Glass: Color Along the River
by Leslie A. Piña.