A Brimfield Journal, May 11 to 14, 2004 – Business of Doing Business – The Journal of Antiques and Collectibles – May 2004
By Ed Welch
For me, the buying and selling of antiques is a full-time business. I keep accurate records of all my business trips. This allows me to make business decisions related to particular buying and selling locations. The following is a journal of my buying trip to the May Brimfield show. Not all prices and potential profits are shown. I am not willing to give away my business techniques to make points in a trade paper article.
Day 1, May 11, 2004
1:30 a.m. wake up for a four-hour drive to Brimfield from my home in Maine.
2:05 a.m. coffee and snack, $2.12. I keep track of every cent spent and record the time of all purchases. I also record temperatures and periods of rain. The record of one Brimfield market has little meaning. However, the records of twenty Brimfield markets clearly show patterns when sorted by day, hour, temperature, and rain.
5:55 a.m. parking fee, $10.
6:12 a.m. 1st purchase – 3 pair of glasses…. $35. One pair is solid gold; American made, circa 1820, and patented. They will sell for $300. The second pair are 10k Pince-Nez and will sell for $85. The third pair date to 1935 and will sell for $65. A good start for any buying trip!
6:34 a.m. 2nd purchase – a pair 2 screw Cortland
6:41 a.m. passed on excellent Veterinary Surgical Tool set, circa 1865 for $2,800. I could resell this set for $3,600. However, a return of just $800 for an investment of $2,800 is a poor business decision. Generally, I try to receive a return of between three and four dollars for every dollar spent. I will spend up to $5,000 to make a $1,000 profit if turnaround time is less than ten days. Turnaround time for surgical sets valued between three and five thousand dollars can be a year or more. Turnaround time for surgical sets valued between ten and thirty thousand dollars is the time it takes to make a phone call.
7:48 a.m. 3rd purchase – 10k gold Pince-Nez.
8:40 a.m. purchased birthing forceps, circa 1820
8:51 a.m. coffee and breakfast, $7
8:55 a.m. 1st call back, John Smart dental chair, circa 1850. At buying shows, I wear a hat, tee shirt, and signage that announces that I buy medical, dental, optical, antiques and eyeglasses. This advertising results in what I call "Call Backs". I get "Called Back" to booths by displaying dealers. I get "Called Back" by collectors who happen to see my signs. I get "Called Back" by homeowners who have things to sell. Through the years, "Call Backs" have been responsible for the purchase of tens of thousands of dollars worth of antiques. I will contact John Smart after Brimfield and arrange a visit to inspect his mid-1800s dental chair.
9:45 a.m. bought glass blowing Punty.
10.00 a.m. return to van with purchases.
11:05 a.m. entrance fee, Dealers Choice, $5
11:16 a.m. bought medical lot from Stanley Ellenborgen. Stanley is one of nearly a dozen dealers who send me post cards or letters with a list of items they will bring to Brimfield. This is a successful tactic for any displaying dealer. I spent $1,080 at this booth.
11:35 a.m. passed on the purchase of a solid gold thermometer for $350. This item was priced at top retail.
11:56 a.m. bought roman steel 1830 sliders.
12:11 p.m. bought medical glass X-Ray slides of head injuries.
12:38 p.m. call back, medical scissors, no buy.
12:45 p.m. call back and got a business card to look at medical walking sticks on the web.
1:05 p.m. entrance fee, Brimfield Acres, $5
1:53 p.m. bought Bang Stick $200. Bang Sticks are canes with a small cannon built into the handle. They date to the mid 1800s and were used as noise makers at 4th of July events and in some cases for personal protection.
3:15 p.m. stop for lunch and soda, $8
3:50 p.m. purchased 127 pair of eyeglasses (new in original boxes) $100. The average resale price of each pair will be $65. It is still possible to find sleepers at Brimfield.
6:20 p.m. return to van
7:22 p.m. check into hotel
8:15 p.m. supper and tip, $13.55
Summary of day one: Expenses $181.60. Cost of goods bought $1,543. Expected return on investment $7,701. This figure represents the resale of just 50 pair of my purchase of 127 pair of eyeglasses. The remaining 77 pair turned out to be patent models or production models. Although patent and production models have a value higher than regular eyeglasses, I will donate these models to an Optical Museum. On a scale of one to ten, this buying day rates an eight.
Day 2, May 12, 2004
4:30 a.m. wake up call; 5:00 a.m.-coffee and bun, $2; 5:24 a.m.-breakfast, $2.12;
5:50 a.m.-parking, $5; 6:05 a.m.- entrance fee, New England Motel, $5
6:12 a.m. bought Chinese acupuncture manikin $950
6:58 a.m. bought round Marshwood
7:12 a.m. bought yellow gold Marshwood 7 inch temples.
8:27 a.m. bought 7 pair of never used eyeglass frames that date to the 1960s. This dealer, Jenney Rivard, is an optician from Rock Hill, Connecticut. She sells vintage eyeglass frames at shows and on eBay. Her frames are always in excellent condition. Therefore, I am willing to pay more than normal for each frame. For a retail buyer, her frames would be considered cheap. Jenney is one of more than a dozen dealers that I depend on to make my Brimfield buying trips successful.
9:10 a.m. entrance fee, Heart-of-Mart, $5
11:57 a.m. bought eyeglasses, 2 screw Cortland, $10. This was my only purchase at this show.
12:00 a.m. Hertan's opens
12:15 p.m. passed up the purchase of a set of early hearing aids, $450. This turned out to be a major buying mistake. Subsequent research has revealed that a similar pair sold at Bonds Auctions in London two years ago for nearly $4,000. Repeated calls to this dealer have not been returned. The failure to buy this sleeper is my fault. I was not prepared. Last February, I had a chance to buy a book on thesubject of hearing aids. I did not buy the book because it was priced at $150. One would think that after thirty-five years in the trade, I would no longer be making such stupid mistakes. In a free market economy, one is paid in direct proportion to the amount of knowledge he or she possesses. The more you know, the more money you will make. I have ordered the book. When it comes in, I will read it from cover to cover at least twice.
1:45 p.m. parking fee, $5
2:41 p.m. bought 3 piece mounts
4:00 p.m. finish shopping Brimfield for the day
4:30 p.m. gas up in Palmer and buy two bags of ice
4:45 p.m. stop at several group shops in and around Palmer
5:05 p.m. bought 10 Frank Lloyd Wright Glass Tiles, $350. I look for architectural design elements by famous architects such as Louis Sullivan, Eero Saarinen, Frank Lloyd Wright, and others. These ten glass tiles by Wright were a wonderful and profitable find.
Summary of day two: Expenses $128.25. Cost of goods bought $1,535. Expected return on investment $4,778. On a scale of one to ten, this buying day rates a six, slightly better than average.
Day 3, May 13, 2004
6:30 a.m. wake up call; 7:00 a.m.- breakfast, $4.50; 8:00 a.m.- parking fee, $5; 9:00 a.m.- entrance fee, May's, $5
9:20 a.m. passed on two reproduction designer glasses priced at $350 each. French designer glasses made in the 1960s are worth $500 each. These two pair, although clearly marked "Made in Paris", are in reality made in Japan and are reproductions of famous French eyewear. They are so well made that they nearly fooled me. They can be bought in discount shops for less than $30 each. The "Made in Japan" mark is embedded into each temple and each front. However, this mark can only be seen by holding he frames to a light and looking through the plastic.
11:06 a.m. bought heart model, $150
12:30 p.m. start second trip around May's. I always make two passes through this field. Usually, I can buy as well on the second pass as I do on the first.
1:52 p.m. bought Marshwood
2:57 p.m. bought leg restraints used in Insane Hospitals, circa 1850, $140
Summary of day three: Expenses $116. Cost of goods bought $300. Expected return on investment $770. On a scale of one to ten, this buying day rates less than one. When buying and selling expenses and taxes are added, I will lose money.
Day 4, May 14, 2004
4:30 a.m. wake up call; 5:06 a.m.- coffee and snack, $3.16; 5:58 a.m.- parking, $7;
6:08 a.m.- entrance fee, J&J Promotions, $5
6:15 a.m. bought medical lot, $680
6:59 a.m. bought 14k Pince-nez.
7:20 a.m. bought a tin ear, an early hearing aid
7:36 a.m. bought two reference books, $10
8:35 a.m. bought syphilis treatment kit, $50
9.08 a.m. bought a lot of eyeglasses
9:43 a.m. back in van and head home
10:15 a.m. stop at Showcase Antique Center in Sturbridge
1:30 p.m. bought 3 pair of glasses
Summary of day four: Expenses $45.16. Cost of goods bought $985. Expected return on investment $3,305. On a scale of one to ten, this buying day rates a four, slightly less than average.
Summary of buying trip:
On a scale of one to ten, I would rate the May 2004 Brimfield show as a four, slightly below average. I deal in both extremes of the antiques that I carry, the most expensive, and the cheapest. I do so because higher profits are possible at the extremes. I was able to buy many cheap and low-end items, but I did not buy a single high quality antique. The Veterinarian Surgical set was priced wrong. It was overpriced for a dealer but underpriced for a collector. It makes no sense at all to price halfway between wholesale and retail.
My records show that my ability to buy high-end antiques at Brimfield has declined steadily since 1994. Dealers are not bringing their best antiques to Brimfield or the dealers who carry high-end antiques are no longer selling at Brimfield. I believe that the latter is more likely.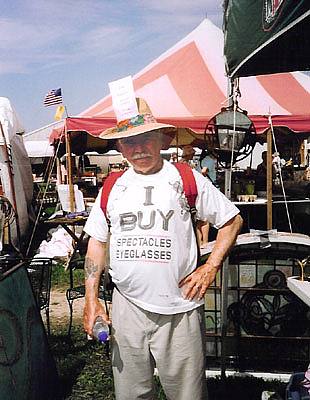 I did miss the opportunity to buy a sleeper because I was not prepared for the find. Contrary to popular belief, most sleepers are bought by experts who know exactly what they are buying. Even if I had made this purchase, I would still rate this show as below average.
The weather was excellent and the attendance seemed above average. Good weather and a high attendance is a disadvantage to me as a buyer. I tend to buy better when the weather is hot or wet and the attendance is low.
I often allow my image to be taken by anyone who asks. The photos have appeared in newspapers and on television. I have purchased one major medical collection plus many other items because of the advertising I wear.
Any readers who may have information about this item are invited to contact Edward Welch. He can be reached via telephone by calling (207) 872-5849, by mail at RR # 3 Box 1290, Winslow, Maine 04901, or by email at edwelch@metiques.com