Guess What Article for April 2004 The Journal of Antiques & Collectibles
By Bob Cahn, "The Primitive Man"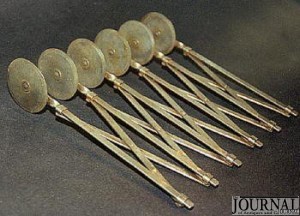 What we have is a multi-purpose, sextuple threat tool. It's an advanced cutting gadget that would make any collector drool. Parallel blades that can be adjusted –But not meant to be used to cut the mustard;
Was it used to cut fabric, tomatoes, or leather;
Or trim an over-stuffed pillow filled with pure goose down feathers;
Possibly deep-dish pizza, hard-boiled eggs, or green onions;
 Or a taxidermists tool for de-carcassing grunions;
 Could it be used for pasta, lasagna or taffy;
 Or trimming the nails of the duck known as Daffy?
 Maybe for peach cobbler dough strips that form the lattice;
 Or shredding cole slaw cabbage mixed with tossed salad lettuce?
 Chopping up celery or dividing a cheesecake;
 Or testing rough gemstones to make sure they're not fake.
 Could be used to crimp tobacco – or sever red tape;
 Or slice ripe bananas for an appreciative ape –
 Or a barber's tool to trim a hairy nape.
 Finally, trimming the hangnails on department store dummies – Or dicing up dried fruit for assorted snack "yummies?"
 Lastly, not leastly – lest it get left behind – Was it used to cut the ties that bind!?
The correct answer is hidden above. To find it, just give your brain cells a shove.*
*Available for acquisition
Answer to March 2004 'Guess What?'
When we mentioned theme continuity from the February column, we were referring to the road paving block pounder (or leveler). Sometimes called cobblestones or "Belgian blocks,"they were used to pave early city streets before the turn of the 20th century.
Tightly fit together and embedded in sand, if one fractured or chipped, it was a difficult task to lift for replacement. This leveraging or prying fork (which had a long wooden handle) made the job easier.
*Thanks to Bill Reichenbach, Fleetwood, PA – at General Heath's Antiques, Adamstown, PA.