By Jessica Kosinski
It is often said
that memory is a powerful thing. Sometimes a sight, smell or sound can take you back to a whole other era. Such is the case when it comes to seeing a vintage metal lunchbox for many people who recall the 1960s and early 1970s. Early on, there was nothing particularly special about seeing a metal lunchbox with a rounded lid. They were often sold by hardware stores back in the pre-online shopping and pre-super store days. Workmen primarily bought them for practical reasons. But all that changed when teens began re-purposing and decorating them. So began the decoupage lunchbox purse days. Let's take a peek back into the past at them.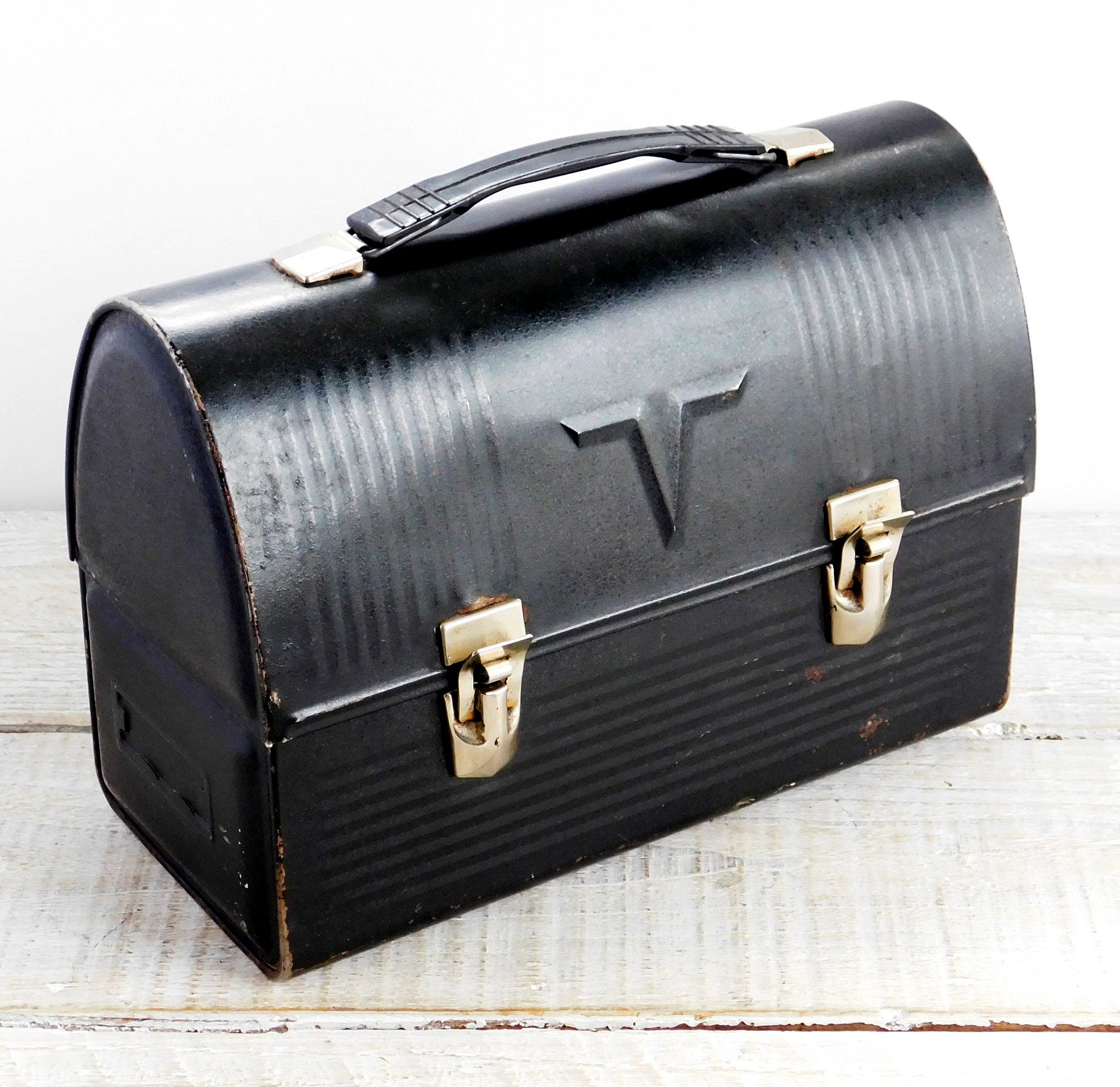 Undecorated lunchbox aka "before"
What is Decoupage?
Decoupage is a unique art practice. It usually involves cutting out newspaper or magazine clippings (or other paper items) and gluing them to various objects. It can sometimes also involve the addition of gold leaf or other elements. The resulting artistic endeavor is then treated with several layers of varnish to keep it intact and protected for many years to come. For that reason, many decoupage lunchbox purses from the 1960s and 1970s are still intact today.

A Brief History of Decoupage
There is some debate over the origins of decoupage. Some believe it originated as tomb art in East Siberia. Whatever its early origins, one thing is agreed upon – that it eventually became quite popular in China. There they were making decoupage works of art in the 12th century.
Although it took a while, the craze also began to catch on across Europe. By the 18th century, decoupage was being adapted in multiple ways. For example, in Venice artisans created hand-colored engraved sheets. Those sheets were glued onto furniture and varnished.
Many famous individuals practiced the art of decoupage in some form or another over the years. Among them were Lord Byron and Marie Antoinette. Famous artists have also used it in their works. Such artists have included Picasso and Matisse.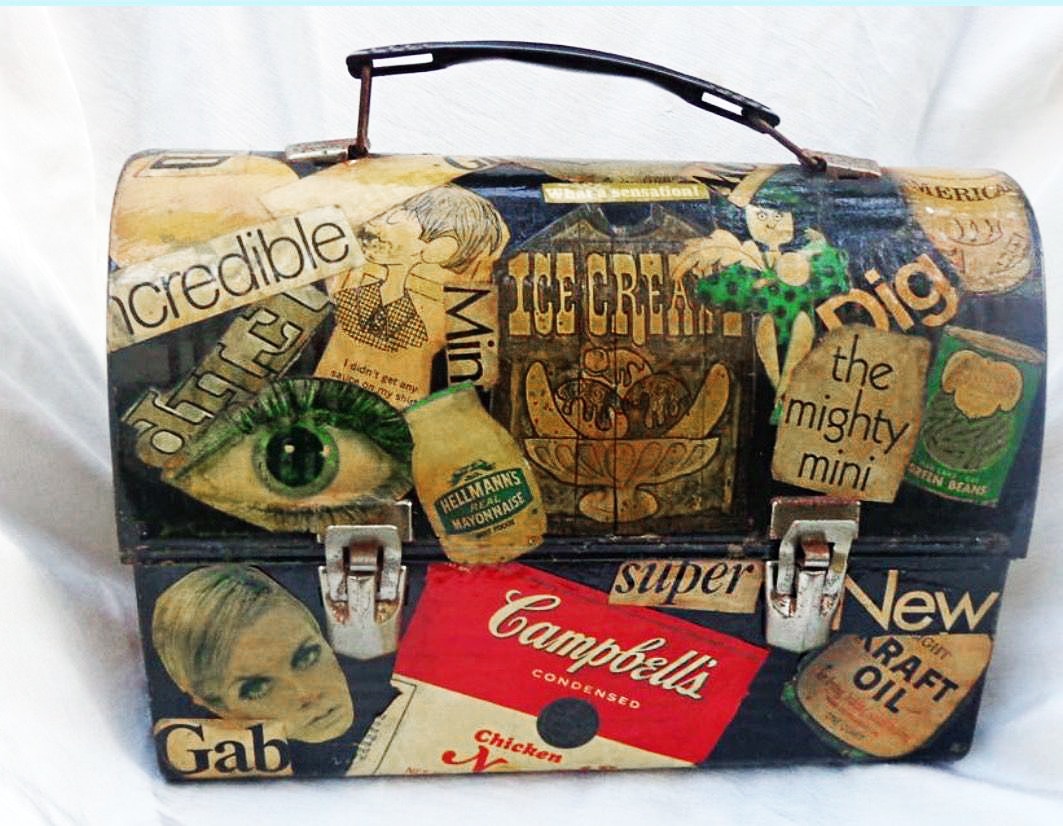 Lunchbox featuring Campbell's Soup
Decoupage as a popular hobby in the U.S.
Despite its popularity overseas, decoupage did not begin to really take hold as a hobby here in the U.S. until well after World War II. Although still practiced by some people in the U.S. today, it hit its U.S. peak as a hobby in the 1960s and early 1970s. It is fair to say decoupage was an absolute craze in those days.
At the peak of the decoupage craze, you could find objects of all sizes and descriptions that were decoupaged. Among the largest were screens and chests. Smaller objects commonly decoupaged included trays, trash baskets and shades for lamps.

The Emergence of the Decoupage Lunchbox Purse
Nobody seems to quite know who started the practice of making a decoupage lunchbox purse. However, we can make some reasonable guesses as to how they became popular. Boredom, the desire to repurpose household items, and the need for self-expression all come to mind. Whatever the reasons, personalized decoupage lunchbox purses started popping up everywhere.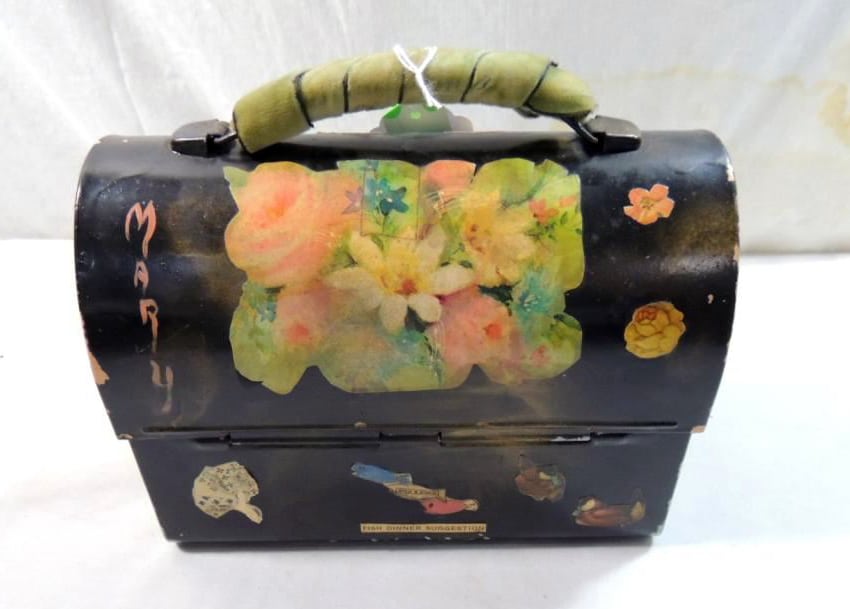 What Made Decoupage Lunchbox Purses Fun Then, Makes Them More Fun Now
Unlike a lampshade or a chest, a decoupage lunchbox purse was an item easily used outside the house. That afforded the creator a chance to show some individuality and style. Among teenage girls, a sense of style was especially important. Girls who made such purses often included images of flowers, their favorite celebrities at the time, and even words they felt reflected the times or their own personalities.
Today, when you come across a decoupage lunchbox purse from the 1960s, you are looking at a decades-old time capsule. The images lacquered onto it tell a story of another era. That makes decoupage lunchbox purses fun to collect when you want to relive that era, or even if you were too young to remember and just want to learn about it.
Collecting Decoupage Lunchbox Purses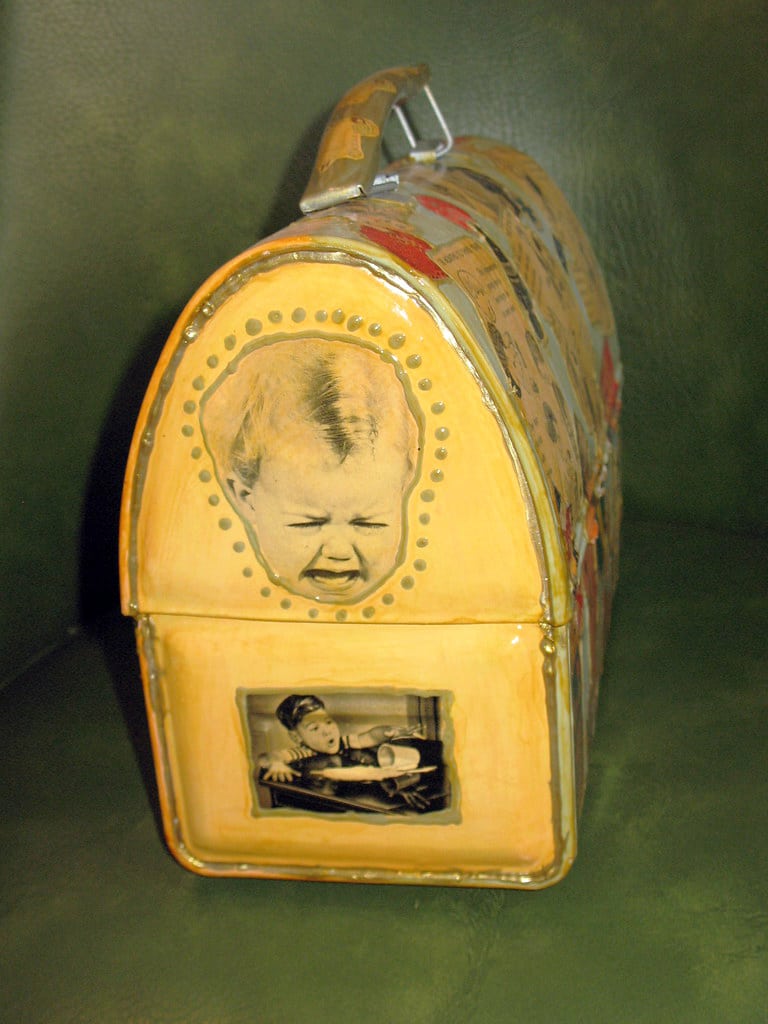 Lunchbox given as a baby shower gift
One of the best things about collecting decoupage lunchboxes purses today is many have survived, and they are often reasonably priced. In fact, you can find dozens on websites like
eBay
, often for less than $30 each. They are also sometimes found at flea markets, antiques shops, and similar venues. However, you can expect to pay more for purses in pristine condition. Those that are artist-signed or feature certain popular themes of the time can also be more costly.