Bookshelf: [amazon_link id="0764337718″ target="_blank" container="" container_class="" ]Historic Architecture in West Philadelphia, 1789-1930s[/amazon_link] – The Journal of Antiques and Collectibles – September 2012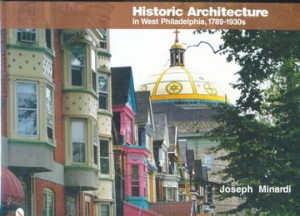 By: Joseph Minardi
Publisher: Schffer Publishing
Pages: 192
Price: Hardcover $50
West of the Schuylkill River, what was once Blockley and Kingsessing Townships is now West Philadelphia. Here is a comprehensive look at the rich architectural history of neighborhoods in and around University City and biographies of the architects who made it possible. In more than 500 images, see this area of the "City of Brotherly Love" transition from humble beginnings as a collection of sprawling farms and dusty hamlets to a streetcar suburb for upwardly mobile types looking to escape the old city and a haven for esteemed educational institutions. Packed with archival images, maps, and color photos, the book covers Cedar Park to Powelton Village, chronicling the charm and elegance found in West Philadelphia's architecture, much of which is still on public display. Examples include Second Empire, Victorian, Queen Anne, Collegiate Gothic, and Italianate styles. This is a global and historic review ideal for architects, urban planners, historians, and of course residents of Blockley and Kingsessing.