Guess What Article for April 2006
By Bob Cahn, "The Primitive Man"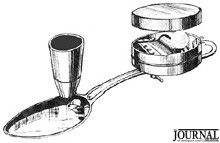 We've always had a format of showing photos of the actual monthly featured item. But deviation never hurt anyone; thus a break with tradition by showing you this detailed patent office delineation.
You could almost say we're "spoon-feeding" you the answer by conceding the obvious: it's a SPOON! This super special spoon of specious suspicions was designed for a very unique and specific purpose, as featured in the July 1928 edition of Science and Inventions and unearthed by Nancy Platnick, demonic researcher of kitchen oddities and esteemed member of Kook's (Kollector of Old Kitchen Stuff.)
What we have is a spoon with a drainage reservoir funnel in the middle and a miniature music box at the end. It's your job to figure out it's use without any additional help from us.
Dimensions are superfluous; suffice it to say it's spoon-size!
Possible solutions – is it:
Self-dispensing pill dosage spoon
Infant cod liver oil feeder and lullaby soother
Buckshot shotgun powder shell re-loader
Musical soup spoon cooler and slurp noise suppressor
Veterinarian's gerbil medicine feeder
Refill honey sweetener cereal spoon
Cream soup skin skimmer
Cooks automatic spice dispensing and blending spoon
Window box seed sowing spoon
Instant iced tea mixing spoon.
If you'll turn to page 81, we'll break the suspense with the answer, without having to wait a month. Enjoy! Again, thanks to Nancy Platnick, Bay Shore, NY for her relentless research.
Answer to March's Guess What?
Last month's rare entry was a simple, but scarce, can opener – circa 1928. The two wheels – cutting and gripping – fit over the rim of the can, while the extended leverage wire bar exerted pressure to keep it in place. The giant key handle completed the operation.
* available for acquisition