Nancy Drew Mysteries: Revealed!
By Jeff Figler
As many people today would not have any idea as to who Nancy Drew is, I will provide a brief background of the Nancy Drew mysteries. Most of the original mysteries were written by authors Harriet Adams and Mildred Best Benson under the pseudonym Carolyn Keefe.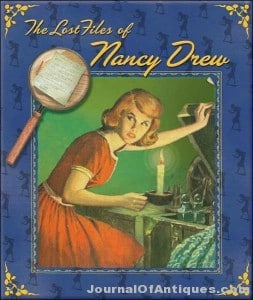 Nancy Drew was a heroine to many readers, but especially to adolescent girls in the 1930s, 1940s, and 1950s. Nancy would seem to get into jams and would use her brains, talents, and, once in a while, her brawn to squeeze out of situations. The "bad" people would get their due. Among the followers of the mysteries, there was a sense of hunting for the truth, fighting for justice, and having adventure. It was as if young women were saying that they could do the same things that their male counterparts could do. Keep in mind that the original writing of the series was the spring of 1930, only 10 years after American women had won the right to vote.
Today, the books are still being printed in more than 17 languages, including Chinese and Icelandic. Sales have surpassed the Hardy Boys and Agatha Christie mysteries.
It was the Stratemeyer Syndicate who produced the books, along with The Dana Girls, the Bobbsey Twins, Tom Swift, The Rover Boys, and Honey Bunch. The syndicate was headed by Edward Stratemeyer, who just happened to be the father of Harriet Adams. In case you are curious, The Bobbsey Twins was written by Laura Lee Hope, Tom Swift by Victor Appleton, and the Hardy Boys by Franklin Dixon. The Hardy Boys (which consisted of the character brothers Joe and Frank) were so successful that a female counterpart was needed. Hence, Nancy Drew.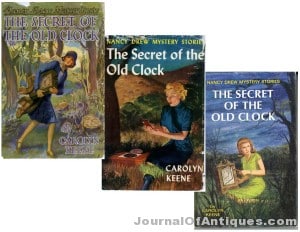 The covers and the image portrayed by Nancy Drew was that of a blond, blue-eyed attractive All-American girl. In the years 1930-1931, the ever popular Blue Nancys began, so-called because of the cover color. These lasted until 1961, and were originally released by Grosset & Dunlap. However, a fire destroyed the original paintings and many illustrations. Because of the fire, original jackets are extremely valuable, and books with their jackets from the 1930s are quite rare.
Illustrators changed, and Nancy's image changed as well. She became less sophisticated, and wore bobby socks. Nancy appeared more energetic, carefree, and innocent. In the 1960s and 1970s she took on the fashion of the day, wearing blue jeans and bellbottoms, with a flipped up hairdo.
Surprisingly, it can be a major undertaking to accurately date a book to determine if it is an original. Original titles went through many printings, sometimes many times a year. Even book jackets were reprinted, even sometimes with slight changes.
If you want to learn how much a Nancy Drew book you may own is worth, the "Guide to Nancy Drew Books and Collectibles", is invaluable.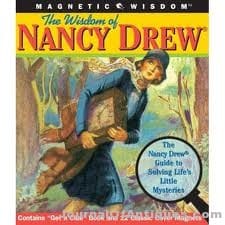 Even though trying to date a Nancy Drew book may be difficult, here are a few clues.
First, look at the title lettering. From 1930 to part of 1946, the title, author and silhouette of Nancy with a spyglass is printed in orange. From1946 to1961 blue ink was used. Also, look at the inside end papers of the book you have. For the1930 and 1931 volumes, the end pages are blank with no picture. From 1932 to 1949, the end paper pictures Nancy and three other girls on orange silhouettes.
It is also interesting to note that during World War II the publishing industry made concessions for the War efforts by using low-grade paper on which to print the books. What this has led to is that the paper has become quite brittle, and yellow, over the years.
During 1947 and 1948 there is a maroon illustration of two girls on the end papers, and from that time until 1952 the end pages show a navy silhouette of Nancy and three girls examining the ground. From 1952 to1958 Nancy is shown on the end pages standing behind a tree watching a man digging. Finally, from 1958 to 1961 the end papers consist of 22 small illustrations of Nancy in various scenes.
In 1982, the Stratemeyer Syndicate was sold to Simon & Schuster. Changes took place in the script as more romance was added.
In 1967 Nancy Drew collectibles, including a doll, were first marketed. A Nancy Drew board game was even developed as well as diaries, lunch boxes, and cookbooks. All in all, Nancy Drew collectibles are quite valuable today.