Ken's Korner: Captain Kangaroo memorabilia sold
News & Views From the World of Antiques & Collectibles
By Ken Hall
An auction of items relating to the popular children's show Captain Kangaroo from the 1950s through the '80s was held in Los Angeles on May 21, and the top lot – a handcrafted, screen-worn Dancing Bear costume – sold for an impressive $207,109. The buyer was a collector from Tennessee, according to a spokesman for the Nate D. Sanders Auction house, which conducted the sale. The costume included a one-piece body suit and a felt and velour plush head. It was worn on the show by Captain Kangaroo creator Cosmo Allegretti.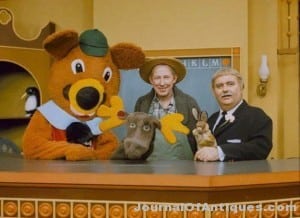 The second top lot (which some thought would be the top lot) was the famous keys to Captain Kangaroo's Treasure House. At the opening of each show, Captain Kangaroo unlocked the door to his Treasure House, then hung the keys on a hook near the door. After that, the music would stop, and the show would begin. The keys fetched $27,971 and were bought by the same Tennessee collector. Captain Kangaroo aired weekday mornings from Oct. 3, 1955 to Dec. 8, 1984. It was the longest running national children's show in history.