Comic Character Collectibles
By J.C. Vaughn
When writer-collector James Long documented a previously forgotten bit of Captain Action history, it didn't seem very likely that he was actually uncovering a bit of the action figure's future.
First, it's difficult to overstate the long-term popularity in Japan of the character Ultraman, which has been revived and rejuvenated many times since its original series first aired in 1965.
By the mid-1960s G.I. Joe had crossed over into the Japanese market bringing the American toy to Japan, but G.I. Joe wasn't the only hero who made it to Japanese children. Captain Action made the journey to their toy market, too. Through an arrangement with Nippon Ideal, the Ideal Toy Corporation's Japanese group, Captain Action was initially released with his original superhero uniform sets. Three of the military themed outfits were for patriotic heroes Captain America, Sgt. Fury, and Steve Canyon.
At the same time in Japan, Tsuburaya Productions had debuted the new live-action series, Ultraman. The Tokusatu Show – which literally means a special effects series – tells the stories of Shin Hayata, an agent working for the Science Special Search Party. Hayata works by becoming a giant space lawman, who ends up going head-to-head with that week's monster threat.
Capitalizing on the popularity of the character Nippon Ideal wanted to add an Ultraman figure to the line-up of superhero costumes available for Captain Action.
"For Captain Action's launch in Japan, Nippon Ideal made plans to give Captain Action an Ultraman costume. However, events conspired to prevent the Ultraman costume from becoming a reality, but not before pictures of it had appeared in articles about Captain Action in several issues of Shonen [Boys Magazine]. For decades, fans of both Ultraman and Captain Action have looked at those few grainy pictures and wished that the Ultraman costume had been released to toy stores," Long said.
Though Captain Action was very popular in Japan with both children and collectors, the Ultraman costume set never made it beyond the marketing stage. The reasons behind the decision not to move forward with the international costume set are unclear and the whereabouts of the prototype are unknown.
Things might well have ended there without Long documenting the long-lost project. Now, though, Captain Action Enterprises and Medicom Toy Corporation have announced that the Ultraman costume will be released in conjunction Captain Action's 50th anniversary this year.
"Captain Action is an international brand with both modern day and nostalgic fans, especially in Italy, Canada, Mexico, France, the UK, the Philippines and Japan," Ed Catto, a "Retropreneur" at Captain Action Enterprises, LLC said.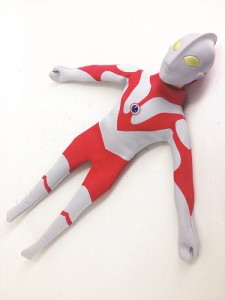 The Medicom Toy Premium Club will accept orders from January 24, 2016 until March 5, 2016 and shipping and sales are planned for June 2016. More details can be found at www.medicomtoy.co.jp.
Zombie Gras 6 at GEM
For the sixth consecutive year, Geppi's Entertainment Museum (GEM) will host Zombie Gras, their successful zombie-centric celebration, which this year moves to April 2 for the festivities. The museum, which is located in Baltimore's historic Camden Yards sports complex, has developed the event into a popular local tradition despite colder and inclement whether when it was held on earlier dates in preceding years.
The event includes vendors, zombie make-up artists, and a pup crawl (or stagger, as the case may be). Attendees in full zombie make-up get free admission, while for others it's the normal $10 for adults.
Look for more details next month, or visit Facebook page for more information.
Rocky, Rambo Still Can Dominate
Heritage Auctions' December 18-20, 2015 event, "Stallone – The Auction" brought out the fans of veteran actor Sylvester Stallone for a take of more than $3 million in Los Angeles, including phone and online bidding from around the world.
The top item in the auction was a black leather jacket Stallone wore in the first Rocky. Estimated at $75,000, it almost doubled the price at $149,000.
A poncho he wore as First Blood's John Rambo sold for $60,000 against a presale estimate of $10,000.
Stallone briefly talked to the audience at the start of the auction, posed for photos with fans and then stayed for several hours of the first dayís 'bidding.
"The memorabilia I have has been used and been a part of my life for, kind of hard to admit this, well over 40 years," Stallone said. "It's been in my possession and I have fond memories attached to just about every object. There comes a point, though, when I think that I've used these objects enough and have created enough memories that I can let them go."
Additional highlights included a pair of boxing trunks from Rocky IV worn by Stallone in the match against Drago that realized $57,500 and Dolph Lundgren's costume of red satin jacket with hammer and sickle emblem, boxing shorts, and red leather boxing shoes from Rocky IV closed at $45,000. An Ayrton Senna-owned racing helmet gifted to Stallone circa 1994 reached $43,750, a small black rubber handball from Rocky and Rocky II ended at $32,500, and a set of costume armor and a prop gun from Judge Dredd sold for $30,000.
Captain Action Meets Ultraman