The Civil War Collector – August 2013
By John Sexton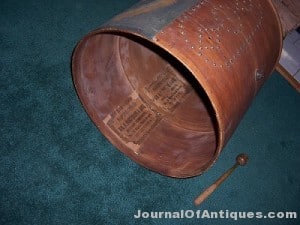 Q: Dear Sir, I have this drum—that I'm told is a Civil War Drum—hanging around for several years. Could you confirm that and maybe a little history?  –M. Kantz, US Army (Retired)
JS: You have part of a Civil War drum; you actually have the most valuable part of a bass drum from the Civil War Era. This eagle decoration is typical of Civil War regimental snare drums. Bass drums are much rarer, but they don't generally bring a premium. If your drum was complete with original heads, band, ropes and tighteners, it could bring $6,000 or more. As it is, the body in a good auction could still bring $2,000-$3,000.
Q: I got your name from the web and hope that you can help me in identifying this object. It has "Coffing Flag Clamp" embossed on it and was found years ago in the woods of Virginia. Could it be Civil War, and what would be its value?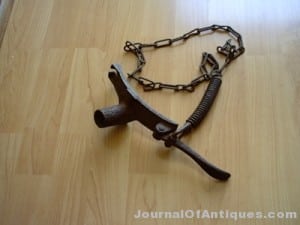 JS: You got me on this one. I have not seen this device before. I would guess it postdates the Civil War.
Q: I inherited two Civil War swords with sheath that I am looking to sell, and also I am looking for their values. First sword: near the handle is printed "U.S." with the initials "J.C.W." and "1864". On the other side on the blade is "Lansfield & Lamb, Crestdale R.I." On the tip of the handle is "C.E.W.", and in the middle of the blade is "Harry Phillips". Second sword: under "S.F." is "1864". On the other side of the blade, the best I can make out is "Made By James MFcC, Chicopee", and "G.K.C." is on the handle. I would appreciate your help. –Thanks, John O.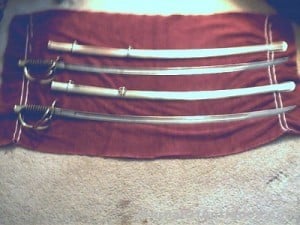 JS: Your swords are model 1860 enlisted cavalry sabres. The date of 1864 is the actual date of manufacture, and the initials are the government inspectors'. The makers are Ames Mfg. Co. Chicopee, Mass., and Mansfield and Lamb, Forestdale, R.I. Sabres like yours in average good and complete condition like yours are priced at trade shows for $650-$850 each. A dealer would probably pay around $1,000 for the pair.
Q: I've been told this canteen is from a Maine regiment (Civil War), but I really don't know. The center of one side has a person on it, and the "rim" of the other has deer or some other animal. The figures are all embossed into the tin. The strap is in very sad shape. Thanks for any information you can provide. –Debbie S.

JS: Your canteen does not appear to be American. It could easily be Civil War Era, 19th century, but I doubt it would have any American unit connection. The canteen appears to be brass and not tin like was used by the Union Army. I can only guess the origin to be South American or Pacific Rim.
Q: I have some Civil War buttons that I got from The Pasadena Rosebowl Swapmeet. I don't know anything about the Civil War. I just bought the buttons because I make bracelets from old buttons. I didn't know that they were from the Civil War until a friend told me. Can you tell me their approximate age? And if you please, do you have any
idea of their value? I would like to sell them. –Rebecca R.
JS: Your buttons are for an American GI, probably WWI or so. The Great Seal design was adopted in 1902, and this type of button was used from then through WWII.
Q: I have a family friend who received this from her grandfather 50 years ago. She is 85 now. I promised her and her husband I would try to find out about this weapon. It is in very poor condition. I can't find any markings on it anywhere. Homebrew? Thanks, Jeffrey B.
JS: Your gun is a mid-19th century fowler. It was probably originally a flintlock and later (1850) converted to percussion. Because of missing parts and poor condition, it might be priced in the antique market for $100-$300. This is the type of gun that every farmhouse in rural America had antebellum and in during the Civil War Era. This gun could have been used to protect the family from intruders, Indians, for shooting dinner, and may have been taken to the war in 1861.
Q: My Grandmother had this drum hanging in her house for as long as I can remember. She told me she got it from an old man when she was a younger woman, and he told her it was a Civil War drum. Its rim has a flower pattern on it, which is odd. Its coverings are made of some type of skin. Its base is made of tin and has gold-like leafing on the top and bottom. In the middle there is an eagle carrying an American Flag in its mouth; only 12 stars are visible. There are two eagles on each side. The flaws are on the bottom of the drum; there are two slashes that appear to be stabs from a knife. There are no signatures.
I was wondering if you have ever seen this type of drum before, and what its value is? Danelle L.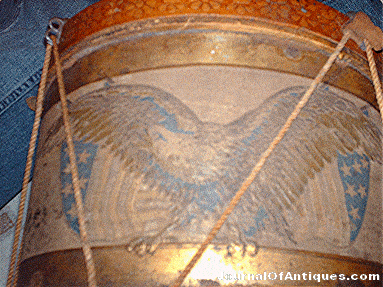 JS: Your drum is probably later than the Civil War. Similar drums are priced in the market for several hundred dollars depending on how decorative they are.

John Sexton is an independent appraiser and expert on Civil War memorabilia. He is an accredited member of various appraiser organizations. He can be contacted at 770-329-4984. If you have an item for him to appraise, email a photo and a description to mikemcl@mindspring.com.