Ken's Korner: Amelia Earhart's airplane – found?
News & Views From the World of Antiques & Collectibles
By Ken Hall
A sonar image of an uninhabited tropical island in the southwestern Pacific Ocean might – just might – represent the remains of Amelia Earhart's two-engine Lockheed Electra aircraft that vanished on July 2, 1937 as she and navigator Fred Noonan (shown) were attempting to become the first people to fly around the world at the equator. The image was released by The International Group for Historic Aircraft Recovery (TIGHAR). It shows an anomaly, man-made, resting at a depth of 600 feet in the waters off Nikumaroro Island.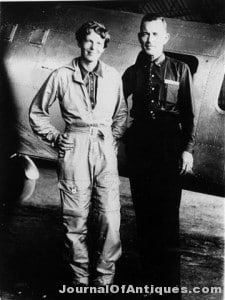 The site is about 350 miles southeast of Earhart's target destination: Howland Island. Artifacts previously recovered by TIGHAR over the course of ten expeditions suggest that Earhart and Noonan made a forced landing on the island's smooth coral reef. Then, it is believed, the two became castaways and eventually died there. The only way to prove the anomaly on the sonar image is, indeed, Earhart's plane is by sending another expedition to the island, but TIGHAR, a non-profit, will need to raise about $3 million first.