Ken's Korner: Babe Ruth uniform on loan to museum
News & Views From the World of Antiques & Collectibles
By Ken Hall
A uniform worn by Babe Ruth during a barnstorming tour of Japan in 1934 has gone on loan to the newly-renovated Little League Baseball Museum in Williamsport, Pa., the town where Little League Baseball was first organized in 1939 and to this day hosts the Little League World Series each August. The uniform is on loan from an anonymous donor. It was sold at auction in 2005 for $771,000. Last year, a jersey worn by Ruth in 1920 sold for a staggering $4.4 million, a record for any item of sports memorabilia.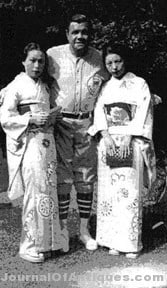 The uniform – a jersey with gray pants and dirt-stained stirrup socks – is considered the only full uniform still around that was worn by the Bambino. It is trimmed in red, white and blue and was made by A. G. Spalding & Brothers. It has an "All Americans" insignia on the chest and a red "3" is stitched to the back of the grey wool jersey. Ruth hit 13 home runs in the 18-game barnstorming tour of Japan that included other stars such as Lou Gehrig and Jimmy Foxx. The tour helped make baseball a popular sport in Japan.