Ken's Korner: Babe Ruth's Lincoln purchased by a Texan
News & Views from the World of Antiques & Collectibles
By Ken Hall
Lonnie Shelton, a classic car collector from Texas, has purchased the last car owned by Babe Ruth before his death from cancer on Aug. 16, 1948 – a blue 1948 Lincoln Continental two-door hard-top coupe. Shelton bought the car from its previous owner (who asked not to be identified, except to say that he, too, was a Texan) for an undisclosed price. The Ford Motor Company had presented the car to Ruth in 1947 as a gesture of appreciation for The Babe's tireless dedication to Little League and major league baseball.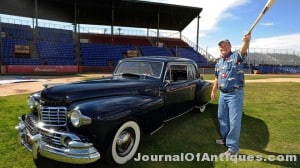 The car had 81,000 miles on it, most of them logged by Ruth himself, who used to drive it to events where he would often give speeches and clinics to children. Still, the vehicle was in pristine condition, with the original interior and color. The speedometer tops out at 110 mph, and the radio takes 15 minutes to warm up because it operates on vacuum tubes. The doors and windows work by hydraulics and the steering wheel is huge. The license plate reads "The Babe." The car came with documentation from Ruth's late wife, Claire.