Guess What Article for December 2004 The Journal of Antiques & Collectibles
By Bob Cahn, "The Primitive Man"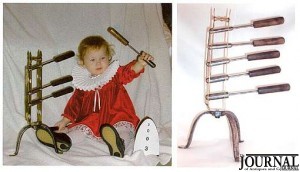 Some people have cute Christmas cards and some people have cute granddaughters. Buck Carson is lucky; he has both. That was in 2003. And if your collecting focus is included, so much the better. But cuteness doesn't evaporate – even after a year, until it comes under the scrutiny of the GUESS WHAT microscope. Diminutive two-year-old (now three) Montana Carson ("Dakota" was in the naming sweepstakes, but the quandary arose whether "North" or "South" would be an appropriate middle name) appears brandishing two of the mystery cudgels.
Resting in its own custom-made holder of iron and brass (17-1/2 inch high), the steel objects very in length from 10 to 12 inches. But now it's time to put you to work, if you feel up to it. We've put together a batch of blatant and subtle suggestions. Put your collective heads together and come up with the answer from among the following:
Veterinarian's set of graduated cauterizing/sterilization instruments
Camp-fire marshmallow roasting utensils.
19th-century French household ruffle smoothing irons
Coal miners dynamite stick hole preparation insert packers
Cake decorator's icing smoothers
Blacksmith's soldering irons
Snow/ice sculptor's contour rounders (when heated)
Tattoo artist's background inking irons
Primitive variation hammer throw-toss implements
Leather worker's burnishing tools.
The quiz is over, pencils down – answer next year!
Answer to November 2004 'Guess What?'
Ever been led down the garden path – in December? Well, we almost perpetrated such a dastardly deed on you, our unsuspecting audience.
Fortunately, one of the silent majority came to our rescue; he's Randy Westley*, our guest expert du monde – Thanks for the following historically detailed treatise on last month's teaser: "There's a bigger story to the "corral fence hitching post" you listed as a possibility. These spiral posts were used extensively during the "Great War" (WWI) by the infantry to string barbed wire throughout the "No Man's Land" of the Western Front.
The corkscrew bottom allowed the post to be silently screwed into the ground – much safer than attracting machine gun fire while hammering a post into the ground! Barbed wire could then be strung quietly through the loops. The posts, difficult to displace during an attack – conversely acted as defense barriers.
So much for "horsing" around with corral fence posts!"
* Randy Westley is the Major Domo and Chief Cook and Bottle Washer at Merritt's Antiques, Douglassville, PA.