Guess What Article for December 2005 The Journal of Antiques & Collectibles
By Bob Cahn, "The Primitive Man"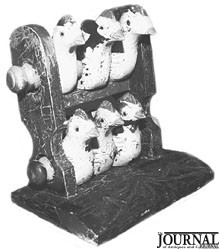 Where did the year go? How seasonal dare we get? Depending on the printer, the post office, antique shop handouts or show circuit freebees – we're focusing on the "Twelve Days of Christmas" and the French turtle doves – or reasonable cloned statue-like splintered facsimiles.
In two neatly stacked rows, we highlight a set of six identical termite-prone wood chicks (with centers cut out donut style) sitting on a double dowel perch. This is their sedentary resting place when not being their mischievous, feisty and functional selves. Position is important: did they sit up or lay down?
Individually measuring 3-1/2 inches long by 2-3/4 inches tall by 1-1/8 inches in diameter by 1 inch thick (the rack set: 6-1/4 inches long by 7 inches high by 5 inches deep.) The usual challenge stands!
Is it:
Individual place salts (using glass inserts)
Folk art candle holders
Shooting target ducks
Napkin rings
Circular desk memo holder organizers
Baby's playpen/crib toy
Coin sorting starters
Toothpick holders (with glass insert
Architects rolled up blueprint holders
Baby's bath time floating toy armada.
We've included the correct answer among the above mixture of foolishness and tongue-in-cheek. Have fun.
Till then!*
*available for acquisition
Answer to November
Last month's feature was a circa 1895 one character-at-a-time typewriter called "The Dollar." Talk about a slow, time-consuming, tedious, monotonous seemingly never ending chore.
Rubber alphabet letters were attached to the wheel's circumference (along with a small half inch ink pad). Laboriously, you turned the wheel, one character at a time, pressing down each time for the individual, single letter impression.
Where was e-mail when you needed it?