Guess What Article for February 2005 The Journal of Antiques & Collectibles
By Bob Cahn, "The Primitive Man"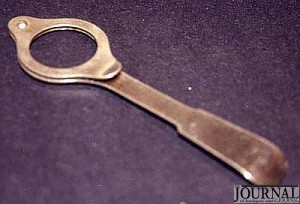 When longtime Kooksters* and fellow Badgers Chuck and Bonnie come across something odd and unusual, their research instincts kick into high gear and they won't stop until every last bit of archaeological history has been squeezed from its unsuspecting loins.
This month's GUESS WHAT is the beneficiary of their endeavors. For your perusal and puzzlement, may we offer this small nickel-plated object with a flat double layer open ring end. This double layer is the important focal point when attempting to pin down the correct answer from the following list.
Ancillary info: Patented May 19, 1896 by Hiram Everest of Riverside, CA; measures 6 inches long with a diameter of 1-3/16 inches.
Some possible uses:
Magnifying glass lens holder
Poor man's lorgnette
Chemical lab filter frame
Soft boiled egg shell slicer
Jumbo frankfurter plump sizer
Ophthalmologist's eye testing instrument
Microscope slide holder
Tongue depressor for a koala bear
Chiropodist's callous shaver
Banana slicer
Complete illustrated answer next month.
'Til then!**
* Kooks – Kollector Of Old Kitchen Stuff
** Thanks to Chuck and Bonnie Badger, Lake View Terrace, CA.
Answer to January 2005 'Guess What?'
Featured last month was an extremely early and primitive – but ingenious – collapsible political marching parade torch. It opened and closed similar to an umbrella, and held a candle in a tin holder above the wooden handle (within the confines of the wire cage.)*
*Thanks to Hank Ford of Drummer Boy Antiques, Bedford, NH.