Guess What Article for March 2001
By Bob Cahn, "The Primitive Man"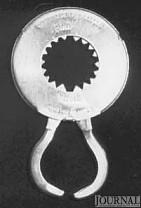 Before or after, open or closed — the photos of this month's "Guess What" are extremely sharp in detail. Working the handles like a pliers enabled the inner series of ridges and spikes (not visible) to protrude or recede as manipulated. Well-made of nickel on brass, this piece was made in France — which has nothing to do with its function or application. We will tell you it's a household item, and the room in which it's used is a partial clue. Size: 4″ long by 1½" diameter.
We assigned our trusted "Committee for Consumer Standards" the task of coming up with possible alternative suggestions. Here are their findings:
Kielbasa sausage link tie-off marker
Teething ring for a baby piranha
Ankle bracelet for masochists
Plumber's pipe cutting working gauge
Herpetologists snake venom milking de-vice
Rind-piercing kitchen tool for easy tangerine peeling
Instant injection pattern marker for mass production tat-tooing
Garden hose sprinkler effect puncture tool
Onion juicer and segment perforator
Callous softener and tenderizer
Asparagus stalk cut-off gauge
Condom burst stress tester
Carrot scraper
Sesame seed harvester
Celery stalk de-stringer
Bull nose-ring installation pincers
Cigar cutter.
Enough razzle dazzle for one session? Work hard at it — and your efforts will be rewarded next month with the answer. Till then.
*Thanks to the inexhaustible Mike Goodman, collector, Massachusetts.
Answer to February's Guess What..?
When it comes to mumbling and talking distinctly, it helps to have a set of teeth to form the various sound combinations. Without them, in the previous centuries, you found yourself helpless. In the case of food for the elderly (or the infant), there fortunately was a remedy: a masticator (see photo). This device was used to break up and pulverize for consumption — foods that were too difficult to digest by the tender gums of the baby or the toothless gums of the geriatric. Using a scissor-like action, one would be able to prepare food for either circumstance.*
*available for acquisition