Guess What Article for March 2007
By Bob Cahn, "The Primitive Man"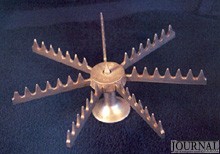 Form, function and design – frequent ingredients of the Guess What formula. One might say one of the standard trade mark mantras, and this one's got it.
Ever come across a garden rake after being the victim of a tornado? Well, now you have. Made in Italy – but its use is universal. It has seven sections of cast aluminum teeth topped by a pommel. Handle or pedestal? Your call!
Landscaper's small plot aerator or office desk rubber stamp stand? Preliminary possibilities. Other contestants for consideration: horse groomer's tail untangler, massage therapist's lower back muscle stimulator, or maybe a backyard clothesline prototype.
To guide your guess, some size references: diameter 7-1/2 inches, teeth 1/2 inch high; pommel knob 1-1/2 inches in diameter; height 2-7/8 inches; arms 3 inches long.
Now for the top ten (with answer included):
Architect's circular horse barn stall mock-up planner
Snail steeplechase obstacle course starting gate and lane separator
Early post office master pen holder
Wallpaper designer's dot stippler
Elevator cigarette sand receptacle butt sifter
Master chef's spaghetti lifter
Earthworm bait farm night crawler harvester
Restaurant pie portion segmenter
Nike tennis shoe lace drying rack
Pizza parlor dough extender.
Next month is answer time. See you then!*
*From Mike Goodman, the "King of Stuff's" insane collection of inanities, Townshend, VT.
Answer to February's Guess What?
Having a tray to surround a cutting device means you want to catch every crumb. In the late 18th century, sugar (which frequently came in a cone configuration) was extremely costly and valuable and you didn't waste a bit. Some wealthier families had devices with built-in drawers for catching and storing the scattered leftovers.*
*Available for acquisition.