Ken's Korner: 1794 silver dollar hits $10 million+
News and Views from the World of Antiquing and Collecting
By Ken Hall
A new world record price for any coin, anywhere, was realized on January 14 when a 1794 Flowing Hair silver dollar sold for a little over $10 million at an auction held by Stack's Bowers Galleries, as part of the firm's New York Americana Sale. The dizzying price easily eclipsed the previous record of $7.59 million, set in 2002 when a 1933 Double Eagle coin was sold, also through Stack's Bowers (in partnership with Sotheby's). The 1794 Flowing Hair dollar was graded Specimen-66 and was part of the Cardinal Collection.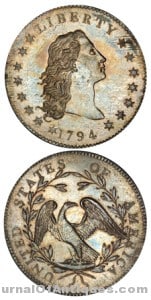 A close study of the coin's characteristics suggested it may well have been the very first specimen struck of the first year of the silver dollar, and was carefully preserved for posterity. In other results from the sale: a 1792 silver half dime (graded MS-68) went to a determined bidder for $1.146 million; a 1793 Chain America large cent (graded MS-65 BN) realized $998,750; and a 1794 Liberty Cap cent with the head of 1793 (graded MS-64 BN) changed hands for $881,250. None of the winning bidders' names were given.