Ken's Korner: Boys find owner of old war medals
News & Views From the World of Antiques & Collectibles
By Ken Hall
Brothers Michael (age 11) and and Mauro (age 8) Mazzariello, both of New York, went into an antiques shop in Newburg, N.Y., and spotted a group of Korean War medals worth $450. They somehow convinced the shop owner to let them borrow the medals so they could locate the original recipient – and they did just that. Knowing the name of the soldier (Pfc. Charles George) led them to a YouTube video, which chronicled the 2007 renaming of the Veterans Affairs Medical Center in Asheville, N.C., for Pfc. George.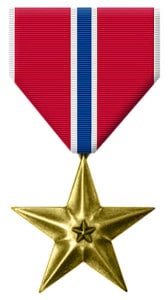 The YouTube clip led them to contact Warren Dupree, a Veteran of Foreign Wars officer, who was in the video. Dupree personally helped arrange the return of the medals. Pfc. George was killed on Nov. 29, 1952, when he threw himself on a hand grenade to save his fellow soldiers. It was an act of valor that earned him (posthumously) the Bronze Star, the Purple Heart and the Good Conduct Medal. Those medals were returned to George's family, on a Cherokee Indian Reservation, some 60 years after his death.