Ken's Korner: Court halts sale of '59 Augusta jacket
News & Views From the World of Antiques & Collectibles
By Ken Hall
The Augusta National Golf Club was recently awarded a preliminary injunction blocking the sale of the coveted green Masters jacket won by Art Wall, Jr., in 1959. The jacket was bought at auction last year by Stephen Pyles, an Ocala, Fla.-based anesthesiologist and collector of golf memorabilia who has been displaying the jacket in his office. He paid around $62,000 for it then, and he recently contacted Heritage Auctions in Dallas, Tex., with the idea of reselling it to make a profit. Heritage readily agreed to take on the consignment.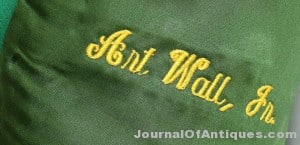 Not so fast, said officials in Augusta, who heard of the pending sale and came forward with the claim that the jacket had been stolen from club property in 2010. Further, they asserted, all of its green jackets ever won remain the property of Augusta National (the club allows each Masters champ to remove his jacket from club property for one year, but then it must be returned). Pyles's attorney said that's not true, pointing to Gary Player, who took his Masters jacket home to South Africa in 1961 and never returned it.